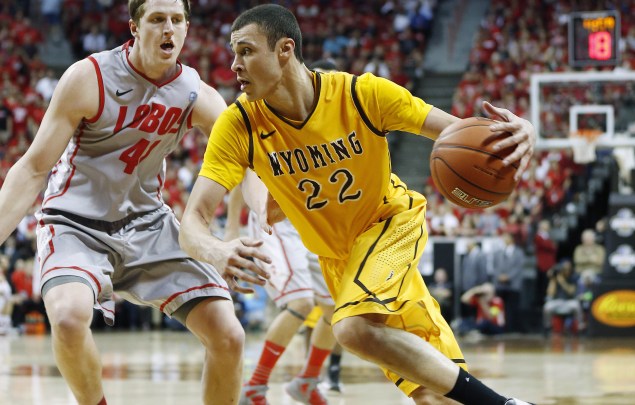 Beginning on October 3rd and running up until November 14th, the first day of the season, College Basketball Talk will be unveiling the 2014-2015 NBCSports.com college hoops preview package.
MORE: 2014-2015 Season Preview Coverage | Conference Previews | Preview Schedule
The term "under the radar" can be a difficult one to define with regards to college basketball. For some, lists of such players will be dominated by guys whose programs are part of the nightly highlights packages you doze off to in the early morning hours. But for others, the term "under the radar" applies to players who in November may be on the outside looking in with regards to All-America teams. Below are some players who may not be considered to be preseason All-Americans but have a shot at landing on one of those teams at season's end.
1. Larry Nance Jr., Wyoming: When it comes to the Mountain West the traditional contenders (New Mexico, San Diego State and UNLV) tend to get most of the attention from fans outside of the region, so the son of the former Cleveland Cavalier may not be as well-known to them. But he should be, as Nance averaged 15.4 points, 8.6 rebounds and 2.1 blocks per game last season. Nance is returning from a torn ACL, but he's expected to be at full strength when the season begins later this month.
2. Darrun Hilliard, Villanova: Hilliard was a bit miffed that he wasn't chosen to be Big East POY at their media day, and rightfully so. The senior is coming off of his best season as a Wildcat, averaging 14.3 points and 3.6 rebounds per game. And with James Bell out of eligibility, Hilliard could be even more productive for the preseason favorites to win the Big East.
3. Shawn Long, Louisiana: Losing Elfrid Payton hurts, but in the 6-foot-9 Long head coach Bob Marlin has a very good piece to build around in an attempt to make a second straight trip to the NCAA tournament. Last year Long accounted for 18.6 points, 10.4 rebounds and 2.7 blocked shots per game.
MORE: X-Factors | Breakout Stars | Impact Transfers | Preseason All-Americans
4. R.J. Hunter, Georgia State: When it comes to the best shooters in America, Hunter's clearly on the list. He averaged 18.3 points and 4.6 rebounds per game last season, helping lead the Panthers to a Sun Belt regular season title.
5. Isaiah Taylor, Texas: Taylor was good as a freshman, averaging 12.0 points, 4.0 assists and 3.3 rebounds per game. But there's clearly room for improvement, as evidenced by the shooting percentages (39.1% FG, 26.3% 3PT), and the Longhorns' deep front court should result in cleaner shooting opportunities for him.
6. A.J. English, Iona: While the Gaels will have to account for the loss of Sean Armand, English returns after averaging 17.2 points, 4.3 assists and 3.9 rebounds per game as a sophomore.
7. D'Vauntes Smith-Rivera, Georgetown: Who was the pick to win preseason Big East POY? Smith-Rivera was, and with Markel Starks gone the Hoyas will need a big year from the junior guard. Smith-Rivera accounted for 17.6 points, 5.0 rebounds and 2.6 assists per contest in 2013-14.
8. DaVonte' Lacy, Washington State: Ernie Kent has a tough job in front of him, but it helps that Lacy has one last season of eligibility. As a junior Lacy averaged 19.4 points and 4.2 rebounds per game.
POSITION RANKINGS: Lead Guards | Off Guards | Wing Forwards | Big Men
9. Zak Irvin, Michigan: With Caris LeVert on our All-America team, we've essentially pegged him to make the jump that has become commonplace during the John Beilein era in Ann Arbor. But why not Irvin? Thanks to the Wolverines' personnel losses, he'll be in a position where he's asked to do more offensively than just "catch and shoot."
10. Terran Petteway, Nebraska: While Petteway was a first team All-Big Ten selection last season, that hasn't led to his being included on many preseason All-America teams. He averaged 18.2 points and 4.6 rebounds per game last season, and if Petteway can improve from an efficiency standpoint look out.
FIVE NAMES YOU'VE HEARD BEFORE BUT DON'T SEE ON TV OFTEN
1. Keifer Sykes, Green Bay
2. John Brown, High Point
3. D.J. Balentine, Evansville
4. Daniel Mullings, New Mexico State
5. E.C. Mathews, Rhode Island