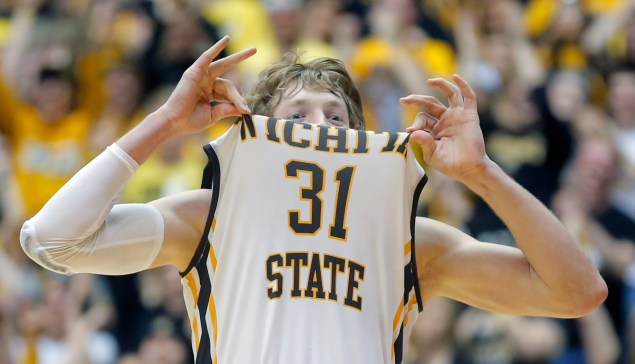 Beginning on October 3rd and running up until November 14th, the first day of the season, College Basketball Talk will be unveiling the 2014-2015 NBCSports.com college hoops preview package.
Today, we are rolling out our Missouri Valley Conference preview.
MORE: 2014-2015 Season Preview Coverage | Conference Previews | Preview Schedule
The Missouri Valley has seen plenty of success in the NCAA Tournament over the last 10 years, but nothing like Wichita State's run to the Final Four followed by a 35-game winning streak to start the season.
The Shockers had a tremendous two-year run and return a lot of talent, including one of the nation's best backcourts in juniors Fred Van Vleet and Ron Baker and senior Tekele Cotton. Gregg Marshall's ballclub also has a deep group of newcomers and senior Darius Carter should step up inside after some flashes of strong play last season as a junior.
The team that can challenge Wichita State the most could be Northern Iowa.
Ben Jacobsen's group returns 91 percent of the scoring and rebounding from last season's 10-8 MVC team including all-league first team forward Seth Tuttle, a 6-foot-8 senior. Senior point guard Deon Mitchell, junior shooting guard Matt Bohannon and junior Wes Washpun are all back on the perimeter and the front court has some depth as well. This team is deep enough to contend for postseason consideration.
Illinois State had minimal experience entering last season and won 18 games. Now the Redbirds have six new players, four junior-college transfers and return the senior starting backcourt of Daishon Knight and Bobby Hunter as well as center Reggie Lynch. Paris Lee also returns at point guard and this year's team should have more depth and athleticism.
Returning for Missouri State is 2013 Conference Freshman of the Year Marcus Marshall, who should give the Bears a huge boost. The 6-foot-3 Marshall averaged 14.3 points per game in 12 games last season before going down to injury. Sophomore shooting guard Austin Ruder can shoot from the outside and the team has some junior college forwards that should compete in the rotation.
Evansville returns all five starters from a team that finished 6-12 last season. But those starters gained valuable experience and 6-foot-2 junior guard D.J. Balentine averaged 22.8 points per game last season. Junior big man Egidijus Mockevicius averaged 10.5 points and 8.3 rebounds per game on 62 percent shooting. The team also gets more depth on the bench in recruiting and should have some scoring punch.
After making the MVC Tournament championship game, Indiana State only returns senior forward Justin Gant, but MVC Sixth Man of the Year Khristian Smith returns and will rely on a lot of inexperienced or new pieces to perform on the perimeter.
Some talent is in place at Bradley, which adds Illinois transfer Mike Shaw and top-100 forward Josh Cunningham to the roster, but the Braves are mostly unproven and Geno Ford has only one winning season in three in Peoria.
PRESEASON MISSOURI VALLEY CONFERENCE PLAYER OF THE YEAR: Ron Baker, Wichita State
Baker averaged 13.1 points, 3.8 rebounds and 3.1 assists per game last season as one of the most complete two-guards in the nation. Tremendously efficient, as a sophomore, the 6-foot-3 Baker shot 45 percent from the field, 38 percent from the three-point line and 84 percent from the free-throw line. He's been a starter for two straight great teams.
THE REST OF THE PRESEASON ALL-MVC TEAM:
Fred Van Vleet, Wichita State – The 5-foot-11 junior is one of the best floor leaders in the country, averaging 11.6 points, 5.4 assists and 3.9 rebounds per game last season.
Seth Tuttle, Northern Iowa – The 6-foot-8 senior is coming off of a first-team all-league season in which he averaged 15.4 points and 8 rebounds per game in 2013-14.
D.J. Balentine, Evansville – The nation's seventh leading scorer at 22.8 points returns for his junior season. The 6-foot-2 guard can fill it up.
Anthony Beane, Southern Illinois – Another 6-foot-2 junior, Beane moved to point guard and thrived last season and averaged 14.7 points per game on 47 percent shooting.
ONE TWITTER FEED TO FOLLOW: @ValleyHoops
PREDICTED FINISH
1. Wichita State
2. Northern Iowa
3. Illinois State
4. Missouri State
5. Evansville
6. Indiana State
7. Bradley
8. Drake
9. Loyola
10. Southern Illinois