Beginning on October 3rd and running up until November 14th, the first day of the season, College Basketball Talk will be unveiling the 2014-2015 NBCSports.com college hoops preview package. We continue our countdown today with No. 5 Kansas.
MORE: 2014-2015 Season Preview Coverage | NBCSports Preseason Top 25 | Preview Schedule
Head Coach: Bill Self
Last Season: 25-10, 14-4 Big 12 (1st)
Key Losses: Andrew Wiggins, Joel Embiid, Tarik Black, Naadir Tharpe
Newcomers: Cliff Alexander, Devonte' Graham, Kelly Oubre, Hunter Mickelson, Svi Mykhailiuk
Projected Lineup
– G: Devonte' Graham, Fr.
– G: Wayne Selden, So.
– F: Kelly Oubre, Fr.
– F: Perry Ellis, Jr.
– C: Cliff Alexander, Fr.
– Bench: Frank Mason, So.; Hunter Mickelson, Jr.; Landen Lucas, So.; Brannen Greene, So.; Jamari Traylor, Jr.; Svi Mykhailiuk, Fr.
They'll be good because … : The Jayhawks are loaded, as usual. Cliff Alexander is the face of this year's recruiting class, a powerfully athletic, 6-foot-8 forward that has the potential to one day shatter a back board during a game. He'll remind some people of Montrezl Harrell in the way that he attacks the glass and the rim. Wayne Selden was overshadowed a top 15 recruit and a projected lottery pick last season even before struggling through knee issues as a freshman. He's healthy now. Kelly Oubre is this year's Selden, an elite-level NBA prospect on the wing that may be the most talented player on the roster. All of that is before you consider Perry Ellis, who could very well end up being the leading scorer for the Jayhawks this season.
There's depth, too. Even after the transfer of Connor Frankamp, Kansas can legitimately go two-deep at every position. It's not at the same level as Kentucky — the drop-off from Kelly Oubre to Svi Mykhailiuk is noticeable — but Bill Self has plenty to work with on this team.
And that's the third part of this equation. Bill Self. It's been more than a decade since he finished a season as anything other than the Big 12 regular season champ, and that's not an accident. A team with this much talent, coaching and program pedigree is always going to be in the conversation as one of the best teams in the country. That's just the way it works.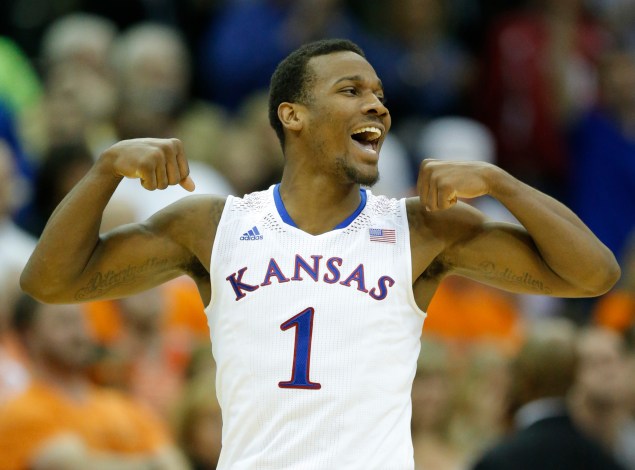 But they might disappoint because … : There are three concerns that I have with the Jayhawks, however, and the biggest issue is one that has plagued them since Sherron Collins graduated: Point guard play. From Josh Selby to Tyshawn Taylor to Elijah Johnson to Naadir Tharpe, Self has had talent come through his program, but reliability and consistency hasn't come with it. Enter Devonte' Graham, a top 50 recruit and former Appalachian State signee who is expected to take over the roll this season. As a freshman. It may be a while before those questions are answered this year.
Youth is another issue with this team. Three of the five guys expected to start are freshmen, while Selden is just a sophomore. Hunter Mickelson, who is a redshirt junior, is the only guy on the roster that has been on a college campus for three seasons, and while Self has sent a handful of one-and-done players to the NBA's lottery — Ben McLemore, Xavier Henry, Wiggins, Embiid — he hasn't turned those seasons into Final Four appearances. His best years at Kansas have been when he's been loaded with veterans.
Lastly, the front line is not a lock to be great. I think Ellis is the best front court scorer in the Big 12, but he's not a rim protector defensively. Alexander has a ton of talent, but he's still learning the game; Self has stated publicly that Alexander is raw, and he's still getting into shape after an ankle injury this summer. Landen Lucas is nothing more than a body at this point. Jamari Traylor is an energy guy but ideally a role player on a Final Four-caliber team. The x-factor is Mickelson, a big, strong center that played two seasons at Arkansas before sitting out last year in Lawrence.
Outlook: Once again, the Jayhawks are the safe-bet to win the Big 12 title. That's just the way it works in the league these days. It doesn't matter that Texas has top ten-caliber talent, or that Oklahoma and Iowa State are good enough to make the Final Four, or that Kansas State is has the pieces to give all four of those teams a run for their money.
That said, I do have some concerns about Kansas continuing their consecutive league titles, mainly due to the reasons I mentioned above. We don't know if Graham is going to be ready to takeover the reins of this team, which makes to question marks with the Jayhawks youth and front line that much more concerning. The Jayhawks have a ton of potential, and the talent to win a national title, but their floor is much lower than the other teams that find themselves ranked in the top five.