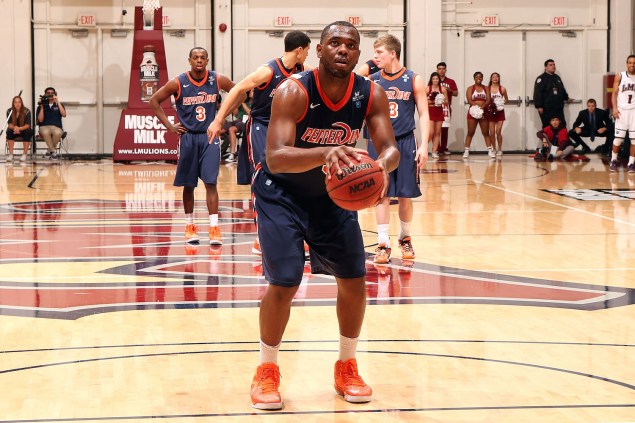 Beginning on October 3rd and running up until November 14th, the first day of the season, College Basketball Talk will be unveiling the 2014-2015 NBCSports.com college hoops preview package.
Today, we are previewing the West Coast Conference.
MORE: 2014-2015 Season Preview Coverage | Conference Previews | Preview Schedule
As a freshman at Pepperdine in 2012-13 forward Stacy Davis put together a solid debut, posting averages of 11.2 points and 7.3 rebounds per game. Davis was named WCC Newcomer of the Year at the end of that season, and with such praise comes added attention from the opposition. And as a front court player who spent the majority of his time in the post as a freshman, for Davis that meant he would see even more double-teams as a sophomore.
Yet thanks to the combination of a much-improved perimeter shot and the addition of UCLA transfer Brendan Lane, Davis was able to deal with the extra attention and make the progression from being the WCC's best freshmen to being one of its best players in 2013-14.
Davis accounted for 15.1 points and 7.6 rebounds per game last season, shooting 47.1% from the field and 46.9% from beyond the arc. The perimeter shooting is where the greatest strides were made, as he connected on 23 of his 49 three-point attempts and 40.1% of his two-point jumpers, according to hoop-math.com. By comparison, Davis attempted just two three-pointers (missing both) and made 36.5% of his two-point jumpers as a freshman. The 6-foot-6 forward worked hard to improve that aspect of his game prior to his sophomore season, and the end result was a factor in Pepperdine's finishing fifth in the WCC after being picked to finish last in the preseason poll.
"One big thing I learned was patience," Davis told NBCSports.com last week when asked what he learned as a freshmen that he was able to apply as a sophomore. "My freshman year we didn't have the best record and it was filled with a lot of ups and downs. I learned from that and realized that everything comes in time, and you have to be patient.
"I applied that to the summer [before my sophomore year] as far as my workouts, just working hard and adding a three-point shot to my game and getting in shape and doing whatever I had to do."
RELATED: NBCSports.com's WCC Preview
Now comes the time to take another step forward, and unfortunately for Davis he had to deal with a broken bone in his right (shooting) hand in early October (the cast was removed last week). Having to miss "live" practice time is a detriment for sure, but there was a silver lining in this cloud for the All-WCC forward. According to Pepperdine head coach Marty Wilson, the injury led to Davis spending even more time working to strengthen his left hand. And while Davis won't be an ambidextrous player in the aftermath of the injury, the ability to make greater use of his off hand is something that's expected to help him deal with the attention he'll continue to receive from the opposition.
"He had the cast on for about four weeks, and we've been doing a lot of coming in early to work on his left hand," Wilson noted. "That was a big part of his development even before the injury, and [the injury] was almost a blessing in disguise that he wasn't able to use that right hand. Jump hooks, passes, all kinds of different layups with his left hand to where he's fully comfortable with it.
"So now when we put him in situations where he has an advantage against a bigger guy or a slower guy, when he goes to certain moves he'll be able to finish either way. The other part of it is that the injury has allowed some of our young guys to be immersed in the stuff we run and get more reps so they can learn."
That's just one adjustment Davis will have to make, with the other being the need to help the Waves account for the graduation of Brendan Lane. In his one season on the court Lane was an impact player for Pepperdine, averaging 13.0 points, 7.3 rebounds and 2.4 blocks per contest. Offensively Lane's ability to score inside, as he finished the season shooting 54.7% from the field, allowed Davis the freedom needed to step out onto the perimeter in search of scoring opportunities without having to deal with the double teams that would come frequently when he was in the post.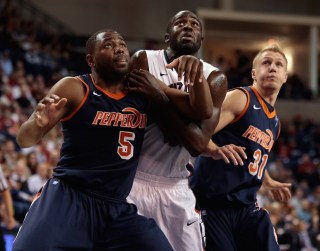 Lane was even more important on the defensive end, as evidenced by his leading the WCC in blocked shots and being named WCC Defensive Player of the Year. Of Pepperdine's three front court returnees only Davis saw significant action last season, with Jett Raines (11.7 mpg) and David Jesperson (9.3) being on the outskirts of the team's interior rotation. In addition to Raines and Jesperson four newcomers will look to earn playing time, and while the progression of those players is important so is the need for Davis to have an even greater impact defensively. Davis led the team in rebounding a season ago, but the feeling in Malibu is that he's capable of doing even more.
"The majority of the change is just me demanding more and holding him more accountable as a defender," Wilson said. "We've seen him play different guys at times where he's proven to us, and more importantly to himself, that he can guard guys when his mind is in it.
"My job is to hold him accountable to it, and we're doing some different things that will challenge Stacy and his teammates to be better defensively."
In total Pepperdine returns three starters, with sophomore guards Jeremy Major and Amadi Udenyi joining Davis. Major was one of the WCC's best freshmen last season, as he accounted for 9.1 points, 4.5 assists and 3.2 rebounds per contest, and Udenyi put together a solid rookie campaign despite missing ten games due to injury. Add in sophomore wing Lamond Murray Jr. and freshmen Shawn Olden and A.J. Lapray (Oregon transfer), and Pepperdine is hopeful that they have enough to avoid a drop in the WCC standings.
But the task will be a difficult one, with Portland returning four starters (and seven of its top eight scorers), San Diego boasting the senior guard tandem of Christopher Anderson and Johnny Dee and Santa Clara having the high-scoring guards Jared Brownridge and Brandon Clark. What helps the Waves is that in Davis they have a player who's proven to be one of the WCC's toughest individual matchups. But there's also more room for growth, and Davis has worked hard to ensure that he takes another step forward with regards to both production and leadership with Lane's presence proving to be particular helpful with the latter department.
"He was very quiet as a leader but he always had that presence," Davis said of Lane. "He taught me certain aspects of how to be a leader, but more importantly how to be a better teammate. He taught me things I can definitely apply to the team now, and with me being the leader I want to apply that aspect of being a great teammate and a great friend.
"That way when I am gone in two years it's still going to be prevalent in the Pepperdine culture. He taught me a lot, and it's going to be difficult without him. But with all teams you have to adjust, because something's going to be different with your team every year. We're a good team, and I think we'll adjust."