Beginning on October 3rd and running up until November 14th, the first day of the season, College Basketball Talk will be unveiling the 2014-2015 NBCSports.com college hoops preview package.
Today, we are previewing the West Coast Conference.
MORE: 2014-2015 Season Preview Coverage | Conference Previews | Preview Schedule
It goes without saying that the Mark Few era at Gonzaga has been a successful one, as the program has won 80 percent of its games since he took over in 1999, when Gonzaga was coming off of their magical run to the Elite 8. Included in that run are 16 consecutive NCAA tournament appearances, 13 WCC regular season titles and 12 WCC tournament titles.
But Gonzaga has made just three Sweet 16 appearances under Few, the last of which coming in 2009, and that fact is the reason why some may be skeptical to buy into the idea of this current edition having what it takes to make a deep NCAA tournament run.
Gonzaga's dominance in the WCC and overall record isn't to be questioned. They are one of the few programs that have climbed from a "mid-major" conference into the world of "high-major" basketball.
But when it comes to college hoops, more than a few choose to use the NCAA tournament as judge and jury. There's no denying the fact that the NCAA tournament is important, but a successful six-game run depends as much on matchups as it does team excellence. In other words, reaching a Final Four doesn't mean that team was one of the four best teams in the country, but that doesn't change the value of a winning streak in late-March.
Gonzaga hasn't had one of those in a while, so why should people be willing to consider this Gonzaga team as a legitimate contender to make a run to the Final Four?
Two reasons: their overall depth, and the fact that their two most experienced guards are completely healthy.
RELATED: NBCSports.com's WCC Preview
Guards Gary Bell Jr. and Kevin Pangos played at less that full strength throughout the second half of last season, with Pangos enduring a case of turf toe and a sprained ankle while Bell dealt with knee discomfort. Bell underwent surgery at the end of the season to address the issue, with doctors removing a loose piece of cartilage from beneath the kneecap. The time spent on the sidelines was frustrating for Bell, but he did his best to remain positive about the situation. And now that he's back to full strength, Bell feels better equipped to attack opposing defenses.
"I would say finishing around the basket," Bell told NBCSports.com last week when asked what he looked to improve upon once cleared to return to the floor. "Now that I don't have any nagging injuries, I feel more explosive. I feel the surgery helped me [become] even more explosive."
Bell and Pangos combined with David Stockton to form the nucleus of the best perimeter attack in the WCC, with Stockton dishing out 4.2 assists per game and Pangos (14.4 ppg, 3.6 apg) leading the way scoring-wise. Bell added 11 points per game for the Bulldogs, who won 29 games and the WCC regular season and tournament titles. Guard play was one reason why Gonzaga led the WCC in both field goal and three-point percentage, both offensively and defensively, and they were also the WCC's best with regards to both offensive and defensive efficiency. But that didn't translate into an extended stay in the NCAA tournament, with the Bulldogs falling to Arizona in the Round of 32.
This year's group has some talented offensive weapons, but in order to take the next step one task for Gonzaga will be to account for the loss of both Stockton and center Sam Dower Jr. While Stockton was their best distributor, Dower was the team's best rebounder and front court scoring option. Dower's ability to score both inside and out helped Gonzaga on that end of the floor, but while his loss is an important one the Bulldogs have a newcomer who has the skill set needed to fill that role in former Kentucky forward Kyle Wiltjer.
"[Sam] was an inside presence for us. He could score on the block, but he could also face up and shoot jumpers and help spread the floor that way," Bell noted. "I feel that Kyle fits that role perfectly. Kyle can score on the block and shoot threes as well. We're definitely going to miss Sam, but Kyle should do well at that position."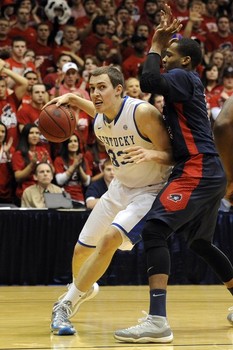 The 6-foot-10 Wiltjer averaged 10.2 points and 4.2 rebounds per game as a sophomore at Kentucky in 2012-13, and the hope in Spokane is that he can reap the rewards from a redshirt season in a manner similar to that of fomer Gonzaga big man Kelly Olynyk. Olynyk was a reserve in 2010-11, averaging 5.8 points and 3.8 rebounds 13.5 minutes of action per game. But after redshirting the following season, Olynyk returned in 2012-13 and wound up being one of the best front court players in the country (17.7 ppg, 7.3 rpg).
During his sophomore season at Kentucky more than half of Wiltjer's field goal attempts were three-pointers (150), double the number of three-pointers Olynyk attempted in his entire career at Gonzaga (75). The two players are different, but that doesn't mean that Wiltjer can't make the same kind of improvement. And according Bell, Wiltjer made good use of his season spent on the sidelines.
"We've seen his game develop, and he's been more of a physical player than in the past," Bell said. "He's always been able to score, but he's gotten better at rebounding every day. It's fun watching these guys develop when they take off that year [to redshirt]."
Wiltjer, freshman Domantas Sabonis and senior Angel Nunez will need to do their part on the boards as the Bulldogs look to account for the loss of Dower, and they'll need to defend as well. As for the perimeter, the addition of USC graduate transfer Byron Wesley gives Gonzaga a talented wing scorer who's hungry for team success after experiencing so little of it at his last stop. Also in their first season with the program are Vanderbilt transfer Eric McClellan (eligible in January), and freshmen Silas Melson and Josh Perkins who will be asked to lead the way for Gonzaga in the future. And with that in mind, both Bell and Pangos have done their best to take the freshmen under their wing.
"With Josh and Silas, me and Kevin took them under our wing because they're going to be the future of Gonzaga," Bell said. "So we've tried to show them the 'blueprint' so they understand that we work hard here. We don't take days off and we don't take plays off here."
Success is expected at Gonzaga, with this year's team looking to raise another WCC championship banner and make another NCAA tournament appearance. Those goals are well within the Bulldogs' reach, as is an extended stay in the NCAA tournament. The depth and talent are there, all that's left to do at this point is make it happen. And in Bell's view, the key for Gonzaga lies in how they go about taking care of business.
"We just need to keep our intensity," Bell said. "Sometimes we'd let up in games and then a team would come back. If we keep our intensity and play every game like it's a big game, we'll be fine."