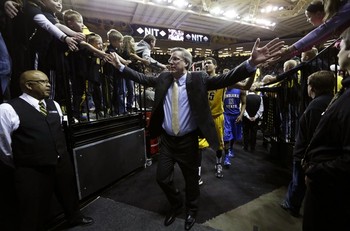 Each Monday and Friday, College Basketball Talk's Scott Phillips goes over some important news and notes in the world of college basketball recruiting. This week, Iowa quickly lands a 2015 guard, point guards coming off the board in 2015 and keep an eye out for JaQuan Lyle.
Iowa makes quick work in recruitment of newest commitment
Iowa got involved late with Chicago native and Class of 2015 guard Isaiah Moss, but the Hawkeyes made up for the late arrival quickly on the official visit this weekend as Moss pledged to head coach Fran McCaffery.
After visiting DePaul three times in recent weeks and staying open in the recruiting process until his quick decision, this commitment from Moss is a little bit surprising in terms of the timing. Other schools like Pitt and Iowa State were working to get involved with Moss late this fall, but the 6-foot-5 guard from Simeon will become the third player of his high school's senior class committed to a Big Ten program after D.J. Williams (Illinois) and Edward Morrow (Nebraska).
Iowa is getting a late bloomer at guard who is a good athlete and strong slasher. Moss had a strong summer and is poised for a big senior season of high school basketball. The 6-foot-5 Moss is a three-star prospect, according to Rivals, and also took official visits to DePaul and Rhode Island during the recruiting process.
Moss joins Chicago forward Brandon Hutton, Oak Hill guard Andrew Fleming, and Ohio native and forward Ahmad Wagner in Iowa's 2015 class.
Point guards coming off the board in 2015
A couple of late emerging point guards pledged to Mountain West programs around the weekend as UNLV landed Candian point guard Jalen Poyser and Boise State received a commitment from California native Paris Austin.
The 6-foot-3 Poyser is a silky performer with the ball and can knock in shots or get to the basket. He had a strong July and August and became a high-major target in a class that has a limited amount of high-level guards. Poyser elevated himself to a four-star prospect in the 2015 class with his summer play and is the No. 84 player in the class, according to Rivals.
Austin is a high school teammate of five-star Class of 2015 big man Ivan Rabb and ran in grassroots with Dream Vision and Chase Jeter, Tyler Dorsey and Ray Smith.
The 5-foot-11 guard has played with and against a lot of quality competition in his high school career and has won a lot of games. Austin is a three-star guard and No. 142 overall player in the 2015 class, according to Rivals.
Leon Rice has done a nice job developing some guards at Boise State the last few years and Austin has a chance to grow nicely into the position.
Poyser just gives UNLV another talented guard on a roster full of talented players who can create scoring opportunities. He's another solid late blooming guard. For a league like the Mountain West, this is a nice recruiting haul and the league adds some quality guards in a class that lacks them nationally.
Keep an eye out for the recruitment of JaQuan Lyle
After not enrolling at Oregon, and going to IMG Academy, former Class of 2014 guard JaQuan Lyle is back on the market and hoping to play in 2015-16.
The 6-foot-5 guard is a five-star type of talent, but has work to do to maintain his focus both in the classroom and on the floor by limiting turnovers.
So far, Lyle has been involved with Indiana and Missouri according to SNY.tv, which isn't surprising given his history with the two schools.
Lyle is from the state of Indiana and has been recruited by Hoosier head coach Tom Crean before and Missouri assistant coach Rob Fulford is Lyle's former head coach at Huntington Prep, where Lyle spent the 2013-14 season.
As the No. 24 overall player in the 2014 class, Lyle is a talented player who likely would have started at Oregon this season had he played there. Now that he's available he could be a talented addition to a program at guard. Keep an eye on where Lyle will visit this fall and winter.