Butler's Hinkle Fieldhouse is one of the best and most historic venues in all of college sports. But, as with any aging facility, Butler faced the difficult task of remodeling some areas of the historic facility and making it look new while maintaining the original charm.
After $36 million of renovations, the new-look Hinkle made its public debut on Saturday night as the Bulldogs faced the University of Chicago in their exhibition opener. The on-court return of veteran guard Roosevelt Jones is probably the most important subplot of that exhibition contest — and he finished with eight points, eight assists in a win — but the new Hinkle Fieldhouse certainly received the most buzz from the fans in attendance.
Butler gave a tour of the new Hinkle to media members on Friday before that exhibition opener, including Michael Pointer of the Indianapolis Star.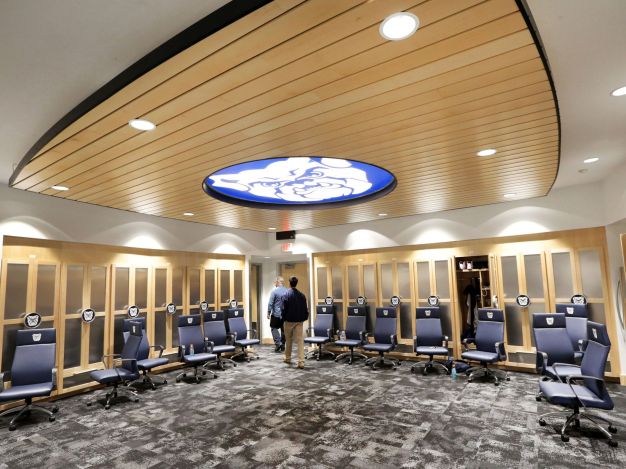 The renovation includes some new designs in the entrance way, a new mural, new video board and some new locker rooms for the team. The seating has also been reduced from 10,000 to 9,100 and seatbacks have been added to many lower-level seats. While most of the charm of Hinkle remains in-tact — including the court, roof and upgraded windows — this renovation to Hinkle should be nice for the athletics department for recruiting and the comfort of their current players.
You can view more photos of the renovation at the Indianapolis Star.
With Butler joining the Big East in recent years, this was a perfect time to invest money in some upgrades to the legendary facility after the recent success of the program. Although the future of Butler men's basketball is facing some current questions as head coach Branden Miller is taking a leave of absence, they at least have this upgraded arena to hold them over for the time being.