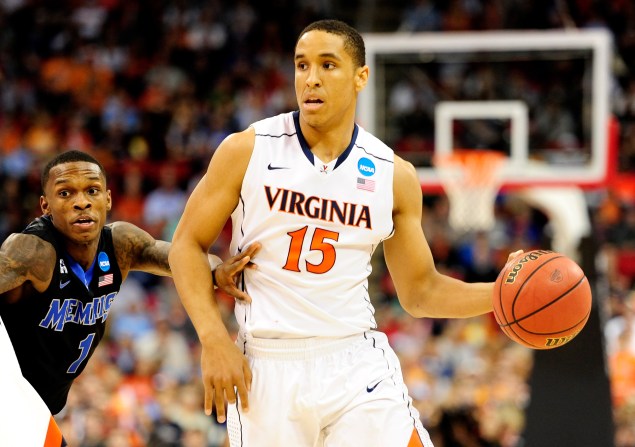 Beginning on October 3rd and running up until November 14th, the first day of the season, College Basketball Talk will be unveiling the 2014-2015 NBCSports.com college hoops preview package. We continue our countdown today with No. 6 Virginia.
MORE: 2014-2015 Season Preview Coverage | NBCSports Preseason Top 25 | Preview Schedule
Head Coach: Tony Bennett
Last Season: 30-7, 16-2 ACC (1st), lost to Michigan State in the Sweet 16
Key Losses: Joe Harris, Akil Mitchell
Newcomers: Devon Hall, B.J. Stith, Isaiah Wilkins, Marial Shayok, Jack Salt
Projected Lineup
– G: London Perrantes, So.
– G: Malcolm Brogdon, Jr.
– F: Justin Anderson, Jr.
– F: Anthony Gill, Jr.
– C: Mike Tobey, Jr.
– Bench: Evan Nolte, Jr.; Darion Atkins, Sr.; B.J. Stith, Fr.; Marial Shayok, Fr.; Isaiah Wilkins, Fr.; Jack Salt, Fr.; Devon Hall, Fr.
They'll be good because … : There is one thing that we can always be sure of when it comes to a Tony Bennett-coached team: they are going to play tough, pack-line defense that forces you into tough shots and keeps you from getting to the offensive glass. That will not change this season despite the fact that the Cavs will graduate Joe Harris and the ever-underrated Akil Mitchell.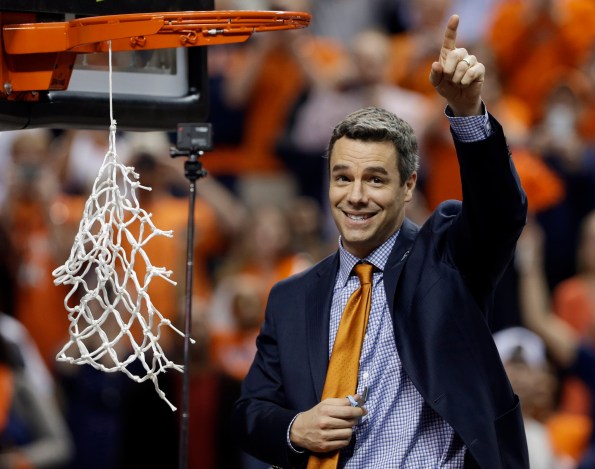 The Cavs do bring back every other member of their rotation while adding a solid recruiting class into the mix. Malcolm Brogdon may be the nation's least-appreciated player. He's a 6-foot-5 playmaker that should embrace being this team's leader. London Perrantes grabbed hold of the starting point guard job early on last season and spent the season burying open jumpers and running offense without turning the ball over. Anthony Gill and Mike Tobey are big bodies with quite a bit of potential, and Justin Anderson is one of the ACC's best athletes and the kind of player that will be among the league leaders in floor burns.
But they might disappoint because … : There are two major concerns I have with this team, and both of them involve the players that they will be losing. Joe Harris did not have a great senior season, statistically speaking, but what he provided the 'Hoos was a knockdown perimeter shooter and a go-to guy. Harris wasn't a great one-on-one player, but he was terrific running off of screens; Bennett could call his number and know he was getting a good shot out of it. Who plays that role for Virginia this season?
As for Akil Mitchell, he versatility defensively is going to be missed. Tobey is probably a better low-post scorer than Mitchell (particularly with the way he played as a senior) and Gill is probably better getting to the offensive glass. But neither of them has the lateral quickness of Mitchell. In other words, Mitchell could not only hedge and recover on ball-screens, but he could switch out and guard a wing if needed. Tobey and Gill don't have that kind of athleticism.
Outlook: Virginia's basketball program is as good as it has been since Ralph Sampson was roaming the paint three decades ago. They are coming off a dual-ACC title this past season, and they not only returned all but two of their rotation players from a year ago but only one player currently on their roster is a senior. Virginia will not only be good this season, the program's future looks just as bright.
As far as this season is concerned, it's going to be difficult for Virginia to repeat as dual-ACC champs even if their team, as a whole, is better than the one they put on the floor a year ago. That's because the conference is loaded at the top this year. Duke, North Carolina and Louisville are all top ten teams, and that's to say nothing of programs like Syracuse, Notre Dame, Pitt, Miami and N.C. State. The Cavs could very well finish in fourth place in the ACC's regular season and I'd still call them a legitimate Final Four contender.