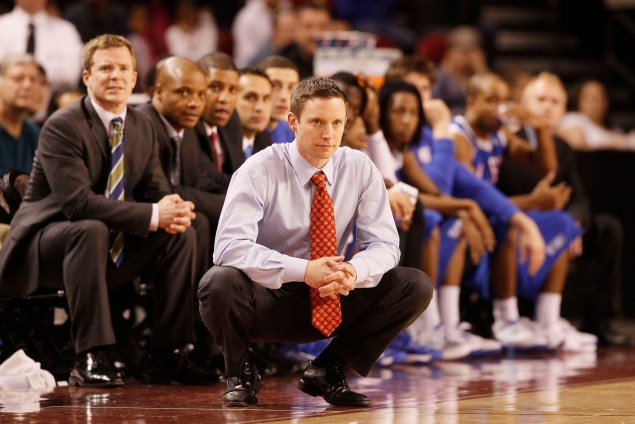 Beginning on October 3rd and running up until November 14th, the first day of the season, College Basketball Talk will be unveiling the 2014-2015 NBCSports.com college hoops preview package.
MORE: 2014-2015 Season Preview Coverage | Conference Previews | Preview Schedule
In the final game of Louisiana Tech's foreign trip to the Bahamas, head coach Michael White could sense his team had had enough of paradise. It was the third game in four days with the scheduled tip against the PJ Stringers set for 8 p.m., giving the team little time to rest before waking up at 4 a.m. the next morning to catch a flight home.
The game came down to the wire with senior guard Raheem Appleby stepping up, and making several clutch plays down the stretch to come away with a 100-94 overtime victory.
"Our guys were kind of halfway mentally checked out. Got off to a rough start. We started five freshmen, and we just really weren't playing really well," White said. "It was nice to see late in that game Raheem Appleby step up and make winning plays, which is something hadn't seen Raheem do in a long time."
Appleby had missed 12 games during the 2013-2014 season to an ankle injury. The trip showed the senior guard was back to full strength, averaging 16.6 over the three games. Appleby, like Kenneth 'Speedy' Smith and center Michale Kyser, have been part of with White from the start of his coaching tenure. In that time, the group have compiled a record a 74-31 record going from the Western Athletic Conference to the new-look Conference USA along the way.
White, 37, one of the nation's top rising head coaches, has built an NCAA tournament caliber team in Ruston, Louisiana, and he has no plans on leaving for what some would consider "greener pastures" anytime soon.
"I've said this 100 times, I got by the motto, 'If it ain't broke don't fix it,'" White told NBCSports.com last month.
MORE: Conference USA Preview
"I'm just very thankful to be a coach here. I love my job and Ruston and Louisiana Tech. Maybe most importantly I love our roster. The group of young men I get to work with is special. We've enjoyed building something and I'm going to continue to enjoy building this program. At the same time my wife and kids are very comfortable here. We came here with the idea of laying roots, and that's still our plan."
Coming off a 29-win season, and a four-way tie atop the Conference USA standings, White became one of the hottest coaching candidates in the country, despite reports stating he had been received an informal offer from Tennessee, he decided to remain as the head coach at Louisiana Tech.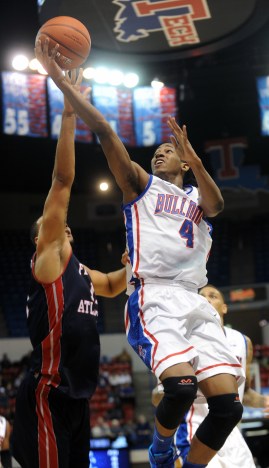 He'll be coaching the group with some of the players he started with while welcoming in a nine newcomers, including a recruiting class he is very high on. The freshmen class includes Dayon Griffin, a 6-foot-5 guard, who will serve as an understudy to Smith, the C-USA Preseason Player of the Year, and all-conference guard Alex Hamilton. Xavian Stapleton, Jacobi Boykins and Joniah White were all rated as three-star commits by Rivals. The 6-foot-10 Joniah White will be part of a young frontline around Kyser, who averaged 3.0 blocks per game.
Although the scenery is still the same for White, the landscape of his team's conference has constantly been changing during his tenure. Louisiana Tech left the WAC in 2013 for C-USA, the revolving door of college conference realignment the last two years.
In their debut season, the Bulldogs finished with a 13-3, an identical record they shared with Southern Miss, Middle Tennessee and Tulsa, the C-USA Tournament champion.
"I thought Conference USA it was step in the right direction for our athletic department," White said. "My first impression of the league was that it was a very talented league, extremely coached league, and a under-appreciated league in my opinion. We had a few teams of deserving at least consideration of at-large berths.
"You look at those four teams and UTEP was extremely talented and won several high-major games. Charlotte that won two or three games against BCS schools and UAB beats North Carolina. That's a pretty good against national competition."
In July, East Carolina, Tulane and Tulsa all officially moved to the American Athletic Conference, and Western Kentucky became C-USA's newest addition. The conference also saw four coaching changes take place as Mike Rhoades was hired at Rice, Michael Curry at Florida Atlantic, Dan D'Anonti a Marshall, his alma mater and Doc Saddler taking over Southern Miss after Donnie Tyndall was named Tennessee's new coach.
The new, six-year extension White signed in April will give him plenty of time to get better acquainted with he new league members, as his team enters as the clear favorite in C-USA while UTEP, Western Kentucky, Old Dominion and Charlotte will pose as challengers.
There isn't just buzz around the men's basketball team in Ruston. In April, 24-year-old Tyler Summitt, the son of legendary Tennessee head coach Pat Summitt, was named the women's basketball program.
"There's a lot of excitement on campus and in Ruston about Bulldog basketball and Lady Techsters basketball," White added.
And he's happy he's around to be apart of it.