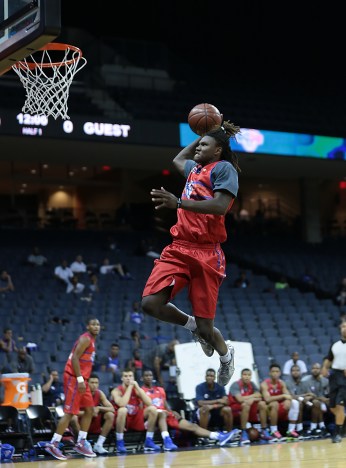 Each Monday and Friday, College Basketball Talk's Scott Phillips goes over some important news and notes in the world of college basketball recruiting. This week, Central Florida lands a unique center, Tennessee gets an impact wing and Saint Louis grabs a rising center.
Central Florida lands a unique center
After a poor first season in the American that saw them go 13-18 and 4-14 in the league, head coach Donnie Jones needed an influx of talent at UCF.
This week, Jones picked up a unique three-star center to join a solid four-man class in 2015. Tacko Fall, a 7-foot-5 center pledged to the Knights earlier this week and his massive size means UCF can throw a different defensive look out on the floor for a few minutes a game.
Due to his massive size, Fall doesn't move the best from end to end, but he does present a major vertical threat as a rim defender. Just ask defenders who faced E1T1 in the EYBL when Fall was under the rim: he makes it challenging down there because you don't see that kind of size very often.
Putting Fall under the basket in a zone for a few minutes of game should help the defense, especially holding a lead and slowing the game down.
Fall joins three-star prospect Chad Brown, sharpshooter Chance McSpadden and JuCo transfer Tanksley Efianayi in UCF's 2015 class and they should get some wins in the American if everything goes right.
Tennessee gets an impact wing and a winner
Donnie Tyndall hasn't gotten people fired up about his landing some three-star prospects in the 2015 class — and they're good players who should contribute — but landing four-star wing Chris Clarke is a great grab for Tennessee. The Volunteers beat UConn, Creighton and Virginia Tech for one of the highest motored players in the 2015 class.
Clarke helped lead EYBL member Boo Williams to a lot of success and wins this past grassroots season and his effort on the defensive end is contagious to others on the floor. CBT's Rob Dauster made mention of Clarke comparing effort-wise to a player Tyndall helped put in the NBA in his former Morehead State star Kenneth Faried. They're different positions, like Rob mentions, but it's the same kind of hustle plays that separates them from their peers.
Getting a player like Clarke is a recruiting win because players want to play with high-energy guys who making winning plays like Clarke. This is a really nice win for Donnie Tyndall.
The Volunteers now own commitments from Clarke, the No. 59 player in the 2015 class, three-star 6-foot-4 shooting guard Shembari Phillips and three-star wing forward Admiral Schofield.
Saint Louis lands a rising center
Matt Neufeld had a strong July live evaluation period and garnered high-major scholarship offers from all over the country. The 6-foot-10 Neufeld is doing a postgrad year and grabbed scholarship offers from Saint Louis, St. Mary's, Colorado and Clemson.
After narrowing his focus to the Billikens and St. Mary's, Neufeld received a call from Duke, according to Scout.com's Evan Daniels, but ultimately chose Saint Louis because of his strong relationship with the coaching staff.
Landing the three-star center is a nice grab for the Billikens, who need some big bodies to compete with some strong incoming forwards at other A-10 programs like VCU.