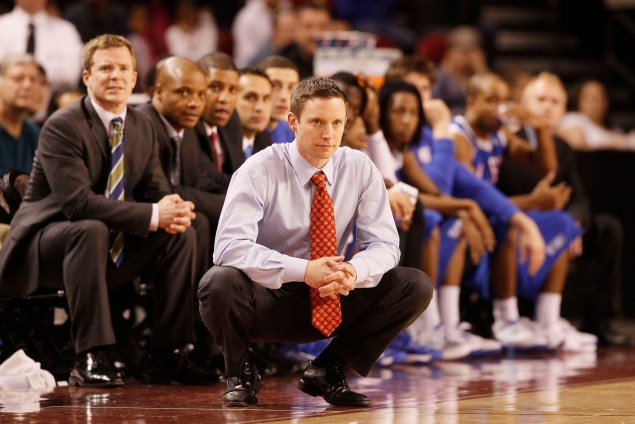 Beginning on October 3rd and running up until November 14th, the first day of the season, College Basketball Talk will be unveiling the 2014-2015 NBCSports.com college hoops preview package.
MORE: 2014-2015 Season Preview Coverage | Conference Previews | Preview Schedule
Conference realignment has been rampant the last few seasons, and Conference USA is still feeling the effects of it heading into the 2014-2015 season. Gone are East Carolina, Tulane and the league's lone NCAA tournament team from last year, Tulsa. The conference welcomes in Western Kentucky as its newest member. If you're scoring at home, that's nine new programs and seven former members since 2013.
At least one thing looks to remain certain in 2014-2015, Louisiana Tech should finish atop the conference standings. The Bulldogs were one of four teams — Tulsa, Middle Tennessee and Southern Miss — to share the regular season title with a 13-3 record. Like previously mentioned, Tulsa left C-USA, Middle Tennessee lost four starters and Souther Miss is starting the Doc Sadler era after Donnie Tyndall accepted the Tennessee position.
Louisiana Tech returns plenty of key contributors, but none more important than head coach Michael White, who was in the conversation for several coaching vacancies this offseason.
The Bulldogs boast the league's top back court with Kenneth 'Speedy' Smith running the show, Alex Hamilton back as the team's top scorer and Raheem Appleby, who was sidelined for several weeks last season with an ankle injury. Michale Kyser mans the frontline with his 3.0 blocks per game, and he'll be an important piece this season, as the Bulldogs' biggest threat, UTEP, has two talented forwards.
The Miners may have finished fifth last season, but was only a game out of first in the top-heavy C-USA. Tim Floyd's team is headlined by sophomore Vince Hunter and (12.5 ppg, 6.4 rpg) and Julian Washburn (13.1 ppg). Another team looking to make a run at the Bulldogs is newcomer, Western Kentucky. The Hilltoppers join the league from the Sun Belt, and have been to two of the last three NCAA tournaments. Ray Harper's team is aided by senior guards T.J. Price and George Fant — the team's top two scorers at 15.5 points and 13.3 points, respectively –who will help with the transition against better competition.
Along with Harper, C-USA has three new coaches. Mike Rhoades came over from VCU to take over at Rice while Michael Curry (Florida Atlantic) and Dan D'Antoni (Marshall) join the conference from the NBA sidelines, despite neither of them having college basketball coaching experience.
REALIGNMENT MOVES
In: Western Kentucky
Out: East Carolina, Tulane, Tulsa
PRESEASON CONFERENCE-USA PLAYER OF THE YEAR: Kenneth 'Speedy' Smith, Louisiana Tech
The 6-foot-3 guard averaged single-digits (7.8 ppg) last year, but he effected the game in so many other ways. He was second in the nation in assists (7.7 apg), was 10th in the nation with a 3.23 assist-to-turnover ratio, and he was also top 10 in the nation in steals at 2.5 per game. The senior guard was named Conference USA Defensive Player of the Year and is the only returning member of the league's first-team from a season ago.
THE REST OF THE PRESEASON CONFERENCE-USA TEAM:
Alex Hamilton, Louisiana Tech: Another member of Louisiana Tech's heralded back court. The 6-foot-4 guard averaged a team-high 14.5 points per game last season.
Pierria Henry, Charlotte: The 49ers top scorer from a season ago averaged 12.3 points, grabbed 5.1 boards and dished 5.8 assists per game.
Vince Hunter, UTEP: Hunter is coming off a great freshman campaign, averaging 12.5 points and 6.4 boards per game. Part of a talented front court duo with Julian Washburn.
T.J. Price, Western Kentucky: One of the top newcomers to the league averaged better than 15 points per game over the past two years in the Sun Belt.
ONE TWITTER FEED TO FOLLOW: @Conference_USA
PREDICTED FINISH
1. Louisiana Tech
2. UTEP
3. Western Kentucky
4. Old Dominon
5. Charlotte
6. Middle Tennessee
7. North Texas
8. UAB
9. Southern Miss
10. Florida International
11. Rice
12. Florida Atlantic
13. UTSA
14. Marshall