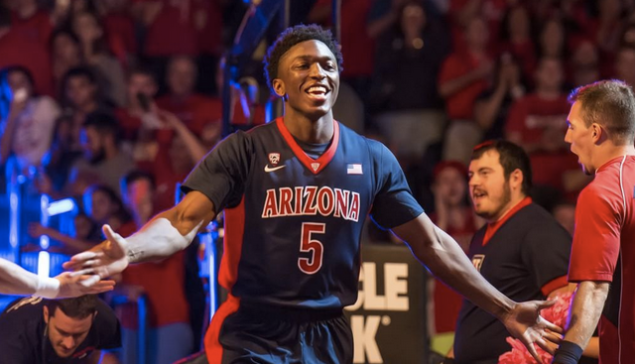 Beginning on October 3rd and running up until November 14th, the first day of the season, College Basketball Talk will be unveiling the 2014-2015 NBCSports.com college hoops preview package. We continue our countdown today with No. 7 North Carolina.
MORE: 2014-2015 Season Preview Coverage | NBCSports Preseason Top 25 | Preview Schedule
Over the summer, before the USA went on to win the FIBA World Cup, we put together the 12-man roster that we would want if Team USA were still made up of college players.
With the NBA season kicking off this week, we thought it would be fun to put together a 15-man roster of college players if we had to choose a college team that would play an NBA season. The roster is similar — the best players are still the best players — but there are some notable changes here.
And one other thing: We know this team is going to lose a lot of games in the NBA. So what. The person that makes that statement is the same person that vetoes every trade in a fantasy football league because it makes other teams better. No one likes that guy, so don't be that guy. At the very least, our team would give Philly a fight in a seven game series.
Here's our roster:
—————————————————————————————————-
COACH: Billy Donovan, Florida: Donovan is clearly an NBA-caliber head coach. The Orlando Magic already signed him once before he returned to Florida, and that is far from the last NBA team that has made a push to try to hire him. He runs a ball-screen heavy offense, which suits our personnel, and he's good enough to know when he needs to feed the ball to his big men, which is a strength of this team. The three front court players on our bench fit perfectly into pick-and-pop scenarios.
G Marcus Paige, North Carolina: I'm not convinced Paige can be a full-time point guard at this level yet, but I'm also not convinced that there is a point guard in the country that can this year. What I loved about Paige last season was that he showed a willingness to run UNC's offense until it was crunch time, when he would take over. He had quite a few monster second halves and made a number of critical jumpers. I think there's a real shot he wins National Player of the Year this season.
G Caris LeVert, Michigan: LeVert is still too skinny, and I have concerns about him on the defensive end of the floor, but he'll a nice addition on the offensive end of the floor because he has NBA range on his jumper and because he can operate in the pick-and-roll. He should be a good fit for the offense that gets run by Donovan.
F Stanley Johnson, Arizona: Johnson has a terrific future in front of him, and he gets the nod despite being a freshman because he's just such a good all-around player with a body that can already handle playing against pros at this point in his career. There are two things in particular that made him an ideal three for our team: 1) He's a very good defender that won't get back down by stronger wings, and 2) He's a good enough ball-handler and playmaker that he can initiate offense, taking some of the pressure off of our back court.
F Montrezl Harrell, Louisville: Harrell gets the bump into the starting lineup for us in what I like to call the "Kenneth Faried role". Harrell is our energy guy, a rebounder and a defender that will set some menacing screens and earn extra possessions with his hustle. His improving perimeter stroke earned him the nod over Karl Towns and Frank Kaminsky, as he'll now be able to keep opposing fours from collapsing on Okafor on the block.
C Jahlil Okafor, Duke: This is the guy that we figured we would need to build our team around, as he's the most NBA-ready player in college basketball. He's already got the size and the low-post game to be effective against NBA centers, although his effectiveness on the defensive end of the floor is a concern. Is he ready to guard pick-and-rolls yet?
BENCH:
Juwan Staten, West Virginia: Sometimes you just need a guy to come off the bench that can give you instant offense, and Staten can do that.
Terry Rozier, Louisville: This is assuming that Rozier takes the kind of step forward that we are expecting him to make. He's a terrific athlete that can run the pick-and-roll, scores in the mid-range and really rebounds the ball well for his size.
Ron Baker, Wichita State: Baker is like a utility infielder on a baseball team. He can run the point, he can shoot like an off-guard and he can defend any position on the perimeter.
R.J. Hunter, Georgia State: I'm not sure there is a better spot-up shooter in the country than Hunter, and he's got the size (6-foot-5) to play two-guard to boot.
Sam Dekker, Wisconsin: Dekker's grown to about 6-foot-9 and has a chance to be an all-american this season. I foresee him playing a lot of minutes at the two alongside Stanley Johnson.
Rondae Hollis-Jefferson, Arizona: Defensive stopper, sensational athlete, great motor and a jump shot away from being a very, very good player.
Georges Niang, Iowa State: Now 25 pounds lighter, Niang is turning into one of the best offensive weapons in college basketball.
Karl Towns, Kentucky: Towns is eligible for this team since it isn't Team USA. He's the second-best prospect in college basketball and we nearly started him over Harrell because of his ability to shoot. His defense and body need to develop, but he's already supremely skilled offensively.
Frank Kaminsky, Wisconsin: The big question marks with Kaminsky are his ability to rebound and his ability to defend. That said, he's a matchup nightmare for opposing big men and there are few people that can take over a game offensively the way he did as a junior.
Willie Cauley-Stein, Kentucky: He makes the cut over Nnanna Egwu and Amida Brimah as our defensive stopper up front.