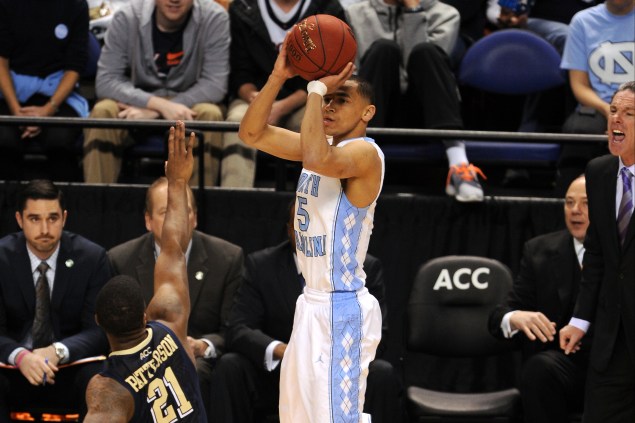 Beginning on October 3rd and running up until November 14th, the first day of the season, College Basketball Talk will be unveiling the 2014-2015 NBCSports.com college hoops preview package. We continue our countdown today with No. 7 North Carolina.
MORE: 2014-2015 Season Preview Coverage | NBCSports Preseason Top 25 | Preview Schedule
Head Coach: Roy Williams
Last Season: 24-10, 13-5 ACC (t-3rd), lost in the Round of 32 to Iowa State
Key Losses: James Michael McAdoo, Leslie McDonald
Newcomers: Justin Jackson, Theo Pinson, Joel Berry
Projected Lineup
– G: Marcus Paige, Jr.
– G: J.P. Tokoto, Jr.
– F: Justin Jackson, Fr.
– F: Brice Johnson, Jr.
– C: Kennedy Meeks, So.
– Bench: Nate Britt, So.; Joel Berry, Fr.; Isaiah Hicks, So.; Theo Pinson, Fr.; Joel James, Jr.;
They'll be good because … : I'm not convinced that there is a team in the country with markedly more talent on the roster than North Carolina. Kentucky, Duke, Arizona and Kansas are all loaded as well, but there's a fairly easy argument to make that the Tar Heels are anything-but outclassed by the schools ranked above them.
But, honestly, that's neither here nor there, as there are essentially three reasons why I think the Tar Heels can win a national title this season:
1. Marcus Paige is awesome. I'm not sure he's ever going to be the prototypical Roy Williams point guard — he's not fast like Ty Lawson or Ray Felton, and he's not the passer that Kendall Marshall is — but he's a big-time scorer that play with the ball in his hands and has a proven track record of being able to take over late in games. Paige has a very real chance of being the National Player of the Year.
2. The slimmer Kennedy Meeks should be a dominant low-post presence. Everyone loves to talk about how much Ol' Roy's teams like to run, but when they are at their best, they have a hoss on the block that commands double-teams. Sean May, Tyler Hansbrough, Tyler Zeller. Meeks has lost somewhere around 60 pounds, meaning he'll be able to run the floor faster and play at a peak level for longer stretches. He was really good at times last season.
3. Justin Jackson is going to give UNC the scoring pop from the wing that they have been missing. The 6-foot-8 small forward is getting no where near enough attention this season. He's as pure-bred as scorers can be, and his mid-range game is lethal.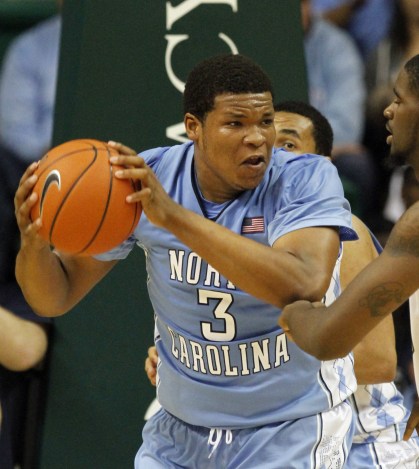 But they might disappoint because … : There are more than enough distractions floating around that program right now. Between the academic scandal, the Wainstein Report and the P.J. Hairston saga, the Tar Heels have been in the news for off-the-court stuff that is happening far more than for what they've accomplished on the floor. That's obvious and, considering the fact that most of the guys on this roster are completely uninvolved with any of those issues, somewhat unfortunate.
But that's not my only concern with this group. Front court depth is an issue if some of Meeks' counterparts don't take a step forward. I'm expecting a big season from lanky junior Brice Johnson, and Isaiah Hicks and Joel James are both talented enough that they should be able to provide more production than last season. That said, there are a lot of question marks with UNC's big men, and that does include Meeks.
The point guard spot seems iffy as well. Does Paige play there full time, or does he get moved off the ball, allowing Nate Britt and Joel Berry to run the offense? If Paige plays the two, what happens on the wing, where Jackson will be competing for minutes with J.P. Tokoto and Theo Pinson?
Outlook: I really like this North Carolina team. As I wrote earlier, I think the trio of Paige, Jackson and Meeks will be very, very good for the Tar Heels.
But outside of Paige, there's not a lot that we know for sure about this group. Will Jackson be able to have the impact offensively I think he is capable of, or will he need a year to add strength before playing a major role on this team? Can Britt and Berry handle point guard duties, or will Paige need the ball in his hands as much as he did last season? What can we expect out of Johnson and Meeks — who combined for 17.9 points and 12.2 boards in 36 minutes last year — this season?
And how will the cloud of scandal hanging over the program affect everyone?
All that said, it will be a disappointing year if North Carolina doesn't compete for an ACC title and isn't in the conversation for a national title come March.