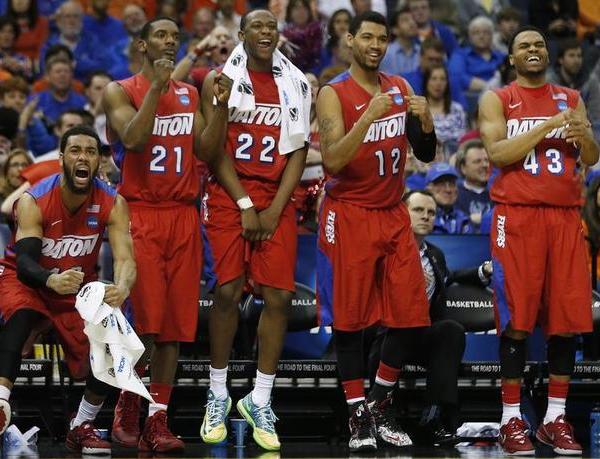 Beginning on October 3rd and running up until November 14th, the first day of the season, College Basketball Talk will be unveiling the 2014-2015 NBCSports.com college hoops preview package.
Today, we will be breaking down the Atlantic 10.
MORE: 2014-2015 Season Preview Coverage | Conference Previews | Preview Schedule
The Atlantic 10, the Rodney Dangerfield of college basketball, is out to gain the respect yet again in 2014-15. The A-10's 2013-14 season ended on a positive note, as Dayton, a team that began conference play with a 1-5 record, reached the Elite 8. This year, the league will look to build on that run, although outside of VCU, a top 20 team, there is not much clarity when it comes to the conference's power structure.
REALIGNMENT MOVES
In: Davidson
Out: None
FIVE THINGS YOU NEED TO KNOW:
1. Archie Miller stayed: After guiding Dayton an Elite 8 run in March, Miller had a couple of options for leaving the Flyers for a high-major job. He decided to sign an extension at Dayton through 2019. It speaks to the strength of the league when hot coaching commodities like Miller and Shaka Smart continue to spurn Power 5 schools.
2. Rhode Island on the rise: Danny Hurley is in his third season at Rhode Island, and his rebuilding effort has been a major storyline in the A-10. Is this team, led by all-conference guard E.C. Matthews, ready to make the jump this season, or are the Rams still "one year away"?
3. George Washington: In 2013, the A-10 preseason poll predicted a 10th-place finish for Mike Lonergan's Colonials. After a surprise season, Lonergan has a quartet of juniors — Patricio Garino, Kethan Savage, Joe McDonald and Kevin Larsen — ready to handle preseason hype, as George Washington looks for a second straight NCAA tournament appearance.
4. RPI and non-conference: Last season, eight teams were listed in the RPI top 100, the same number of teams in kenpom.com's 2014 ratings (with two more just on the outside). The league also boasted non-conference wins over the Virginia, Gonzaga and Creighton last season.
5. Games on NBC Sports Network: There will be 25 Atlantic 10 games broadcasted on the NBC Sports Network. Full schedule is here.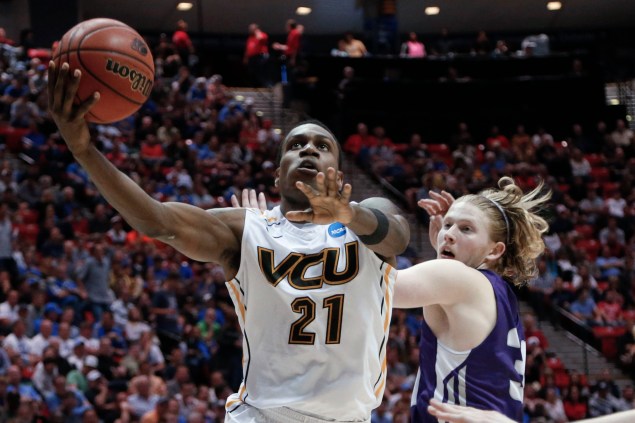 PRESEASON ATLANTIC 10 PLAYER OF THE YEAR: Treveon Graham, VCU
The 6-foot-6 Graham should end up going from an under-recruited forward to a conference player of the year with four NCAA tournament appearances. Graham, who averaged 15.8 points 7.0 rebounds and 2.0 assists per game as a junior, is a tough matchup for opposing defenses with his physical brand of basketball. Graham wasted little time preparing for his final season in Richmond as he spent the summer at the LeBron James, Kevin Durant and Chris Paul elite camps.
THE REST OF THE ATLANTIC 10 FIRST TEAM:
Kendall Anthony, Richmond: The diminutive lead guard averaged 15.9 points per game, shooting better than 35 percent from beyond the arc.
DeAndre Bembry, Saint Joseph's: The co-Atlantic 10 Rookie of the Year will be the key for the Hawks this season after they lost three of their top four scorers.
E.C. Matthews, Rhode Island: The 6-foot-5 guard has generated a lot of buzz for himself this summer after a freshman season that ended with sharing A-10 rookie honors with Bembry. Matthews scored 20 or more nine times after January.
Briante Weber, VCU: The defensive catalyst for Havoc recorded 3.5 steals a night for VCU, and could potentially break the Division I record for steals this season.
FIVE MORE NAMES TO KNOW:
Patricio Garino, George Washington
Cady Lalanne, UMass
Kethan Savage, George Washington
Jordan Sibert, Dayton
Jerrell Wright, La Salle
BREAKOUT STAR: Jordan Price, La Salle
Tyreek Duren and Tyrone Garland both exhausted their eligibility, and they combined to averaged almost 28 points. Dr. John Giannini will look to yet another transfer to anchor the Explorers' perimeter. Jordan Price, an Auburn transfer, was ranked No. 79 overall recruit by Rivals in 2012. In his lone season with the Tigers, he averaged 5.4 points per game, shooting 39 percent from three.
COACH UNDER PRESSURE: Tom Pecora, Fordham
Tom Pecora holds a 34-85 record as he enters his fifth season at Fordham. Since the 2010-2011 season, the Rams have followed this pattern: seven wins, 10 wins, seven wins, 10 wins, and have finished last three of four years. Fordham will be a young team with nine freshmen and sophomores, compared to six upperclassmen.
ON SELECTION SUNDAY WE'LL BE SAYING … : "How many bids will the Atlantic 10 get?"
It's becoming the annual theme for the Atlantic 10 on Selection Sunday. Five in 2012, six in 2013, but how many this upcoming season? I'd set the line at -4.5, and I would probably take the over. Look at a team like UMass. The Minutemen will play a handful of tournament-caliber teams in the non-conference (LSU, Providence, BYU, Harvard all on the road), so even if they do stumble in the conference play again this season, they have the chance to pick of several quality out of conference wins.
Just look at other teams last season. Dayton defeated Gonzaga in Maui and George Washington knocked off Creighton in December.
I'M MOST EXCITED ABOUT : Conference play
Atlantic 10 conference play always seems to be unpredictable. For example, GW was picked to finish 10th in 2013-2014 befor earning an at-large bid to the NCAA tournament. This season should be no different. Some of the better teams still have their questions while other programs appear to be on the rise. No better way to cap of league play than with a four-day stay in Brooklyn.
FIVE NON-CONFERENCE GAMES TO CIRCLE ON YOUR CALENDAR:
Nov. 24, VCU vs. Villanova (at the Barclays Center, Brooklyn)

Nov. 26, Richmond at N.C. State
Dec. 6, VCU vs. Virginia
Dec. 7, UMass vs. Florida Gulf Coast
Dec. 10, Rhode Island at Providence
*Dayton could end up playing UConn on Nov. 21
ONE TWITTER FEED TO FOLLOW: @CDiSano44
PREDICTED FINISH
1. VCU: A top-15 team heading into the preseason, and with Treveon Graham and Briante Weber, Shaka Smart should be poised to win his first regular season conference title.
2. George Washington: The core of juniors George Washington returns will have to offset the lost production from Mo Creek and Isaiah Armwood. The Coloinals should be able to weather the storm with a healthy Kethan Savage, and a tough defense that forced the third most steals per game last season in the Atlantic 10.
3. Dayton: The Flyers have plenty of returnees from a deep Elite 8 team, but the loss of Devin Oliver and Vee Sanford will hurt.
4. Rhode Island: This is the team to watch this season, because sooner or later the Rams will be near the top of the conference standings.
5. UMass: The Minutemen return our key players and adds West Virginia transfer Jabarie Hinds. Depth will be a concern.
6. Richmond: Chris Mooney dealt with personnel issues late last season, but Richmond has the pieces to be on the right side of the bubble come March.
7. La Salle: The Explorers will have good size on the frontline with 6-foot-11 Steve Zack and the league's top rebounder Jerrell Wright.
8. Saint Joseph's: The reigning A-10 Tournament champion lost Langston Galloway, Ronald Roberts and Halil Kanacevic, though, DeAndre Bembry is worth watching.
9. Duquesne: A junior-heavy roster, led by sharpshooter Micah Mason and guard Derrick Colter. Dukes should
10. Saint Louis: It'll be a rebuilding year for Jim Crews after losing Dwayne Evans and Jordair Jett. Billikens shouldn't be here long.
11. St. Bonaventure: The Bonnies will likely take a step back after an A-10 Tournament run. Youssou Ndoye, a 7-foot senior, is worth keeping an eye on.
12. Fordham: A young team that will rely on better shot selection from sophomore Jon Severe (17.3 ppg). Eric Paschall could be A-10 Rookie of the Year.
13. Davidson: The Cougars will had their growing pains in their first season in the new conference. Bob McKillop will change that quickly.
14. George Mason: First year as A-10 members didn't go so well for the Patriots, who need to be better on the road in 2014-2015.