Beginning on October 3rd and running up until November 14th, the first day of the season, College Basketball Talk will be unveiling the 2014-2015 NBCSports.com college hoops preview package. We continue our countdown today with No. 9 Gonzaga.
MORE: 2014-2015 Season Preview Coverage | NBCSports Preseason Top 25 | Preview Schedule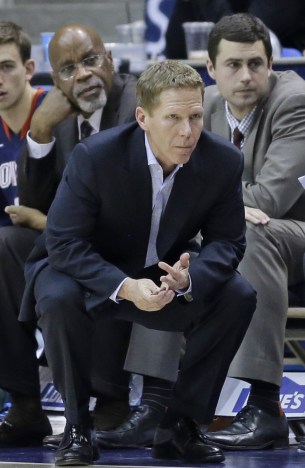 Head Coach: Mark Few
Last Season: 29-7, 15-3 WCC (1st)
Key Losses: David Stockton, Sam Dower, Gerard Coleman
Newcomers: Domantas Sabonis, Kyle Wiltjer, Byron Wesley, Josh Perkins, Silas Melson
Projected Lineup
– G: Kevin Pangos, Sr.
– G: Gary Bell Jr., Sr.
– G: Byron Wesley, Sr.
– F: Kyle Wiltjer, Jr.
– C: Przemek Karnowski, Jr.
– Bench: Domantas Sabonis, Fr.; Josh Perkins, Fr.; Kyle Draginis, Jr.; Silas Melson, Fr.; Angel Nunez, Jr.
They'll be good because … : This group is going to be a nightmare to try and stop this season. Let's start with Kevin Pangos, Gonzaga's star point guard that has seemingly been on campus since Adam Morrison was still playing. As a junior, Pangos averaged 14.5 points and 3.6 assists while shooting 41.2% from three despite the fact that he was, quite frankly, not healthy all year long. He battled turf toe and ankle issues. Now that he's healthy, expect the borderline All-American to show back up this season, which is terrific news for Zags fans given the amount of talent that surrounds him.
Let's start with the front court. Kyle Wiltjer, the former McDonalds All-American that spent two seasons at Kentucky, is eligible this season. He spent the last year developing his body — strength, athleticism, mobility, fluidity, everything — and can still shoot the lights out, meaning that he should be a perfect front court compliment to Przemek Karnowski and Domantas Sabonis. Karnowski is a massive, 7-foot-1 low post scorer while Sabonis, the son of the legendary Arvydas Sabonis, is a talented freshman that comes from Lithuania via the Spanish pro league.
Gary Bell Jr. and USC transfer Byron Wesley will provide scoring pop on the wings as well, giving Few one of the most balanced and dangerous lineups in the country. Gonzaga will be a lot of fun to watch this season.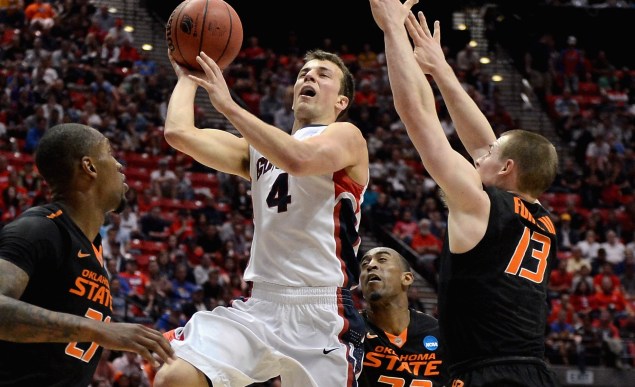 But they might disappoint because … : As many answers as there are for Gonzaga on the offensive end of the floor, there are that many questions for them defensively. Pangos has never been known as a great on-ball defender. Wiltjer should be stronger and quicker this season, but that doesn't mean that he is going to be able to hold his on in the paint against, say, Montrezl Harrell or be able to hedge hard on ball-screens. Karnowski is big and takes up space in the lane, but he's not ever going to move quickly in any direction.
Against good teams, and against teams that prioritize ball-screens, the Zags are going to struggle to get stops if they play predominantly man-to-man. Will they play zone or use matchup zones heavily? Gonzaga improved quite a bit on the defensive end of the floor as last season wore on, so it will be interesting to see what Few cooks up in Spokane this season.
Outlook: This might be the most talented Gonzaga team that Mark Few has ever had. I know, I know, we say that seemingly every season and Gonzaga has yet to return to the Elite 8 after their run under Dan Monson in 1999. This season is different, however. The Zags are healthy, they are loaded with talented veterans, they have a front line that can match up, size-wise, with anyone in the country, and their perimeter is one of the best in the country.
Can the Zags make a Final Four this season? Absolutely, but, like anyone else, it is going to depend on a couple of key factors: Their defense, Kyle Wiltjer's offseason development and the health of Kevin Pangos. If all three of those things go according to plan, don't be surprised to see Gonzaga roll through the WCC and make a deep run in the NCAA tournament.