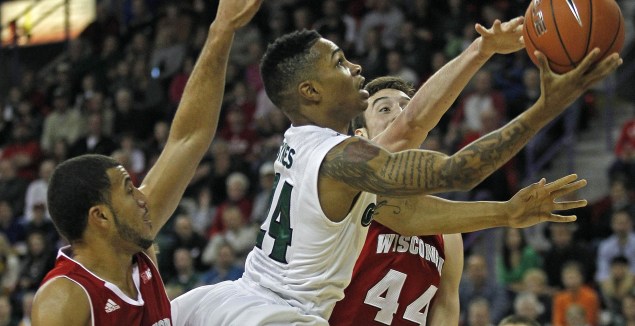 Beginning on October 3rd and running up until November 14th, the first day of the season, College Basketball Talk will be unveiling the 2014-2015 NBCSports.com college hoops preview package.
Today, we are rolling out our Horizon League preview.
MORE: 2014-2015 Season Preview Coverage | Conference Previews | Preview Schedule
The Horizon League drew most of its attention from the college basketball general public in 2013-14 for regular-season champion Green Bay's early exit from the league's conference tournament. Considered by many to be the heavy favorite to make the 2014 NCAA Tournament after a 14-2 regular season mark in the conference, the Phoenix ultimately fell short in the semifinals as some analysts used the Green Bay loss — and subsequent NIT appearance — as an opportunity to blast the conference tournament method of NCAA Tournament selection.
While Green Bay was one of the better mid-major teams in the country during the regular season last year, they fell to Milwaukee at home in the tournament. But with four returning starters, the Phoenix are favored to win the league this season.
Even with the departure of senior center Alec Brown, who was selected in the second round of the NBA Draft by the Phoenix Suns, head coach Brian Wardle still returns Horizon League Player of the Year favorite in senior point guard Keifer Sykes as well as forward Jordan Fouse,who might be the league's best defensive player. Green Bay will miss the skill level of Brown on the interior, but they might actually have more interior depth this season as 6-foot-9 senior and double-figure scorer Greg Mays returns and Wardle recruited a few big bodies to bolster the rotation of big men that he can use.
Challenging Green Bay this season will Cleveland State, who has multiple all-league candidates, including senior point guard Charlie Lee, junior big man Anton Grady and junior guard Trey Lewis. Senior forward Marlin Mason acts as a stretch four and 6-foot-9 redshirt sophomore Aaron Scales can play this season and gives the Vikings another big body on the interior.
The most intriguing team in the Horizon League this year could be Valparaiso, who returns 6-foot-10 rim protector Vashill Fernandez along with three talented sophomores — point guard Lexus Williams, forward Alec Peters and forward Jubril Adekoya — and Charlotte transfer E. Victor Nickerson. Bryce Drew's ballclub went a surpring 9-7 in the league last season despite starting Adekoya, Peters and Williams as true freshmen.
Billy Donlon loses five of the top six scorers from a Wright State team that fell short in the conference tournament finals a season ago, but the Raiders return 5-foot-9 senior point guard Reggie Arceneaux along with 6-foot-6 sophomore J.T. Yoho and guard Crishawn Hopkins. Wright State had 10 players average double-figure minutes last season, so expect Donlon to go to his seven-man recruiting class early and often for depth.
Defending conference tournament champion Milwaukee will not represent the Horizon League again in the NCAA Tournament. This isn't a bold prediction, but a truth, as the Panthers are ineligible for postseason for low APR scores. But three starters still return for Milwaukee, led by senior point guard Steve McWhorter and junior big man Matt Tiby and Northern Illinois transfer Akeem Springs should add some scoring punch on the wing.
Detroit has the pieces to surprise in the Horizon this season as senior wing Juwan Howard Jr., returns after a breakout junior season. If the son of the former Fab Five member can get some help from Colorado transfer Chris Jenkins or 6-foot-8 sophomore Paris Bass, the Titans could compete sooner than later. Bass, in particular, will be one to watch after sitting out last season.
Oakland now faces life in the post Travis Bader-era, as the NCAA's all-time leader in three-pointers has graduated and moved on. The Golden Grizzlies will now have to rely on the inside-outside combination of senior big man Corey Petros and returning Horizon League Freshman of the Year Kahlil Fielder at point guard. St. John's transfer Max Hooper, who shot 40 percent from three-point range in his final season in New York, will get a shot at replacing the prolific Bader.
PRESEASON HORIZON LEAGUE PLAYER OF THE YEAR: Keifer Sykes, Green Bay
One of the most dynamic point guards in the country, the 5-foot-11 senior puts up numbers all over the floor and usually rises to the occasion when Green Bay has a big game. A freak athlete with outstanding leaping ability and quickness, Sykes is a difference-maker on both ends of the floor and averaged 20.3 points, 4.9 assists and 4.4 rebounds per game in his junior season. The only thing missing on the resume for the senior is a trip to the NCAA Tournament and he's focused on leading four returning starters to the Big Dance in 2014-15.
THE REST OF THE PRESEASON ALL-HORIZON LEAGUE TEAM:
Juwan Howard Jr., Detroit – The son of former NBA veteran and Fab Five member Juwan Howard, the 6-foot-5 senior had a breakout junior season, averaging 18.3 points, 5.5 rebounds and also leading the Titans in assists.
Corey Petros, Oakland – A 6-foot-10, 260-pound senior, Petros is a load to handle on the interior and averaged 13.3 points and 8.2 rebounds per game last season on 57 percent field goal shooting.
Alec Peters, Valparaiso – The 6-foot-9 sophomore had a huge impact as a freshman, averaging 12.7 points and 4.8 rebounds per game on some impressive shooting splits for a player his size (49% FG, 77% FT, 38% 3PT).
Trey Lewis, Cleveland State – The Vikings have multiple all-league candidates but Lewis averaged 13.6 points per game as a sophomore and if the 6-foot-3 guard improves his shooting percentages, that number could climb greatly.
ONE TWITTER FEED TO FOLLOW: @billpotter_HL
PREDICTED FINISH
1. Green Bay
2. Cleveland State
3. Valparaiso
4. Wright State
5. Milwaukee
6. Detroit
7. Oakland
8. Youngstown State
9. UIC