Beginning on October 3rd and running up until November 14th, the first day of the season, College Basketball Talk will be unveiling the 2014-2015 NBCSports.com college hoops preview package. We continue our countdown today with No. 10 Louisville.
MORE: 2014-2015 Season Preview Coverage | NBCSports Preseason Top 25 | Preview Schedule
Head Coach: Rick Pitino
Last Season: 31-6, 15-3 American (t-1st), lost to Kentucky in the Sweet 16
Key Losses: Russ Smith, Luke Hancock, Chane Behanan, Kevin Ware
Newcomers: Quentin Snider, Shaqquan Aaron, Chinanu Onuaku, Jaylen Johnson, Matz Stockman, Anas Osama Mahmoud
Projected Lineup
– G: Chris Jones, Sr.
– G: Terry Rozier, So.
– G: Wayne Blackshear, Sr.
– F: Montrezl Harrell, Jr.
– C: Mongok Mathiang, So.
– Bench: Quentin Snider, Fr.; Anton Gill, So.; Shaqquan Aaron, Fr.; Chinanu Onuaku, Fr., Jaylen Johnson, Fr.; Akoy Agau, So.
They'll be good because … : Rick Pitino should have one of the best guards and one of the best big men in the country. By now, everyone should know about Montrezl Harrell. He's a powerful front court presence, the kind of power forward that seems to have passed the game by. There's nothing pretty about what Harrell does on a basketball court. He's attacks the glass, he runs the floor hard, he assaults the rim when he dunks. Everything is strength and power with him. Oh, and he may have added a jumper this season. There's a reason he's going to be on a lot of Preseason All-American teams.
Terry Rozier is a different story, as he's not quite as well-known as Harrell. Rozier was originally a member of the Class of 2012, but he was forced to spend a season prepping at Hargrave Military Academy for a year before enrolling with the Cardinals. An athletic, 6-foot-2 combo-guard, Rozier is going to be the focal point of this season's perimeter attack after what was a promising freshman season backing up Russ Smith. He's got the ability to be a star at this level and, eventually, a lottery pick.
RELATED: Terry Rozier headlines our list of Breakout Stars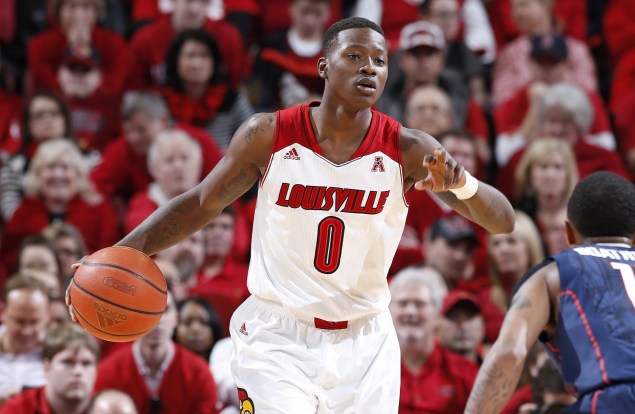 But they might disappoint because … : Once you get past Rozier and Harrell, there is quite a bit of unknown on this Louisville roster. Two seniors find themselves in the starting lineup this season, but both have been more enigmatic than consistent during their time with the Cardinals. Wayne Blackshear seemed poised to have a breakout season after an impressive performance in the NCAA tournament as a freshman, but due to injuries and inconsistency, he's never lived up to those expectations.
Senior point guard Chris Jones had some promising moments last season after transferring into the program as the reigning Junior College Player of the Year, but he didn't have the kind of season that Louisville fans were hoping for. He shot the ball too much (and at just a 39.5% clip) and, for much of the year, he wasn't the point guard that Pitino needed alongside Russ Smith.
The emergence of those two will be key, but even more important will be Louisville's youngsters. Every other player in Louisville's rotation will either be a freshman or a sophomore that didn't play much. Anton Gill, Quentin Snider and Shaqquan Aaron make up the perimeter depth, while Mangok Mathiang will likely start with a slew of big bodies backing him up.
Outlook: Louisville is a tough team to read this season because so much of their roster is a question mark. We know how good Harrell is going to be, but will Rozier live up to the vaunted expectations that have been set for him? There have been rumblings that he was the best pro prospect on the roster since this time last season. Will Jones and Blackshear be able to provide the senior leadership and veteran presence on the floor that guys like Luke Hancock and Peyton Siva have in the past?
That becomes all-the-more critical when the inexperience on the rest of Louisville's roster gets factored in. The Cardinals will have a number of options on their bench, particularly in the front court, but how many of those options are going to be ready to play in a loaded ACC this season? And that is another major question mark for the Cards. How will they adjust to playing in a new conference with new refs and new arenas and some of the nation's best talent and coaching?
Personally, I think that depth is overrated and that it's hard to bet against any team with two potential all-americans and Rick Pitino coaching them. But it's not crazy to suggest that Louisville is closer to a fringe top 25 team than a top ten team.