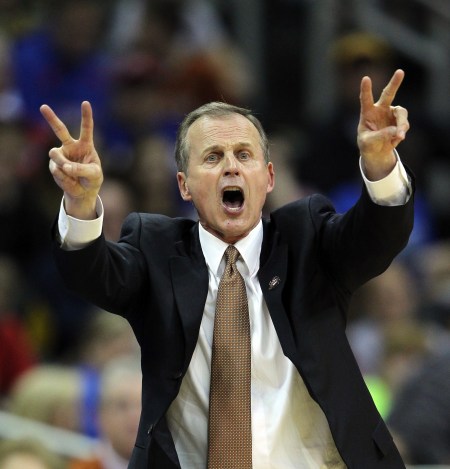 Each Monday and Friday, College Basketball Talk's Scott Phillips goes over some important news and notes in the world of college basketball recruiting. This week, Texas boosts its backcourt, Mike Rhoades is getting talent at Rice and Wichita State keeps adding talent.
Rick Barnes continues recruiting upswing by staying local
As Rick Barnes sat squarely on the hot seat last fall, one of the marquee reasons was his recent lack of success recruiting in-state talent to Texas.
Since 2008, Barnes was only able to keep center Cameron Ridley in the Longhorn state among top-40 national prospects until McDonald's All-American and Class of 2014 center Myles Turner committed last spring.
Now, Barnes has added another talented in-state player to the equation, as Texas locked up shooting guard Kerwin Roach last week.
Roach's commitment might not make as many waves as Texas A&M's recent four-man in-state 2015 haul, but it's a big commitment for Barnes and Texas nonetheless because it keeps the recruiting momentum going locally. Putting Roach and fellow 2015 guard Eric Davis together means that the Longhorns have two talented scoring guards coming in next season to go along with all of the talented big men they currently have on their roster.
With Texas having only Jonathan Holmes as a major contributor that is a senior this season, the Longhorns are poised to stay in the conversation in the top 25 next season and if Myles Turner sticks around Austin for more than one season, Barnes could have a team deep enough to compete for a Big 12 title.
Rhoades doing a great job rebuilding at Rice
It's no secret that Rice is one of the most difficult jobs in all of college basketball. With so many high-major programs located in Texas already and rigorous academic standards, it's tough to recruit talented players and sustain success at the Conference USA school.
Want proof? The Owls haven't reached the NCAA Tournament since 1970 and over the past two seasons the program only has three conference wins. The fanbase is relatively dormant as well. Rice averaged 1,624 fans a game in a Tudor Fieldhouse that seats 5,750.
But with new head coach Mike Rhoades, there's some excitement around the program again and Rice has some notable recruits coming in.
On Friday, three-star forward Marquez Letcher-Ellis pledged to Rice and he joins fellow three-star recruits in point guard Marcus Evans and shooting guard Connor Cashaw in the 2015 class.
The recruiting momentum carried over to the weekend as Rhoades received a commitment from a top-70 player in the 2016 class as shooting guard Josh Hall committed to Rice, as well.
Rice had to beat out multiple high-major programs and teams with strong basketball traditions in order to land both Letcher-Ellis and Hall and it shows that Rhoades has done a nice job of maintaining relationships from his time as an assistant at VCU.
The Owls are going to implement the "Havoc" style of play that VCU has famously used and that uptempo, trapping style of play is attractive to recruits.
When Rhoades took the Rice job last spring, many believed it was a strong hire for a program in dire need of a shot in the arm, but not many could have envisioned the kind of start the new head coach has had on the recruiting trail.
Wichita State recruiting continues to stay strong
One of the notable byproducts of Wichita State's recent success is how recruits would react to the Missouri Valley Conference program being one of the best programs in college basketball.
Adding small forward Markis McDuffie to a class that includes four-star combo guard Landry Shamet, three-star guard Tyrone Taylor and three-star power forward Eric Hamilton is a nice four-man group for the Shockers and it gives head coach Gregg Marshall even more tough-minded athletes with length and skill to move forward with.
While Wichita State is adding recruits that fit the Shockers' system, the increased national exposure has cast a wider net for them in recruiting. More doors being initially opened has clearly helped with this class as Wichita State landed McDuffie from New Jersey and won a heated recruiting battle for Shamet.
As long as Marshall remains the head coach there, the Shockers should get involved with more and more national-level prospects and that means the MVC program could sustain national success.