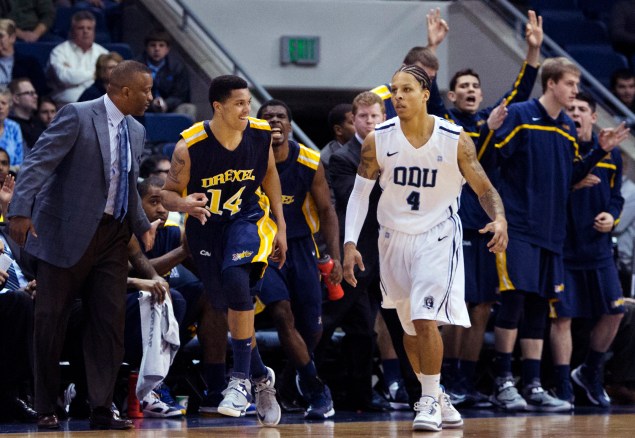 Beginning on October 3rd and running up until November 14th, the first day of the season, College Basketball Talk will be unveiling the 2014-2015 NBCSports.com college hoops preview package.
MORE: 2014-2015 Season Preview Coverage | Conference Previews | Preview Schedule
Drexel, a team picked in the preseason to finish second in the Colonial Athletic Association, had pounced on the No. 4 ranked team in the nation, looking to make an early-season statement inside the World Most's Famous Arena on the eve of Thanksgiving.
Arizona rallied from a 19-point, first-half deficit to defeat Drexel, 66-62, to advance to the championship game of NIT Season Tip-Off.
The Dragons lost more than just a heartbreaking contest to a team that later went on to be one-win shy of the Final Four. They also lost star swingman Damion Lee to a torn ACL, which required season-ending surgery. The 6-foot-7 Lee was a preseason first-team pick after a sophomore campaign where he finished third in the CAA in scoring at 17.1 points per game.
"He was probably one of the four or five top players in the league," Drexel head coach Bruiser Flint told NBCSports.com last month. "It really hurts you. It took away one of the weapons we had. The thing is, you played games with him and then you have to adjust without him right away."
Drexel, led by the high-scoring duo of Chris Fouch and Frantz Massenat, got through the next four games, two of which came in triple overtime. However, the Dragons broke even in conference play (8-8), going 1-5 against the three teams to finish ahead of them — Delaware, Towson and Williams & Mary.
It's been 11 months since the injury occurred, but Lee has been back on the floor this fall without limitations. The redshirt junior wing will be the key to a successful campaign for Drexel in a league filled with uncertainty.
"When I was looking at some of the rosters after the season was over, I noticed that the league is wide-opened," Lee told NBCSports.com. "Northeastern brings back all of its roster. William & Mary have two really good players and Hofstra will be better. But I still think the league is wide-open. There is no clear-cut favorite."
In order those three teams — Northeastern, William & Mary and Hofstra — were slotted ahead of Drexel in the CAA preseason coaches poll, and despite a shift in order was, were the top three in the predicted finish in College Basketball Talk's CAA preview.
MORE: CAA Preview: Is this the year for William & Mary, or will new teams emerge?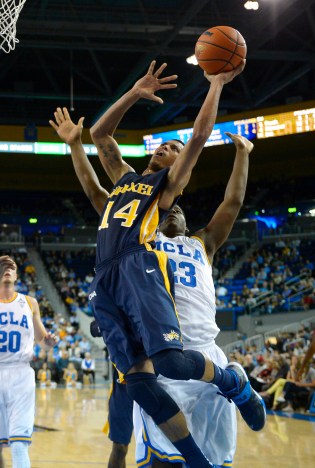 William & Mary is fueled by last season's near-miss in the conference title game, and brings back Marcus Thornton, the only returning first-team all-CAA pick from a season ago. Northeastern has a healthy Quincy Ford in addition to the majority of last season's rotation and Hofstra is depending on several transfers to make an immediate impact on a program that has only won 27 games over the last three seasons.
Drexel enters the season without Fouch and Massenat. However, there teams in a similar position as Drexel, such as reigning CAA champion Delaware losing four double-digit scorers and Towson, which graduated two-time CAA Player of the Year Jerrelle Tenimon along with the team's three other top scorers. Regardless of the roster changes, each team possesses the tools necessary to be a surprise team in the CAA, and with a healthy Lee, surrounded by a developing set of underclassmen, it could be the Dragons.
"I know that we're going to be looked over because teams will think we lost six players from the previous year that we won't be that good," Lee added. "From my standpoint, I just want to lead this team to any wins that we can get. I'm pretty confident that we'll be a sleeper this year and we'll sneak up on some teams."
In August, just before Drexel's trip to China, an update on Lee's recovery mentioned that he was still not scrimmaging. While it appeared as an ominous sign, it was merely a precautionary measure.
"The doctor said there was no need to chance it," Flint said. "He practiced a lot, though."
Lee made the trip to China with the team, and while on the bench was able to observe his teammates, both returnees and newcomers, in what turned out to be a promising trip for the new-look Dragons.
Eleven different players on the Drexel roster started at least one game during the 2013-2014 season. Of those players, junior Tavon Allen and sophomore Rodney Williams, a CAA all-Rookie Team selection, made the most starts. Those two will take on bigger roles this season, as will fellow sophomore big man Mohamed Bah. Sammy Mojica and Rashann London, two freshmen to the perimeter showed upside in China while first-year forwards Tyshawn Miles and Austin Williams provide athleticism and depth to the frontline.
"Our freshmen were thrown right into the fire [last season],"  Flint said. "We lost two starters during the season and still had a winning record. I think people forget that. If those guys can do what I think they can do then I think we're going to be fine.
"I think everyone in the league thinks they have a chance. They're are a lot of question marks even with the better teams. I think a lot of teams are saying, 'Hey if we put it all together, we could make a run in this conference.'"
Like many teams in the CAA, that will be the question, but Drexel has the luxury of having an all-CAA caliber player to help find that answer.