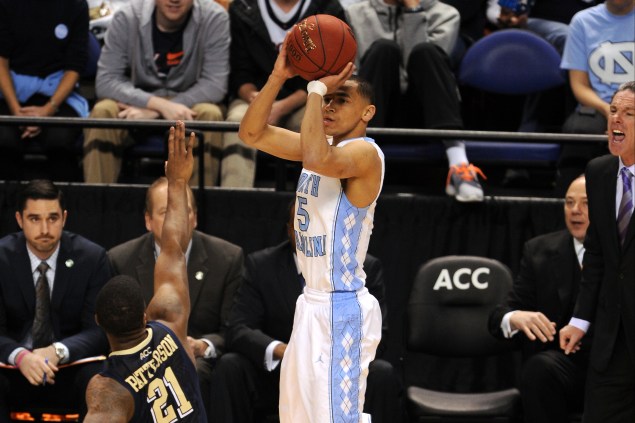 Beginning on October 3rd and running up until November 14th, the first day of the season, College Basketball Talk will be unveiling the 2014-2015 NBCSports.com college hoops preview package.
MORE: 2014-2015 Season Preview Coverage | Conference Previews | Preview Schedule
 The importance of elite lead guards was stressed last March when senior point guard Shabazz Napier helped lead UConn to the national championship to cap off a magnificent senior season. Napier's play on both ends of the floor made a huge impact for the Huskies, especially in tournament play, and it proved once again that an elite guard with the ball in his hands can lead a good supporting cast to glory.
POSITION RANKINGS: Lead Guards | Off Guards | Wing Forwards | Big Men
Here are this year's best lead guards:
THE TOP TEN
1. Marcus Paige, North Carolina: The 6-foot-1 junior had one of the most impressive seasons in the country last season, especially when you consider many ACC defenses were geared to stop him. Paige averaged 17.5 points, 4.2 assists and 3.2 rebounds and was also the Tar Heels' only consistent perimeter threat and late-game free-throw shooter. Now that Paige has more perimeter help, he could be slotted at either guard spot, but he's one of the unique guards in college basketball this season who can set other guys up or hunt his own offense.
2. Fred Van Vleet, Wichita State: Had Fred Van Vleet made the potential game-winning three-pointer at the buzzer against Kentucky in the NCAA Tournament last season, we might be singing his praises even more. As it is, the calm and collected junior point guard is incredibly efficient and tough despite standing only 5-foot-11 and not owning jaw-dropping athleticism. Van Vleet averaged 11.6 points, 5.4 assists and 3.9 rebounds per game as a sophomore while shooting 48 percent from the field, 83 percent from the free-throw line and 41 percent from three-point range. After helping Wichita State reach a Final Four coming off the bench as a freshman and having a hand in 35 consecutive wins last season, we already know that Van Vleet is a winner.
3. Juwan Staten, West Virginia: The 6-foot-1 senior quietly put up monster numbers last season and is a favorite for Big 12 Player of the Year honors. Although West Virginia missed the NCAA Tournament in 2014, it was certainly no fault of Staten's. As a junior, he led the Big 12 in scoring (18.1 points per game), minutes (37.3 mpg) and was second in assists (5.8 apg) and assist-to-turnover ratio. Staten was also third in field-goal percentage at 48 percent from the floor and also shot 40 percent from the three-point line. If Staten can spearhead a better defensive effort from the Mountaineers, than he could be a dark horse All-American candidate.
RELATED: The nation's Top 20 Frontcourts | And Top 20 Perimeters
4. Chasson Randle, Stanford: More of a natural scorer, the 6-foot-2 senior had to bring the ball up by default for the Cardinal last season once Aaron Bright transferred out of the program. That was fine for Stanford, as Randle helped lead the team to a Sweet 16 appearance while averaging 18.8 points, 3.6 rebounds and 2.1 assists. Randle had 16 games of 20-plus points and did that while shooting 47 percent from the field and 38 percent from distance.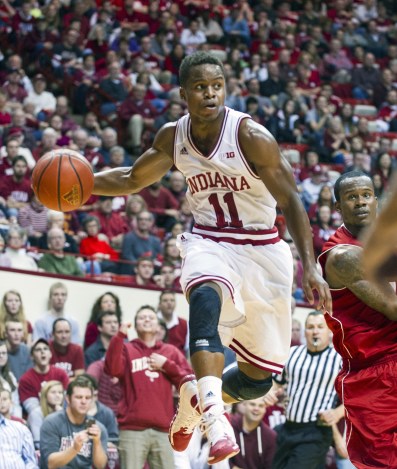 5. Yogi Ferrell, Indiana: One of the fastest players in the country, the 6-foot Ferrell is lethal in the open floor and can score in bunches from the perimeter. Last season, Ferrell put up 17.3 points a contest and shot 40 percent from three-point range while also setting up teammates for 3.9 assists per game. Limiting turnovers will be the big focus for Ferrell in his junior season. A 1.6-to-1 assist-to-turnover ratio simply isn't going to cut it.
6. Tyus Jones, Duke: When the CBT crew voted on the rankings for this list, I had Jones much lower than my colleagues because he was a defensive liability at times in high school. But if Jones can stay in front of anyone on the defensive end, it'll be icing on the cake for his fantastic offensive skill set. The 6-foot-1 freshman and McDonald's All-American can hit perimeter jumpers, set up teammates on the fast break, or feed the post. A natural leader, Jones could step in and give Coach K a steady, reliable presence with the ball in his hands that Duke has lacked at times the last few seasons.
7. Andrew Harrison, Kentucky: Credit is due to the 6-foot-6 Harrison because perhaps no player in the country took more of a beating from fans and media during the regular season last year. Despite some erratic play during his freshman season, Harrison turned it up another level during the Wildcats run to the national championship game and expectations will be high for him in his sophomore season. Harrison averaged a solid 10.9 points, 4.0 assists and 3.2 rebounds per game last season but must improve his 36 percent field-goal percentage.
MORE: Breakout Stars | Coaches on the Hot Seat | Mid-Major Power Rankings, All-Americans
8. Terry Rozier, Louisville: Rozier had to come off the bench last season behind senior Russ Smith but the 6-foot-1 sophomore guard is poised for a breakout season after a strong summer on the camp circuit. NBA scouts and writers raved about Rozier at the LeBron James Skills Academy and adidas Nations and his pull-up jumper and ability to get to the basket are both strengths.
9. Keifer Sykes, Green Bay: Sykes put up ridiculous numbers last season for a Green Bay team that fell short of the NCAA Tournament by falling in the Horizon League conference tournament. The 5-foot-11 senior averaged 20.3 points, 4.9 assists and 4.4 rebounds per game for the Phoenix last season and his athleticism has led to numerous CBT posts this summer thanks to some electric dunks. Scoff all you want at Sykes putting up those numbers in a mid-major league, but the Chicago-native played better against good competition, averaging 25.6 points a game in eight games against 2014 NCAA Tournament teams last season.
10. Ryan Boatright, UConn: Boatright lived in Shabazz Napier's shadow for much of last season, but the 6-foot senior had a tremendous postseason of his own and he's active on both ends of the floor. Besides being a pesky perimeter defender, Boatright can also score and distribute and will have more of a chance to have the ball primarily in his hands as the senior leader. If Boatright can improve his 39 percent field goal percentage, he could be among the nation's elite this season.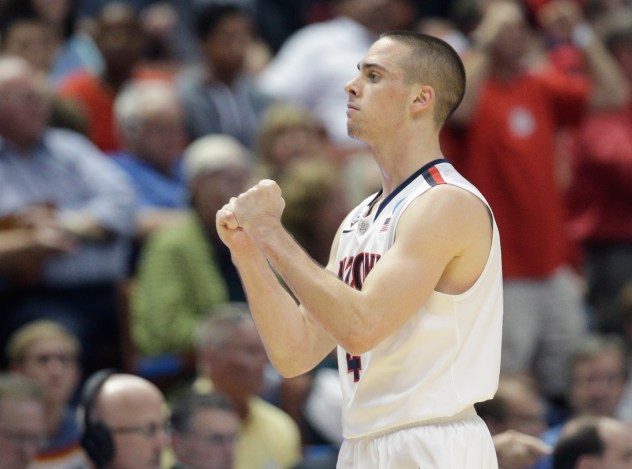 THE NEXT TEN
11. T.J. McConnell, Arizona: The numbers aren't gaudy for the 6-foot-1 senior, but his 3-to-1 assist-to-turnover ratio and selfless nature helped lead the Wildcats to a No. 1 ranking and an Elite Eight appearance last season.
12. Kevin Pangos, Gonzaga: One of college basketball's toughest players, the 6-foot-2 senior gutted out his junior year despite toe and ankle injuries and averaged 14.5 points, 3.7 assists and 3.3 rebounds per game. A healthy Pangos could help vault Gonzaga into a deep March run.
13. Monte' Morris, Iowa State: Morris didn't put up huge numbers last season, but his efficiency was off the charts. Don't be surprised if he ends up being an all-Big 12 player this season.
14. Tyler Ulis, Kentucky: To dismiss Ulis because of his 5-foot-9 frame would be silly because the freshman is an exceptional passer who thrives on creating for others. Ulis might not start games at the point for Kentucky this season, but don't be surprised if he's on the floor at the end of games along with the Harrison twins this season.
15. Kasey Hill, Florida: Hill has some of the biggest shoes in the country to fill by replacing Scottie Wilbekin, but the 6-foot-1 sophomore is a former McDonald's All-American who showed some positive flashes his freshman season.
16. Siyani Chambers, Harvard: The 6-foot junior is the engine that makes Harvard go and he averaged 11.1 points and 4.6 assists per game last season. Chambers has helped the Crimson win a NCAA Tournament game in each of the last two seasons.
17. Olivier Hanlan, Boston College: New head coach Jim Christian has to be pleased the 6-foot-4 junior guard decided to return. Hanlan averaged 18.5 points per game last season.
18. Quinn Cook, Duke: Consistency is the big question for the 6-foot-2 senior. Will we see the Cook who finished in double-figures in the scoring column in 13 of the first 15 games last season, or the one who came off-the-bench for the final 10 games?
19. Jerian Grant, Notre Dame: The 6-foot-5 senior missed much of last season due to an academic issue, but Grant averaged 19 points and 6.2 assists per game on 51 percent shooting and 40 percent three-point shooting during 12 games last season.
20. Angel Rodriguez, Miami: Jim Larranaga has to be pleased the 5-foot-11 All-Big 12 selection is eligible this season.
ALSO CONSIDERED: Ryan Harrow (Georgia State), Isaiah Taylor (Texas), Nic Moore (SMU), Derrick Walton (Michigan), London Perrantes (Virginia), Nigel Williams-Goss (Washington), Jordan Woodard (Oklahoma), Romelo Trimble (Maryland)