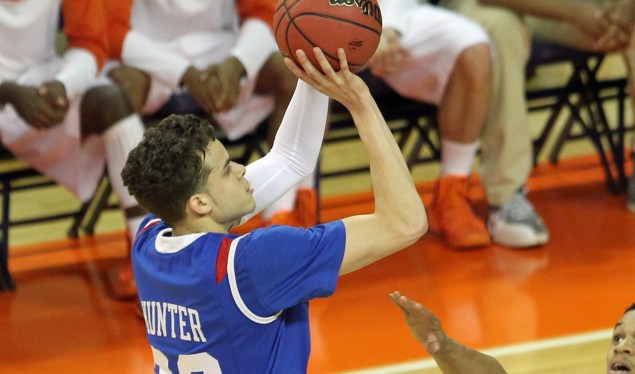 Sir Isaac Newton's third law of motion states that every action has an equal and opposite reaction, and without turning this into a physics lecture that you slept through in college, that's essentially why your hand hurts after you punch a wall.
That law is easily applicable to March Madness. For every "One Shining Moment," there is an equal and opposite moment of heartache. For all the jubilation and excitement that comes with thrilling comeback and buzzer-beating bucket, there is a team on the other bench that just had their hearts ripped out.
Every loss in March is devastating, but there may not have been one that hurt more than the loss that Georgia State suffered against Louisiana in the Sun Belt tournament title game a year ago. After a rough start to the year, the Panthers completely dominated the conference, finishing league play 17-1, a full five games in front of the team in second place. There really wasn't a question about who the best team in the conference was. Georgia State was deserving of the Sun Belt's automatic bid, but they still had to win the Sun Belt tournament title before they'd get a chance to dance.
With three minutes left in the title game, Georgia State was in complete control, leading Louisiana by nine. But the Panthers blew that lead, allowing the Ragin' Cajuns to end regulation on an 11-2 run and force overtime when Shawn Long grabbed an offensive rebound and found a teammate for a layup with 1.4 seconds left. In the extra frame, the Panthers blew another lead and lost when star guard Ryan Harrow, who finished that day with 37 points, missed a jumper at the buzzer.
82-81.
Georgia State was headed to the NIT.
"We should have gone to the tournament," Georgia State head coach Ron Hunter told NBCSports.com this week. "We had a great year. We just had a bad seven minutes."
Hunter locked up the film of those seven minutes for the entire offseason. No one on Georgia State — not Hunter, not his staff, not the team — watched tape of their collapse throughout the offseason, which was part of Hunter's plan.
"First time we ever watched the Lafayette ending was the first thing we did the first day of practice," Hunter said. "You could hear a pin drop. I didn't coach it. I didn't say anything. I told my assistants not to say anything. I wanted to see the kid's reactions to it. They didn't know it was coming."
The film session that day may have been silent, but the first practice was a different story. It was intense. It was physical. It was chippy. There were a couple fights, which isn't always a bad thing. The way Hunter tells it, that day set a new tone for the team and gave the program a new motto: Unfinished Business.
"I don't think we handled [the loss] yet," Hunter said. "Our whole target since we started lifting weights and working back in the spring is that we have unfinished business. We got to the NIT, we were excited about that. It wasn't our goal, but what it did was made our guys hungrier."
The Panthers will have a great opportunity to get to the NCAA tournament this season. Not only do they bring back Harrow, who you might forget was a top 40 recruit after the season that he had at Kentucky in 2012-13, but leading scorer and potential NBA Draft pick R.J. Hunter is back as well. Throw in the return of big man Curtis Washington and the addition of former Louisville guard Kevin Ware, the the Panthers have the look of a team that will be better this season than they were a season ago.
The team can sense it, Hunter says, and it comes through in the way that they have worked in practice. The community can sense it as well. Georgia State hosted a Midnight Madness event this week. It was close to sold out. When Hunter first took over in Atlanta there were only a couple of hundred people that showed up. "Our last few games, you couldn't even get a ticket at our place," he said. "We don't even have a big place, but we have less than 75 season tickets left in our building. It's incredible."
The students are into it, but, more importantly, the city is starting to get behind the Panthers. Part of the reason for that is the presence of Harrow and Ware on the roster. Both are Atlanta natives who are well-known in the city after decorated high school careers. Ware and Hunter are talented kids, but it's their hometown that made them such a priority for Hunter to recruit.
"We've got guys from the city that people recognize and know and are going to come to games," Hunter said.
"Bobby Cremins … made Atlanta a basketball city. When I took this job, I said I wanted to turn Atlanta into a basketball city again."