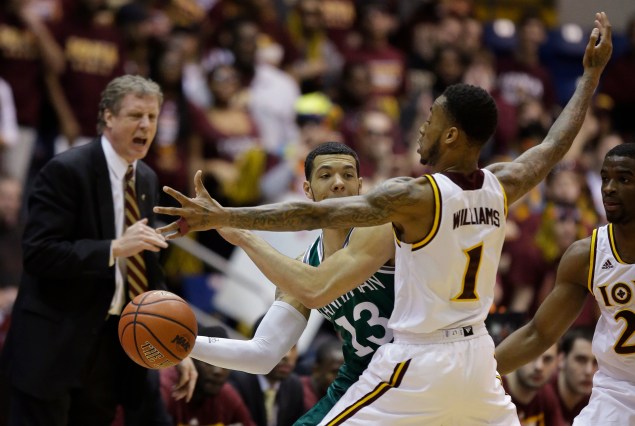 Beginning on October 3rd and running up until November 14th, the first day of the season, College Basketball Talk will be unveiling the 2014-2015 NBCSports.com college hoops preview package.
MORE: 2014-2015 Season Preview Coverage | Conference Previews | Preview Schedule
The 2013-14 season marked the first as an 11-team league for the MAAC, and the race for the title did not disappoint. Four teams won at least 14 conference games, with Iona putting together a 17-3 record and winning the program's second MAAC regular season title in the last three seasons. But conference tournaments can be painful experiences for teams in conferences that face an uphill battle when it comes to at-large bids to the NCAA tournament and that was the case for Tim Cluess' Gaels, who fell to bitter rival Manhattan in the MAAC tournament final.
Both teams incurred some key personnel losses, but with players such as David Laury IV and A.J. English (Iona) and Emmy Andujar and Shane Richards (Manhattan) back on campus both programs will factor into the MAAC race in 2014-15.
Iona returns three of its top five scorers from last season, with Isaiah Williams (11.2 ppg, 4.0 rpg) joining Laury (14.0, 8.3, 2.3 apg) and English (17.2, 3.9, 4.3) as the headliners for a team that will still be formidable offensively. The Gaels will have to account for the loss of leading scorer Sean Armand and fellow starter Tre Bowman, but roster turnover is an issue Cluess and his staff have managed to navigate throughout his tenure at the school. Manhattan on the other hand has to make up for the loss of guards Michael Alvarado (11.9 ppg, 2.8 rpg, 4.0 apg) and George Beamon (18.8, 6.5), and the MAAC's best defender in Rhamel Brown (10.1, 5.9, 3.6 bpg).
Obviously the likes of Andujar (8.6, 5.3, 2.2 apg), Richards (8.3) and point guard RaShawn Stores will be key for the Jaspers, but the players to watch are forwards Ashton Pankey and Jermaine Lawrence. Pankey (7.1, 4.3) was solid in his first season at Manhattan after transferring in from Maryland, and Lawrence is eligible immediately after receiving a waiver following his move from Cincinnati. There's no "replacing" a player of Brown's caliber given his influence on the defensive end, but if those two step forward Manhattan can approach their win total of a season ago.
But just like last season this isn't a two-team race, with there multiple teams beyond the Gaels and Jaspers capable of winning the crown themselves. Tops on that list is Siena, a program that a few years ago was the king of the MAAC before falling on hard times. Year one under Jimmy Patsos was an incredibly productive one for the Saints: 20 wins (11-9 MAAC) and a CBI title. The total number of points not returning from that team: 11. Rob Poole (14.6, 5.0), who was one of the most improved player in the MAAC, and Brett Bisping (11.5, 6.5) are the offensive leaders for a Siena rotation that has multiple scoring options.
Quinnipiac, which won 14 conference games in its inaugural MAAC campaign, welcomes back forward Ousmane Drame (13.7, 10.5) and guard Zaid Hearst (15.5, 6.6) but they'll have to account for the loss of forward Ike Azotam. The combo of Azotam and Drame was a big reason why the Bobcats were so dominant on the boards, and they finished the year tops in the MAAC in both offensive (42.7%, which led the nation) and defensive (72.7%) rebounding percentage. Two other teams to keep in mind in the MAAC race: Saint Peter's and Monmouth. Neither finished above .500 in MAAC play a season ago, but the John Dunne's Peacocks return their top three scorers led by seniors Marvin Dominique (16.6, 8.9) and Desi Washington (13.5, 3.1) and Monmouth returns four starters led by guards Deon Jones (15.1, 6.9) and Andrew Nicholas (14.3, 3.3).
As usual there's a considerable amount of talent in the MAAC, and that should once again make for a highly competitive race for the regular season title.
PRESEASON MAAC PLAYER OF THE YEAR: A.J. English, Iona
English was the lone non-senior to earn first team All-MAAC honors last season, and with Armand and Bowman moving on the ball will be in his hands even more on the perimeter in 2014-15. The Delaware native played well at the adidas Nations camp in August, and after shooting 40.6% from the field and 35.4% from beyond the arc in 2013-14 look for English to be even better in those areas.
THE REST OF THE PRESEASON ALL-MAAC TEAM:
Ousmane Drame, Quinnipiac: Drame was the MAAC's best rebounder last season, grabbing an average of 10.5 caroms per game. With Ike Azotam gone, there's room for even more production.
David Laury IV, Iona: Laury's one of the MAAC's most versatile players, as he capable of initiating things offensively due to his ability to handle and pass the basketball.
Chavaughn Lewis, Marist: Lewis averaged 17.5 points, 5.0 rebounds and 2.5 assists per game last season, and the arrival of new head coach Mike Maker could result in an even better 2014-15.
Rob Poole, Siena: Poole's made improvements in each of his three seasons at Siena, going from 7.8 ppg and 3.3 rpg as a freshman to 14.6 and 5.0 in 2013-14.
ONE TWITTER FEED TO FOLLOW: @nybuckets (John Templon, Ryan Restivo and the rest of the staff do a very good job covering the MAAC and other NY metropolitan area teams)
PREDICTED FINISH
1. Iona
2. Manhattan
3. Siena
4. Quinnipiac
5. Saint Peter's
6. Monmouth
7. Rider
8. Marist
9. Fairfield
10. Canisius
11. Niagara