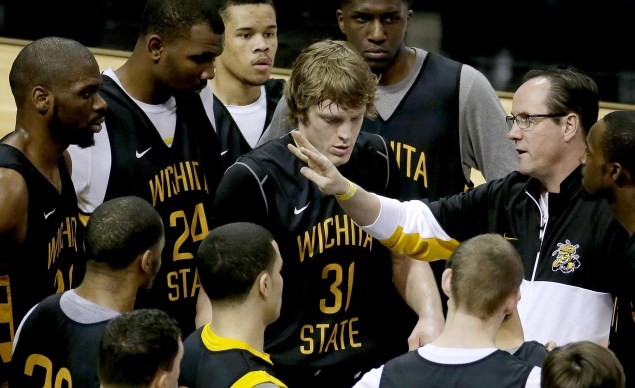 Beginning on October 3rd and running up until November 14th, the first day of the season, College Basketball Talk will be unveiling the 2014-2015 NBCSports.com college hoops preview package. We continue our countdown today with No. 12 Wichita State.
MORE: 2014-2015 Season Preview Coverage | NBCSports Preseason Top 25 | Preview Schedule
Head Coach: Gregg Marshall
Last Season: 35-1, 18-0 Missouri Valley (1st), lost in the Round of 32 to Kentucky
Key Losses: Cleanthony Early, Kadeem Coleby, Nick Wiggins
Newcomers: Rashard Kelly, Bush Wamukota, Zach Brown, Tevin Glass, Corey Henderson, Rauno Nurger
Projected Lineup
– G: Fred Van Vleet, Jr.
– G: Ron Baker, Jr.
– G: Tekele Cotton, Sr.
– F: Rashard Kelly, Fr.
– F: Darius Carter, Sr.
– Bench: Ria'n Holland, Fr.; Evan Wessel, Jr.; Shaq Morris, Fr.; Tevin Glass, Jr.; Bush Wamukota, Jr.
MORE: How does Wichita State build on the two best seasons in school history?
They'll be good because … : The Shockers return the starting perimeter, including a pair of all-americans, from a team that went undefeated throughout the regular season in 2013-2014. Say what you will about how good Wichita State was last season, the bottom-line is that Fred Van Vleet, Ron Baker and Tekele Cotton can match up with any perimeter attack in the country in terms of talent and experience. Remember, all three played significant roles in Wichita State's run to the 2013 Final Four as well.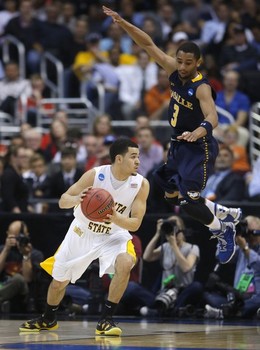 To be honest, I don't know if the NBA is in the future for any of those three kids. I do know, however, that there isn't a point guard in college basketball that is better at running a team than Van Vleet is. Baker is probably the best NBA prospect on Wichita State's roster right now, a 6-foot-3 combo-guard that can shoot, defend and run the point like a natural. Throw in Tekele Cotton — a senior off-guard that is one of the best defenders in the country, a scintillating athlete and a 37.1% three-point shooter — and Gregg Marshall has himself an ideal three-guard lineup.
With those three on the floor, the Shockers are going to win a lot of games.
But they might disappoint because … : Wichita State's front court is as inexperienced as their back court is talented. The only big man on the Shockers that saw action last season was Darius Carter, a 6-foot-7 senior that averaged 7.9 points and 4.5 boards in a complimentary role. He'll be the x-factor to the Shocker season, as Marshall is going to need him to be a presence inside, as a rebounder, rim-protector and a low-post scoring threat. He was great at times last year. Can he build on that?
Beyond Carter, there are a ton of question marks for the Shockers. But there are also plenty of options as well. The favorite to start at the four spot seems to be freshman Rashard Kelly, a Virginia native that spent last season at prep school. He's a tough kid and a good athlete, and while he's a bit undersized at the four, he is physical while being mobile enough to play some on the perimeter. He'll likely split minutes with JuCo transfer Tevin Glass and freshman Zach Brown. Backing up Carter in the middle will be Bush Wamukota, a raw, seven-foot JuCo kid with a ton of potential, and freshman Rauno Nurger.
Outlook: Don't expect Wichita State to make another run at an undefeated season, and it's not just because they will be trying to replace the go-to scoring ability of Cleanthony Early. The biggest knock on the Shockers last season was that their record was built on the fact that their schedule was bad, a fair critique that was built up to unfair levels. This year, that should not be the case, as Wichita State plays New Mexico State, Memphis, Tulsa, Utah, Saint Louis, Seton Hall and Alabama while also traveling to Hawaii for the Diamond Head Classic.
They'll be tested, and they'll lose some games.
But that won't change the fact that the Shockers should be considered a favorite to earn a top-four seed in the NCAA tournament and make a trip to the Sweet 16 this year. There are two reasons for that: 1. You can bet against that back court at your own risk, and 2. if there is anything that we've learned about Gregg Marshall over the years it's that his teams are going to defend hard and they're going to execute offensively, and when you do that, you're going to win a lot of games.