Beginning on October 3rd and running up until November 14th, the first day of the season, College Basketball Talk will be unveiling the 2014-2015 NBCSports.com college hoops preview package.
MORE: 2014-2015 Season Preview Coverage | Conference Previews | Preview Schedule
The Ohio Valley is one of the few conferences that is still broken up into divisions, and the most interesting of the two divisional races this season will be in the east.
Belmont has been one of the best mid-major programs in the country under head coach Rick Byrd. In the last nine years, the Bruins have won seven regular season titles and six conference tournament titles despite playing in two different leagues. Byrd has done it by building a program that slowly-but-surely develops the guys on the team into stars at this level, which is why he should feel complete confidence in Craig Bradshaw filling in for J.J. Mann.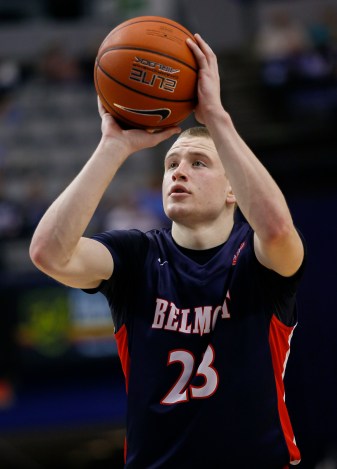 Belmont's issue will be in the front court, where they have to replace both starters — as well as "Big Chad" Lang — which is part of the reason why I think that Morehead State will win the East Division. Sean Woods returns four starters from last year's 20-win team, including his entire back court. It's headlined by Angelo Warner, a 6-foot-2 senior that averaged 17.5 points a season ago, numbers that could bump up this season if he shoots better than 32.6% from three. With a handful of Division I transfers and a number of JuCo imports joining the ranks this season, Woods will have the depth, particularly in his back court, to make Morehead's full-court press quite lethal.
While those two programs battle it out supremacy in the East, Murray State looks like they are clearly the team to beat in the West. It starts with Cam Payne, a 6-foot-2 sophomore who came out of nowhere to become one of the best freshman in the country (more on him in a bit). He's not alone, however, as Steve Prohm returns four starters, including workhorse forward Jarvis Williams, Jeffery Moss and Clemson transfer T.J. Sapp, who should be even better this year after missing the first half of last season. Throw in Utah transfer Justin Seymour, and the Racers should be better than the team that went 13-3 in the league and won the CIT. Remember, they were supposed to be a year away last season.
Eastern Kentucky loses a number of key pieces from last season, including Glenn Cosey, but with Corey Walden and Eric Stutz back, the Colonels should be a factor. Southeast Missouri State will be without Tyler Stone and Lucas Nutt, but they bring back three starters, including Jarekious Bradley, and look like the second-best team in the West. One team to keep an eye on: SIU-Edwardsville. They return four starters and their top six scorers from a team that went 7-9 in the league last year. With five seniors on the roster, if they are going to make a move, this is the year to do it.
PRESEASON OHIO VALLEY PLAYER OF THE YEAR: Cam Payne, Murray State
Cam Payne played out of position throughout his freshman season, filling a role that was left vacant when Zay Jackson blew out his knee. But it didn't matter, as the 6-foot-2 Memphis native finished the year averaging 16.8 points, 5.4 assists and 1.7 steals while making Racer fans quickly forget about Isaiah Canaan.
THE REST OF THE PRESEASON ALL-OHIO VALLEY TEAM:
Jarvis Williams, Murray State, Sr.: The bully inside for the Racers. Williams will play Ed Daniels to Cam Payne's Isaiah Canaan.
Craig Bradshaw, Belmont, Jr.: The next great guard to come through Rick Byrd's pipeline. Bradshaw averaged 15.7 points as a sophomore.
Angelo Warner, Morehead State, Sr.: Warner was the leading scorer for Morehead State a season ago and will be the best player on arguably the league's most talented team.
Jarekious Bradley, SEMO, Sr.: Bradley, a 6-foot-5 forward, was the third-leading scorer in the conference last season at 19.0 points.
ONE TWITTER FEED TO FOLLOW: @OVCBall
PREDICTED FINISH
East
1. Morehead State
2. Belmont
3. Eastern Kentucky
4. Tennessee Tech
5. Jacksonville State
6. Tennessee State
West
1. Murray State
2. Southeast Missouri State
3. SIU Edwardsville
4. Eastern Illinois
5. Austin Peay
6. UT Martin