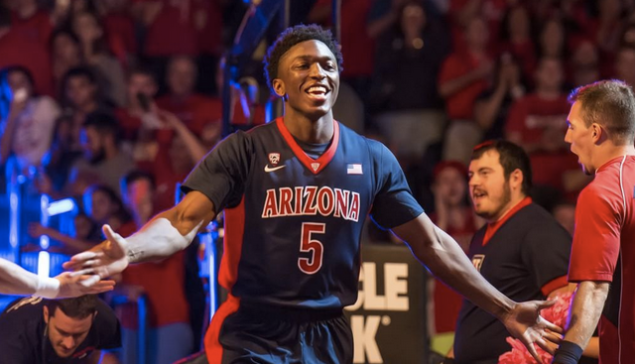 Beginning on October 3rd and running up until November 14th, the first day of the season, College Basketball Talk will be unveiling the 2014-2015 NBCSports.com college hoops preview package.
MORE: 2014-2015 Season Preview Coverage | Conference Previews | Preview Schedule
1. Arizona: This was a relatively easy pick for the top spot. It starts with T.J. McConnell, one of those senior point guards whose value doesn't always get noticed, and continues with Stanley Johnson and Rondae Hollis-Jefferson, who are as good of a pair of wings as you'll find anywhere in the country. Shooting will be a concern, which points to the importance of Kadeem Allen and Gabe York, but good luck trying to run offense against the Wildcats.
2. North Carolina: Marcus Paige is going to have the kind of season that will put him into contention for National Player of the Year, and freshman wing Justin Jackson is one of the most underrated players in the country entering this season. Toss in a pair of point guards — Nate Britt and Joel Berry — as well as two big-time athletes on the wing — Theo Pinson and J.P. Tokoto — and Roy Williams has a myriad of weapons at his disposal.
RELATED: The nation's Top 20 Frontcourts
3. Wichita State: NBA scouts won't be lining up at Koch Arena the way they will for other teams on this list, but you'll be hard-pressed to find a pair of guards with more poise and experience than Fred Van Vleet and Ron Baker, both of whom will make some Preseason All-American teams. Throw in Tekele Cotton, a defensive monster, and Gregg Marshall's club will match up with anyone in the country.
4. Duke: The Blue Devils were hard to rank on this list. On paper, they're as talented as anyone: Tyus Jones and Quinn Cook at the point with Rasheed Sulaimon, Justise Winslow, Grayson Allen and Matt Jones on their flanks. The question mark is going to be how playing time and role allocation shakes itself out. There may be some upperclassmen losing minutes freshmen. Will that be a problem in the locker room?
5. Kansas: For what seems like the 10th season in a row, Kansas will enter the year with uncertainty at the point guard spot. That hasn't kept them from winning Big 12 titles, however, and with the addition of Devonte' Graham to the mix, the Jayhawks may have found an answer. Even if they didn't, a team that has Kelly Oubre, Wayne Selden and Brannen Greene, along with a deep bench, belongs high on this list.
MORE: Top 25 Potential Breakout Stars | Coaches on the Hot Seat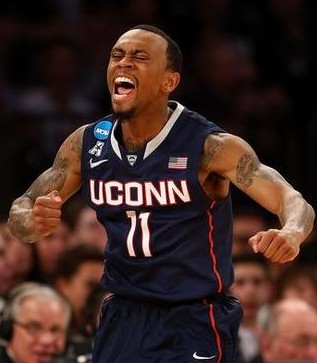 6. UConn: Gone is Shabazz Napier. Running the show in his place this season will be Ryan Boatright. Whether or not he makes the leap that Kemba Walker and Shabazz did in their final years remains to be seen, but he'll have plenty of help. N.C. State transfer Rodney Purvis is eligible, and top 30 recruit Daniel Hamilton has arrived as well. Throw in Terrence Samuel, Sam Cassell Jr. and Omar Calhoun, and Kevin Ollie has some serious options.
7. Michigan: The Wolverines are going to rely almost entirely on their perimeter this season, and they should be just fine doing so if Derrick Walton and Zak Irvin make the kind of sophomore improvement that Caris LeVert did. One guy to keep an eye on: Kameron Chatman, a versatile forward that will also see some time at the four.
8. Gonzaga: Kevin Pangos was not healthy as a junior. He is now, however, and with the kind of firepower Mark Few has at his disposal, expect Pangos to compete for all-american honors. Gary Bell Jr. is now a senior, and two will be joined by USC transfer Byron Wesley, Kyle Dranginis, and freshman Josh Perkins.
9. Kentucky: This may end up being too low for the Wildcats, especially if the Harrisons twins — particularly Aaron — end up improving as much as some have projected. And that ignores the fact that their best point guard is Tyler Ulis. One concern? They end up spending too much time playing someone out of position — Alex Poythress? Trey Lyles? — at the three.
10. Louisville: The biggest reason that Louisville is ranked this high on the list is that, along with the rest of the college hoops world, we expect big things out of Terry Rozier this season. With Chris Jones and Wayne Blackshear back as well, and the likes of Quentin Snider, Shaqquan Aaron and Anton Gill coming off the bench,
RELATED: NBCSports.com's Mid-Major Power Rankings | Mid-Major All-Americans
11. Stanford: Chasson Randle is perennially underrated, while Anthony Brown is a future NBA wing.
12. Georgia State: Ryan Harrow, Kevin Ware and R.J. Hunter. That's a super-talented trio for any level.
13. Oklahoma: This may be too low. Buddy Hield, Jordan Woodard and Isaiah Cousins is a nasty trio.
14. Iowa State: This ranking is dependent on Monte' Morris having a big year and Bryce Dejean-Jones buying into what Fred Hoiberg is selling.
15. UCLA: Norman Powell is a potential Pac-12 Player of the Year, but this ranking assumes Bryce Alford succeeds at the point and Isaac Hamilton lives up to his reputation.
16. Florida: Michael Frazier is the only known quantity on the Gators, but if Kasey Hill and Devin Robinson pan out, watch out.
17. Villanova: The Wildcats may be hurt by familiarity. We know Ryan Arcidiacono and Darrun Hilliard well by now. Keep an eye on Josh Hart, who could have a big year in the James Bell role.
18. VCU: Briante Weber and Treveon Graham are both first-team all-Atlantic 10 caliber players. Will Melvin Johnson and freshman Terry Larrier join them there this season?
19. Cal: The trio of Ty Wallace, Jordan Mathews and Jabari Bird is the real deal. Who handles the point?
20. Indiana: The sleeper on this list. Yogi Ferrell is a stud, but what comes of James Blackmon Jr., Robert Johnson and Troy Williams this year?