Beginning on October 3rd and running up until November 14th, the first day of the season, College Basketball Talk will be unveiling the 2014-2015 NBCSports.com college hoops preview package.
Today, we will be previewing the Summit League.
MORE: 2014-2015 Season Preview Coverage | Conference Previews | Preview Schedule
Turnover is the name of the game for the Summit League as we head into the 2014-2015 season. There will be five new head coaches in the nine-team league and that doesn't include Scott Sutton, the head coach at Oral Roberts, who will return to the conference after a two-year stint in the Southland. Just one first-team all-conference player is back this season, and among those who have left were the league's best player (Taylor Braun) and biggest personality (former North Dakota State head coach Saul Phillips).
That said, the Summit League should end up being one of the tightest conference races in the country this year, as the separation between the top teams in the conference is quite small.
Our pick to win the regular season title is Oral Roberts. The Golden Eagles had enjoyed a terrific run near the top of the Summit League for a decade-and-a-half before the school got swept up in the realignment chaos and wound up in the Southland. After a two year hiatus, Sutton is back with one of his better teams. Senior Obi Emegano is healthy after tearing his ACL last season and junior guard Korey Billbury had a terrific sophomore campaign in Emegano's absence. Losing Shawn Glover will hurt, but the key for ORU will be whether Brandon Conley takes a step forward this season.
ORU's biggest challenger will be Joe Scott's Denver Pioneers. While he loses Chris Udofia to graduation, Scott does return Brett Olson, a first-team all-conference guard last year and our Preseason Player of the Year. He's a sharp-shooter who hit more than 50 percent from three in league play, but he's also going to have to learn to be "the guy". In total, the Pioneers bring back four starters from last year. Denver joined the Summit prior to the 2013-2014 season.
New IPFW head coach Jon Coffman will enter this season without three of the Mastodons' top six players from a year ago, but he does get back sophomore point guard Mo Evans, who is expected to be one of the league's breakout stars, as well as big man Steve Forbes. Forbes is a dominating presence in the paint, but he only averaged 21.3 minutes as a junior due to fitness and foul trouble.
South Dakota State loses a number of key pieces, but former Florida big man Cody Larson will be one of the league's most athletic players. The Jackrabbits will also get a boost when former Wisconsin point guard George Marshall gets eligible in December. North Dakota State will be without Taylor Braun, Marshall Bjorklund and former head coach Saul Phillips, but the Bison have built a strong enough program to withstand the turnover. Expect big seasons from Lawrence Alexander and Kory Brown.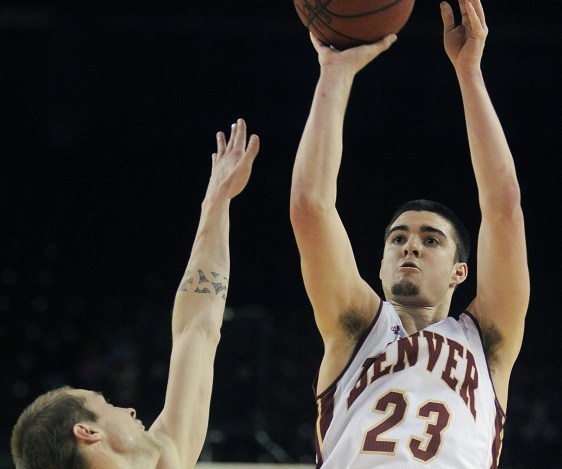 REALIGNMENT MOVES
In: Oral Roberts
Out: None
PRESEASON SUMMIT LEAGUE PLAYER OF THE YEAR: Brett Olson, Denver
Olson is the only player from last season's all-Summit first-team to be returning to school this season after averaging 14.5 points, 3.6 assists and 3.5 boards. He shot 51.5% from beyond the arc in league play, but with Chris Udofia graduating, Joe Scott is going to need Olson to take on a more commanding role this season if the Pioneers are going to play their way out of a tough, balanced conference.
THE REST OF THE PRESEASON ALL-SUMMIT LEAGUE TEAM:
Cody Larson, South Dakota State, Sr.: Larson, who began his career at Florida, might be the bst athlete in the conference.
Obi Emegano, Oral Roberts, Jr.: Emegano was on pace to have a huge season in 2013-2014 but tore his ACL in the fourth game of the year.
Lawrence Alexander, North Dakota State, Sr.: A four-year starter at the point, Alexander will be the catalyst for the Bison, will have plenty of scoring to replace.
Steve Forbes, IPFW, Sr.: The big fella needs to get in shape and stay out of foul trouble, but he's a monster when he does.
ONE TWITTER FEED TO FOLLOW: @TerryVandrovec
PREDICTED FINISH
1. Oral Roberts
2. Denver
3. IPFW
4. South Dakota State
5. North Dakota State
6. South Dakota
7. Western Illinois
8. Nebraska-Omaha
9. IUPUI