Beginning on October 3rd and running up until November 14th, the first day of the season, College Basketball Talk will be unveiling the 2014-2015 NBCSports.com college hoops preview package.
MORE: 2014-2015 Season Preview Coverage | Conference Previews | Preview Schedule
Freshmen are a major part of the college basketball landscape. While basketball fans have become enamored with talk of "one-and-done" freshmen that pepper the top of the recruiting rankings, there will be difference-making freshmen at every level of college basketball this season.
So this isn't your typical impact freshman list.
This one has been broken into four tiers: The headliners, the impact All-Americans, the  other high-major players to watch and mid-major players to watch. Only one player per team was eligible.
THE HEADLINERS
Jahlil Okafor, Duke – Not only is the 6-foot-11 Okafor the consensus No. 1 player in the country, but he's also the biggest impact freshman of this college basketball season. The arrival of Okafor allows Duke to put Amile Jefferson to the four at his more natural position and it gives Coach K a natural post scorer to draw double teams and kick it out to Duke's many perimeter threats. Tyus Jones, Justise Winslow and Grayson Allen could all show flashes this season, but Okafor doesn't have anyone else like him on the Duke roster.
Stanley Johnson, Arizona – If Okafor isn't the premier college freshman in the country than Stanley Johnson is. The powerful 6-foot-7 wing combines tremendous perimeter skill and a power drive game that is very tough to stop. Johnson already owns the body of a pro and people in Tuscan are excited for his arrival because he might be a better fit for the Wildcats current lineup than last year's impact freshman, Aaron Gordon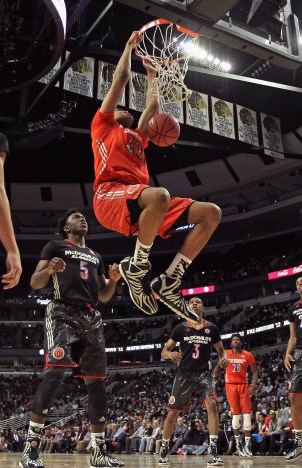 Karl Towns Jr., Kentucky – Kentucky and head coach John Calipari bring in another class filled with McDonald's All-Americans and the 7-foot-1 Towns might be the most talented player in the Wildcats' roster. Towns showed flashes of brilliance during the team's Bahamas trip this summer and gives Kentucky a skilled post player on the offensive end. Among Kentucky's loaded front court, Towns could separate himself from the pack if he can defend and rebound his area with consistency because returnees Willie Cauley-Stein and Dakari Johnson aren't as talented on offense.
Cliff Alexander, Kansas – Kansas has a few potential impact guys in Kelly Oubre and point guard Devonte Graham in this class, but Alexander's athleticism and raw power at 6-foot-8 means he could overpower college players this season. With Perry Ellis playing more of a finesse game on the interior, Alexander's power game gives Bill Self some nice balance in the front court and Alexander is also a premier rebounder in this incoming group of freshmen.
Myles Turner, Texas – Rick Barnes returns Cameron Ridley and Jonathan Holmes on the interior but Turner is more naturally talented as a shot blocker and perimeter shooter. Playing Turner alongside Ridley or Holmes — or in a jumbo line-up that features all three — could be a major problem in the Big 12 this season.
MORE: Best non-conference games | NBCSports.com's Preseason Top 25 Countdown
THE ALL-AMERICANS
Rashad Vaughn, UNLV – The 6-foot-5 Vaughn might be the most physically ready guard in the freshman class and that strength allows the Minnesota native to make an impact on both ends of the floor. Vaughn and Emmanuel Mudiay waged war on each other in McDonald's All-American practices this spring and Vaughn enjoys playing in the spotlight.
Justin Jackson, North Carolina – North Carolina is bringing in quite a bit of firepower in the 2014 class, but 6-foot-8, rail-thin wing Justin Jackson has a very developed mid-range game and he can also operate as a ball handler in pick-and-roll situations. Jackson might be slender, but he can score in bunches all over the floor.
Melo Trimble, Maryland – The 6-foot-2 Trimble is Maryland's first McDonald's All-American since Mike Jones in 2003 and he gives Mark Turgeon a scoring guard that can also handle the ball. Trimble has a developed pull-up jumper and will be counted on to produce immediately after the Terps lost five transfers this offseason.
Isaiah Whitehead, Seton Hall – Kevin Willard did everything he could to get Whitehead to come to Seton Hall and he'll give the ball to his new McDonald's All-American from the opening game. Whitehead can score a lot of points in a hurry and can also handle the ball a bit in spot situations. The Pirates are going to count on Whitehead to make a major impact this season.
James Blackmon, Jr., Indiana – Indiana was able to reel Blackmon Jr. back in after the in-state guard briefly de-committed and now he'll be asked to score points alongside starting point guard Yogi Farrell. Blackmon Jr. can catch fire from the perimeter and he's a fearless scorer attacking the basket.
MORE: Top 25 Potential Breakout Stars | Coaches on the Hot Seat 
HIGH-MAJOR PLAYERS TO WATCH
Daniel Hamilton, UConn – The younger brother of former Texas star Jordan Hamilton and guard Isaac Hamilton (UCLA), Daniel joins the Huskies as a 6-foot-7 scorer with a knack for hitting big shots. Expect Hamilton to get immediate minutes — and shots — from the wing.
Tra Holder, Arizona State – Herb Sendek re-loaded the roster with experienced junior college players but he'll likely replace Jahii Carson with Holder as the Sun Devils' starting point guard because he's the most talented lead guard on the roster.
Kaleb Joseph, Syracuse – The No. 46 player in Rivals' 2014 class, the 6-foot-2 Joseph should step in and be the starting point guard for Syracuse this season, the fourth starting point guard the program has had in as many seasons.
Vic Law, Northwestern – Chris Collins brought in a talented recruiting class and Chicago-native Law is a centerpiece of those efforts. The 6-foot-7 wing can rebound very well for his position and gives Northwestern an athletic on the wing that the program hasn't seen in quite some time.
Jordan McLaughlin, USC – Andy Enfield needs a legitimate floor general to run his uptempo system and local point guard McLaughlin should provide a major boost for the Trojans. The 6-foot McLaughlin can hit shots and is a very good athlete.
RELATED: NBCSports.com's Mid-Major Power Rankings | Mid-Major All-Americans
MID-MAJOR PLAYERS TO WATCH
Josh Cunningham, Bradley – After winning two Illinois Class 3A state titles at Morgan Park High School, the athletic 6-foot-7 Cunningham chose Bradley after programs like DePaul and Indiana offered scholarships and showed significant interest during his senior season. Rivals rated him as the No. 88 overall player in the 2014 class.
Omega Harris, UTEP – The Miners lost freshmen Chris Sandifer and Shaq Carr before the season because they didn't qualify but the 6-foot-2 Harris can really score and should give Tim Floyd's ballclub a boost on the perimeter.
William Lee, UAB – The Gatorade Alabama Player of the Year is a 6-foot-8, bouncy forward who should make an immediate contribution in the front court thanks to his athleticism and motor.
Wyatt Lohaus, Northern Iowa – The son of former NBA veteran Brad Lohaus, the younger Lohaus is a skilled 6-foot-2 guard with one of the best mid-range games in the class. He should contribute immediately for Ben Jacobsen.
C.J. Turman, Florida Atlantic – Turman was committed to Tennessee until Cuonzo Martin left and re-opened his recruitment before deciding on the Owls. New head coach Michael Curry will be thrilled to have a 6-foot-9 forward that had plenty of high-major interest.