Beginning on October 3rd and running up until November 14th, the first day of the season, College Basketball Talk will be unveiling the 2014-2015 NBCSports.com college hoops preview package. We continue our countdown today with No. 14 Florida.
MORE: 2014-2015 Season Preview Coverage | NBCSports Preseason Top 25 | Preview Schedule
Head Coach: Billy Donovan
Last Season: 36-3, 18-0 SEC (1st), lost in the Final Four to UConn
Key Losses: Scottie Wilbekin, Patric Young, Casey Prather
Newcomers: Chris Chiozza, Devin Robinson, Alex Murphy (transfer), Zach Hodskins, John Egbunu (transfer*)
Projected Lineup
– G: Kasey Hill, So.
– G: Michael Frazier, Jr.
– F: Dorian Finney-Smith, Sr.
– F: Jon Horford, Sr.
– C: Chris Walker, So.
– Bench: Eli Carter, Jr.; Alex Murphy, Jr.; Devin Robinson, Fr.; Chris Chiozza, Fr.
They'll be good because … : The Gators can trot out as much talent on a nightly basis as anyone in the country this side of Kentucky. Four players on the Gator roster are former five-star recruits, headlined by a pair of sophomores that were top ten players in the Class of 2013 in Kasey Hill and Chris Walker. That list also includes former Duke forward Alex Murphy and incoming freshman Devin Robinson, who may just be the best prospect on the roster.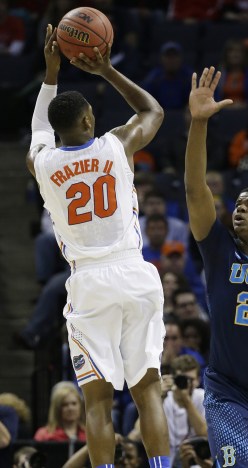 That's not the only reason to like the Gators, however, as their young talent is surrounded by a solid group of veteran role players. Michael Frazier is one of the best shooters in the country. Dorian Finney-Smith is a combo-forward that can act as a floor-spacer when his jumper is working. Eli Carter was a big-time scorer at Rutgers and Murphy spent two and a half seasons at Duke before leaving that program.
But they might disappoint because …: Outside of Frazier, there really aren't many proven commodities on Florida. Walker's name is near the top of most draft boards thanks to his height and athleticism, but he's a rail-thin post player that has yet to prove that he can do anything on a basketball court other than run, jump and get suspended from games. Potential does not always equal production.
The same thing can be said about Hill, who has the physical gifts to be an excellent point guard at the college level. But being able to beat a defense end-to-end and being effective if Billy Donovan's offense, which is loaded with ball-screens, is an entirely different story. Horford played limited minutes at Michigan. Carter was a gun-slinger on bad Rutgers teams and has spent the past 18 months trying to recover from a grizzly broken leg. Murphy couldn't get off the bench at Duke. Devin Robinson and Chris Chiozza are highly-regarded freshmen, but freshmen nonetheless. South Florida transfer John Egbunu has not yet been given a waiver to play immediately by the NCAA.
In simpler terms, outside of Frazier, it's hard to say definitively what Donovan and his staff can expect out of anyone on this roster.
Outlook: Billy Donovan is one of the best in the game. There's a reason that he's always being linked with NBA coaching vacancies. He's been to three Elite 8s and a Final Four in the last four years. He won back-to-back titles. He knows what he's doing, which is why Florida will get the benefit of the doubt when it comes to the question marks associated with this group.
And, as I mentioned, there are plenty of question marks surrounding this group entering the 2014-2015 season. If everything breaks the right way — if Walker and Hill live up to their potential, if Devin Robinson is as good as advertised, if Murphy can recapture that ability that made Coach K recruit him — I think you're looking at a team that can legitimately compete with Florida for the SEC regular season title. There's that much talent on this roster and Donovan is that good of a head coach.
That said, I think Florida also has some flameout potential. I think the Gators are all-but a lock to make it back to the NCAA tournament, but I don't think it's out of the question for them to end up losing 10 games, bouncing in and out of the top 25, and entering the dance as a No. 7 seed.