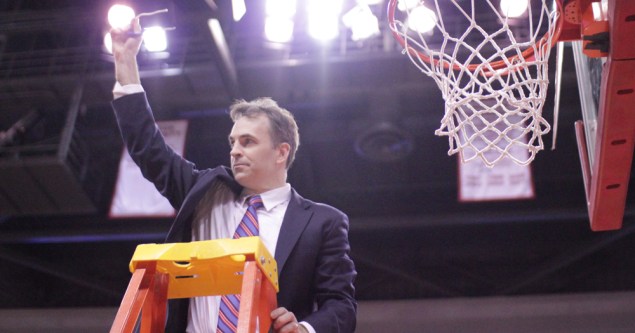 Beginning on October 3rd and running up until November 14th, the first day of the season, College Basketball Talk will be unveiling the 2014-2015 NBCSports.com college hoops preview package.
MORE: 2014-2015 Season Preview Coverage | Conference Previews | Preview Schedule
Moments after losing to Wisconsin, 75-35, in the NCAA tournament, first-year American head coach Mike Brennan gathered his team inside the Bradley Center locker room. His message was similar to the one he gave the team when he took over the program 11 months earlier.
"The biggest thing he told us after the game was we still had a lot to improve on," starting point guard Darius "Pee Wee" Gardner told NBCSports.com last month. "We had a big year, but we had to take away from this season was that we still had more to improve on."
That focus has carried over into the offseason workouts and into practice, as the Eagles shift from a surprise team that defied preseason polls in 2013-2014 to the reigning champion with a target on its back this season.
At this time last season, American was slotted ninth in the Patriot League's preseason coaches poll.
"Last year we had a lot of doubts," leading scorer Jesse Reed said. "We had a new coach and a bunch of new players who hadn't had much play time. There was a lot unknown, but we had confidence that we could have a good season. It was an internal thing."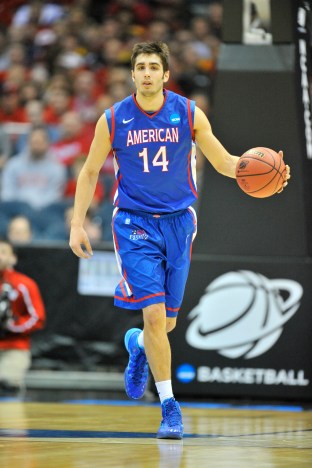 American kicked off Patriot League play with 10 consecutive wins, including a 30-point home win over Boston University. But as the law of averages evened out over the course of the next five games, the Eagles dropped four of five, relinquishing first place to BU in the process.
"I think we snuck up on some teams," Brennan told NBCSports.com. "Second time around through the league was a little more difficult. Teams had a better sense to what we were doing.
The Eagles regrouped to reverse that trend, winning four of the last five to put them into the championship game. On the road in the Patriot League title game, American held BU, which shot threes at a 39 percent clip, to just 36 points, and forced the Terriers into a 1-for-17 shooting night from beyond the arc.
The key piece to that team defense — ranked 51st in that nation in adjusted defensive efficiency — was Tony Wroblicky, the Patriot League Defensive Player of the Year and first team all-league selection. The 6-foot-10 center is the only starter Brennan lost, but he'll need a committee to replace him.
"Tony was special for us," Brennan said. "He did a lot of things for us. We have some other guys who are pretty good basketball players. They won't fill Tony's shoes, but they'll be able to contribute in their own way."
Jonathan Davis and Kevin Panzer join the program after sitting out last season following their transfers from George Washington and Nevada, respectively. Zach Elcano, the 6-foot-11 sophomore, saw time in 16 games as a freshman while Gabe Brown, a 7-foot freshman, adds depth to the frontline. Like last season, as the offense adjusted to the Princeton offense, incorporating four new bigs into its defense will take time.
"[Tony] was a big part of our defense," Reed added. "I'm hoping those guys will have a similar impact, protecting the rim and being in help-side defense. It's going to take a lot of work getting our defense back in the swing of things."
Those newcomers in the middle surround the four returning starters, which include Reed, the team's leading scorer at 13.4 points per game, Gardner, a second-team all-Patriot League selection and John Schoof, the third returning Eagle to average double figures last season.
The words Brennan said seven months ago in Milwaukee, Wisconsin — on the heels of a 40-point blowout — resonated with his perimeter attack of upperclassmen. Yes, it was an accomplishment to reach the NCAA tournament (the third time for American in six years), but the Badgers bludgeoned the Eagles en route to a Final Four appearance. The consolation for American was it provided the perfect blend: the thrill of postseason play and the bitter taste of a nationally-televised beatdown. That mixed feeling has been integrated into the offseason workouts because like they know first-hand, the Patriot League is always up for grabs.
"Look at us last year, "Reed said. "We weren't suppose to challenge anyone."