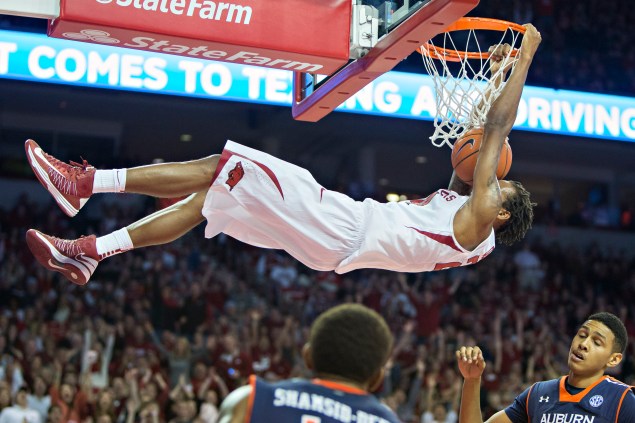 Beginning on October 3rd and running up until November 14th, the first day of the season, College Basketball Talk will be unveiling the 2014-2015 NBCSports.com college hoops preview package.
MORE: 2014-2015 Season Preview Coverage | Conference Previews | Preview Schedule
There are very few things in the sport basketball that can get fans out of their seats the way that a massive dunk can, which is why we're here to help you. You want to know what games and what players to watch in case a freak athlete decides to take flight on some poor, unsuspecting defender that jumped? We've got you covered.
Here are college basketball's best dunkers (with examples of why):
RELATED: 12 minutes of the best dunks from 2013-2014
1. Michael Qualls, Arkansas: Qualls is a 6-foot-6 wing that plays for Mike Anderson and Arkansas, meaning that he'll have plenty of opportunities in the open floor with a lane to the rim. Qualls averaged 11.6 points last season, but he's probably best known for the game-winning tip-dunk he had in a win over Kentucky. That wasn't his best dunk, however:
2. John Brown, High Point: High Point isn't exactly known for being a basketball powerhouse, but they managed to land one of the nation's highest-flyers three years ago. Brown has been posterizing defenders for a long, long time in the Big South:
MORE: John Brown's road from being a JV QB to the Big South Player of the Year
3. Sam Thompson, Ohio State: You know you're a big-time dunker when you have a nickname that is a synonym for dunk: Slam Thompson. His specialty? Finishing alley-oops. Here's what I mean:
4. Shaquille Johnson, Longwood: Johnson did not last long at Auburn, as he's looking for a second chance to get his hoops career going with the Lancers. It may not actually happen for Johnson this season, but the former top 100 recruit still owns the most impressive mixtape I've seen:
5. Ike Nwamu, Mercer: Nwamu threw down one of the best dunks I've ever seen at the Mercer Midnight Madness. He dunks like that in games, too:
6. Keifer Sykes, Green Bay: Sykes is the smallest player on this list, but he may actually be the best leaper. How many players do you know that can throw an alley-oop to themselves?:
RELATED: NBCSports.com's Mid-Major All-Americans
7. Troy Williams, Indiana: Williams entered college with the reputation of being one of the best dunkers in high school basketball, but his freshmen season yielded surprisingly few posterizations. That should change this season, as Williams is a year older, stronger and better and the Hoosiers will be looking to play a more uptempo, spread out style.
8. J.P. Tokoto, North Carolina: Tokoto is a high-flying wing for the Tar Heels, and while his lack of a jump shot means he's a long way away from being more than an athlete and an energy at this point, he should be a nice compliment alongside Marcus Paige and Justin Jackson. And given Roy Williams' tendency to push tempo, don't be surprised to see Tokoto constantly making the highlight reel.
9. Deuce Bello, Missouri: Bello is a high-flying shooting guard that was a favorite of the mixtape guys during his time in high school. But he was never able to catch on with Baylor, and eventually transferred to Missouri before sitting out the 2013-2014 season. You don't just lose hops like this, though.
10. Montrezl Harrell, Louisville: There is nothing pretty about Harrell. His game is entirely centered
11. Rondae Hollis-Jefferson, Arizona: Hollis-Jefferson is a unique player, an explosive, entertainingly athletic wing that attacks the glass, is a terror defensively and is a more-than-capable passer. He could have been a first round pick if he left school after last season, but he returned to school and is a jump shot away from being in the 2015 lottery. In the meantime, let's hope he keeps doing this.
12. Javonte Douglas, Old Dominion: He's a JuCo transfer, but I promise you know who he is:
13. Cliff Alexander, Kansas: Alexander may not end up being the player that Montrezl Harrell is this season, and he may not end up being a major part of Bill Self's offensive attack, but the Jayhawk big man will dunk anything and everything around the rim.
BEST OF THE REST: