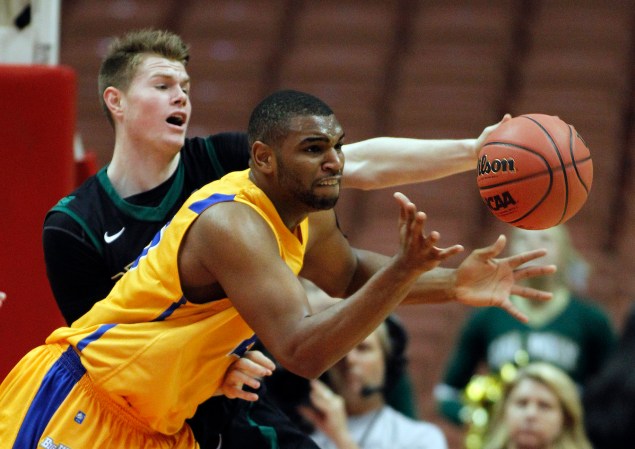 Beginning on October 3rd and running up until November 14th, the first day of the season, College Basketball Talk will be unveiling the 2014-2015 NBCSports.com college hoops preview package.
Under head coach Bob WIlliams the UCSB Gauchos have made three NCAA tournament appearances, with the most recent appearance coming in 2011. Those last two tournament teams were led by the perimeter tandem of Orlando Johnson and James Nunnally, who combined to average 32.7 points and 11.0 rebounds per contest in 2009-10 and 37.3 points and 11.9 rebounds the following season. Both Johnson and Nunnally returned in 2011-12, meaning that their careers at UCSB overlapped that of one Alan Williams.
And in three seasons at UCSB, Williams has developed into one of the top big men in college basketball.
As a freshman the 6-foot-7 Williams started 20 of the 30 games he played in, accounting for 6.9 points and 6.5 rebounds in just over 17 minutes of action per contest. With Nunnally and Johnson moving on after the 2011-12 season more was required of Williams and from a statistical standpoint he produced, averaging 17.1 points and 10.7 rebounds per contest. But during that season Williams had trouble staying on the court, playing just over 28 minutes and averaging 3.2 fouls per game and fouling out of seven contests.
Williams made strides in each of those areas last season, playing 31 minutes per contest and fouling out of just two of the 28 games in which he played (3.0 fouls committed per game). More time on the court resulted in more production from Williams, as he averaged 21.3 points, 11.5 rebounds and 2.4 blocked shots per game. That led to Williams winning Big West Player of the Year honors, and Williams' work to improve his stamina is the biggest reason as to why the senior has developed into one of the country's best front court players.
CLICK HERE to read NBCSports.com's Big West Conference Preview
"The biggest thing for me was improving my conditioning," Williams told NBCSports.com earlier this month. "With that, I've been able to stay on the floor longer and be more productive."
In addition to improving physically Williams has also expanded his offensive repertoire, as he enters the 2014-15 season as a more consistent mid-range shooter. Another area in which Williams has improved is in how he deals with double teams, with the senior even more capable of finding open teammates on the perimeter. And while Williams will get most of the attention due to his status, the fact of the matter is that the Gauchos have enough pieces returning to Santa Barbara to make a run at the Big West crown that eluded them a season ago.
In addition to Williams three other starters return for coach Williams, including junior guard Michael Bryson and senior guard Zalmico Harmon. Bryson took a step forward for the Gauchos last season, averaging 11.5 points and 4.3 rebounds per contest and shooting 47.2% from the field and 41.7% from beyond the arc. Bryson reached double digits in 20 games last season, and he was an honorable mention All-Big West selection. The key for Bryson when it comes to his taking another step forward for the Gauchos is a simple one: consistency.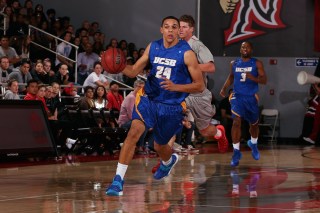 "That's the key for Michael, just being more consistent," UCSB head coach Bob Williams told NBCSports.com.
To coach's point, there were multiple occasions last season in which Bryson followed up a very good outing with a quiet night. After scoring 21 points in a December victory over San Diego, Bryson managed to score just five in a win over Troy four days later. And his longest stretch of double-digit outings in 2013-14 was six, with those efforts coming in UCSB's final six games of the season. The 2014-15 season sets up as one where Bryson, who also performed well defensively last season, can cement his status as one of the best guards in the Big West. The best way for him to do that is to produce on a nightly basis, which would benefit his team as well.
Another perimeter returnee whose play will greatly impact UCSB's fortunes is senior point guard Zalmico Harmon. The Washington, D.C. native joined the program after a stint at Ventura College, and his arrival was an important one for the program. With T.J. Taylor undergoing hip surgery prior to the start of last season, the Gauchos were without the player who started at the point in each of the last two seasons. But thanks to Harmon, the team didn't miss a beat, as he accounted for 7.8 points and 5.1 assists per contest and led the Big West in assist-to-turnover ratio.
The addition of Harmon undoubtedly impacted UCSB on the offensive end, as they ranked second in the Big West from an efficiency standpoint after being ranked ninth the season prior.
CLICK HERE to read through the rest of NBCSports.com's feature stories
"He just knows how to run a team," Alan Williams noted. "He gets guys the ball in the spots where they can be most effective."
Taylor will return to the fold, but Harmon will remain at the controls on the court and with good reason. However even with this being the case Taylor is expected to help UCSB, and the same goes for a forward in Mitch Brewe who showed signs of improvement last season despite finishing with averages of 4.1 points and 3.4 rebounds per game. UCSB lost a starter in forward Taran Brown (7.2 ppg, 4.4 rpg), and while guard Kyle Boswell (10.2 ppg) started just five games he was a valuable contributor who was also the team's best perimeter shooter. With Boswell's departure two newcomers, junior college transfer DaJuan Smith and freshman Gabe Vincent, are expected to compete for a starting spot.
That will result in a team that looks a little different than last season's edition, with both players capable of making the Gauchos a better team with regards to perimeter defense.
"We lose Kyle, but with Gabe and DaJuan we'll have a different look this season," Bob Williams said. "We'll be a little more athletic at that spot, which should help us defensively."
UCSB won't lack for talent, but the same goes for many of their competitors in the Big West. UC Irvine is loaded and will be expected by many to repeat, with Long Beach State and Cal-State Northridge among the other teams hoping to cut down the nets in Anaheim. How will UCSB look to get over the hump and earn its first NCAA tournament bid in four seasons? With a multi-faceted attack led by a gifted big man who's better equipped to shoulder the load now than he was as a sophomore.
With that being the case, Williams and his teammates enter 2014-15 using their Big West tournament loss to Cal Poly as motivation. The season is a marathon, but those final strides to the proverbial finish line have the greatest impact in the end.