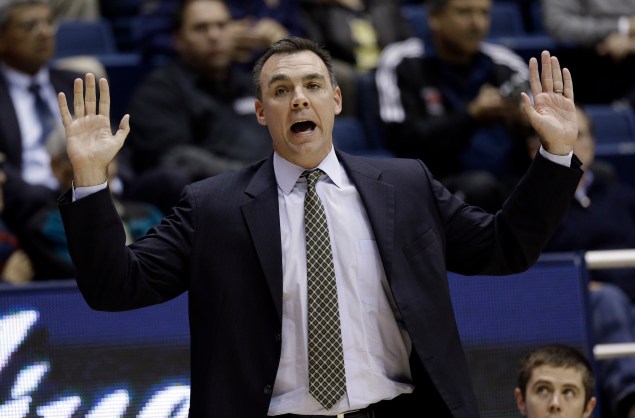 Beginning on October 3rd and running up until November 14th, the first day of the season, College Basketball Talk will be unveiling the 2014-2015 NBCSports.com college hoops preview package.
MORE: 2014-2015 Season Preview Coverage | Conference Previews | Preview Schedule
The 2013-14 season was a very competitive one for the Big West, with preseason favorite UC Irvine winning the regular season title. Big West Coach of the Year Russell Turner's Anteaters were one of the nation's best defensive teams and that was to be expected, with 7-foot-6 Mamadou Ndiaye anchoring their zone defense in the middle and defensive stalwart Will Davis II also figuring prominently in their plans. UC Irvine went 13-3 in conference play, finishing a game ahead of a very good UCSB squad led by Big West Player of the Year Alan Williams.
With those two teams combining to go 25-7 in Big West play they were a lock to reach the conference tournament final, right? Wrong.
The Anteaters and Gauchos received a painful reminder of how rough conference tournaments can be in one-bid leagues, as both were bounced from the Big West tournament with seven-seed Cal Poly getting hot at just the right time. Joe Callero's Mustangs, who entered the tournament having lost five of their final six regular season games, beat UCSB and UC Irvine on consecutive days before holding off CSUN in the title game.
The favorite in 2014-15 will once again be a UC Irvine team returning nearly 84 percent of its scoring from a season ago. In addition to Ndiaye (8.0 ppg, 6.2 rpg, 3.1 bpg) and Davis (11.0, 6.4) the Anteaters also welcome back guards Alex Young (junior; 8.9 ppg, 4.6 apg) and Luke Nelson (sophomore; 11.8 ppg), the last two winners of the league's Freshman of the Year award. UC Irvine will be favored to repeat as Big West regular season champs, and UCSB could once again be the Anteaters' greatest threat.
The Gauchos also return four starters, with Williams (21.3 ppg, 11.5 rpg, 2.4 bpg) and junior guard Michael Bryson (11.5, 4.3) leading the way offensively. UCSB also has one of the steadier hands in the conference in point guard Zalmico Harmon, who ranked second nationally in assist-to-turnover ratio (4.64). Yet even with the amount of talent returning at both UC Irvine and UCSB, as many as six teams harbor realistic thoughts of winning the Big West.
One team to keep in mind is Long Beach State, which will be led by senior guards Michael Caffey and Tyler Lamb. Those two combined to score more than 31 points per game last season, and the addition of FGCU graduate transfer Eric McKnight will help the 49ers in the paint. Dan Monson's put together another brutal non-conference slate, so Long Beach State will once again be tested before the start of league play.
CSUN returns the tandem of Stephen Maxwell and Stephan Hicks, and Cal Poly returns three starters led by junior David Nwaba. UC Davis can't be ignored either, as the Aggies are led by one of the more prolific perimeter scorers around in senior Corey Hawkins. There's a lot of returning talent in the Big West, which should make for a highly competitive 2014-15.
PRESEASON BIG WEST PLAYER OF THE YEAR: Alan Williams, UCSB
Williams won the honor last season and with good reason, as he averaged 21.3 points, 11.5 rebounds and 2.4 blocked shots per game. Williams shot 53.3% from the field, and he was the best player in the Big West in both offensive (14.6) and defensive (26.9) rebounding percentage.
THE REST OF THE PRESEASON ALL-BIG WEST TEAM:
Corey Hawkins, UC Davis: Hawkins accounted for 18.0 points, 4.5 rebounds and 3.0 assists per game as a redshirt junior.
Michael Caffey, Long Beach State: Caffey's been a first team All-Big West selection in each of the last two seasons, averaging 16.2 points, 4.4 rebounds and 4.2 assists per game in 2013-14.
Isaac Fotu, Hawaii: No Christian Standhardinger means even more attention for Fotu, who accounted for 14.9 points and 6.1 rebounds per game last season.
Stephen Maxwell, CSUN: Maxwell was very good last season, shooting 54.7% from the field and averaging 17.5 points and 8.8 rebounds per contest.
ONE TWITTER FEED TO FOLLOW: @BigWestMBB
PREDICTED FINISH
1. UC Irvine
2. UCSB
3. Long Beach State
4. CSUN
5. Cal Poly
6. UC Davis
7. Hawaii
8. Cal-State Fullerton
9. UC Riverside