Beginning on October 3rd and running up until November 14th, the first day of the season, College Basketball Talk will be unveiling the 2014-2015 NBCSports.com college hoops preview package.
MORE: 2014-2015 Season Preview Coverage | Conference Previews | Preview Schedule
Bernard Thompson received an alert from his phone on a Friday afternoon.
It was March 21, and the message was from the SportsCenter app, informing him that Mercer had defeated Duke, 78-71, on the second day of the 2014 NCAA Tournament. Thompson, the all-Atlantic Sun guard from Florida-Gulf Coast, had elected not to watch the game after Mercer had dashed his team's hopes of a return trip to the NCAA tournament by winning the A-Sun title on Florida Gulf Coast's home floor 13 days earlier.
Moments after the monumental upset over the Blue Devils, Mercer cemented itself as the tournament darlings. Reserve guard Kevin Canevari did the Nae-Nae dance, head coach Bob Hoffman had an epic post-game interview and Coach K stopped by the Mercer locker room to personally congratulate the team.
The roles had been reserved for the two rival A-Sun programs. In 2013, Florida Gulf Coast went on the road and topped Mercer in the conference championship game before becoming the first No. 15 seed to reach the Sweet 16. The Eagles' high-flying offense made them overnight sensations, being labeled forever as "Dunk City" (coined by a certain college basketball website).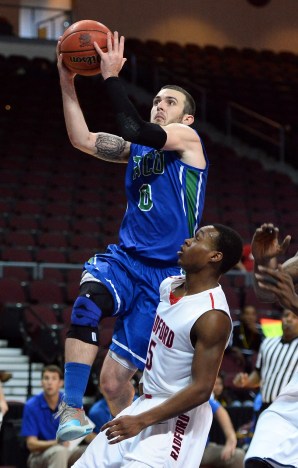 Chase Fieler has graduated, Eric McKnight and Dajuan Graf have both transferred and Filip Cvjeticanin is out for the season after undergoing back surgery, leaving the heralded senior back court of Thompson and Brett Comer as the only members from that 2013 Cinderella run on the FGCU roster this season. Despite a mostly new supporting cast, the original Dunk City duo is looking to put FGCU back in the national spotlight this March.
"I think the dynamics had changed a little. We went from a team that was really always an underdog and now the pressure had shifted. Now we were a team that had won the league," second-year head coach Joe Dooley told NBCSports.com. "I think the experience of us having gone through that will help us this year.
"At our level it's hard because it's usual a single-bid league. The guys understand that trying to prepare to win the regular season in our league gives us the best change to play at home (in the conference tournament), but you can't take anything for granted."
Thompson, Comer and the rest of the FGCU program were fueled in the offseason workouts by the missed opportunity, understanding that a slow first half against Mercer, in which they spotted the Bears a 16-point halftime lead, meant the difference between the NCAA tournament and the NIT. Thompson, Comer and Jamail Jones, the third returning starter, give FGCU an experienced perimeter attack, but it's the addition of the newcomers that should continue to make it an exciting brand of basketball to watch.
"I think this is going to be the most skilled team that's been here," Comer said. "Talent-wise it's amazing here."
In a league that's thinned out as Mercer and East Tennessee State both defected for the Southern Conference, leaving the A-Sun with only eight teams, Florida Gulf Coast has stockpiled pieces around its three returning starters. Whether it be the playing style or the fact that the team's home court, Alico Arena, is less than a mile away from the beach, Florida Gulf Coast has been a consistent landing spot for high-major transfers. Half of the roster began their college careers elsewhere before arriving in Fort Myers.
Jones (Marquette) and Nate Hicks (Georgia Tech) made their contributions last season as transfers. This year, Julian DeBose (Rice) and Brian Greene Jr. (Auburn) add depth to the perimeter. A trio of big men — all 6-foot-8 or taller — Marc-Eddy Norelia (Tulane), Eric Moeller (Central Florida/Missouri) and Demetris Morant (UNLV) give the Eagles a versatile frontline, allowing them to keep their fast-paced, highlight-filled style of play intact.
MORE: Atlantic Sun Preview | Mid-Major Power Rankings | Mid-Major All-Americans
"We're really excited about our frontline," Dooley said. "Marc-Eddy sat out last year and was a real energy guy in practice. Nate played a lot of minutes. Demetris we were fortunate he was given a waiver by the NCAA, and he is long and as athletic as any guy I've coached. Then, Eric Moeller has very good skills and I think he has a big upside. They're all young, they're all sophomores. We have a bright future on our frontline."
Dooley, who took over this team in 2013 after Andy Enfield left for USC, spent 10 seasons on the bench at Kansas. Despite the decade of dominance the Jayhawks have put forth in the Big 12, Dooley isn't sure if he's every coached a pair of first-team all-conference players in the same back court before. It's a luxury to have, the foundation for the future with multiple high-major transfers is set, coupled with the experience of two of the most decorated players in the program's brief history in Thompson, the school's all-time leading scorer and Comer, the all-time leader in assists.
"It's vital," Dooley added. "Their our best players, their who were building around. They'll carry us as our frontline big guys catch up."
Despite not watching a minute of the Mercer-Duke game, both Thompson and Comer understood what their rivals were experiencing, as both can recall the sights and sounds from the Wells Fargo Center locker room after FGCU knocked off Georgetown and San Diego State in a three-day span back in March 2013.
"I was actually happy for them," Thompson said. "I felt the moment. I know how it feels. I know the excitement and what they were going through. You live for moments like this, to upset big teams. Just to be in that type of atmosphere, it's a great feeling."
Just like how the whole Dunk City phenomenon began, two of the last remaining pieces want to go out with a bang. Come March, Thompson doesn't want to follow the NCAA tournament through his phone like he did this past spring. He'd rather have his cell on 'Airplane Mode' because Dunk City intends on taking flight one more time.