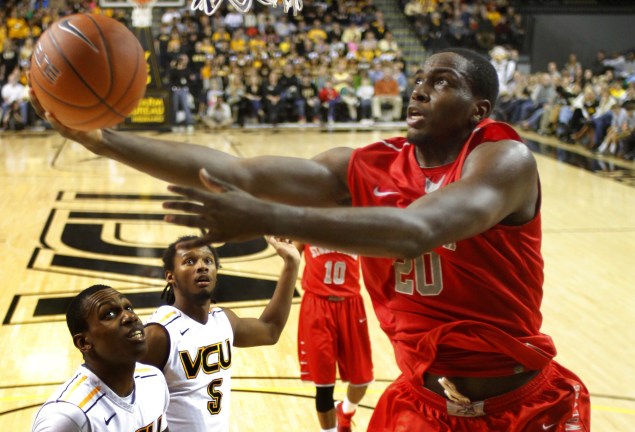 Beginning on October 3rd and running up until November 14th, the first day of the season, College Basketball Talk will be unveiling the 2014-2015 NBCSports.com college hoops preview package.
Today, we are rolling out our America East preview.
MORE: 2014-2015 Season Preview Coverage | Conference Previews | Preview Schedule
The major storyline entering the America East in the 2014-2015 season is if Stony Brook can finally get over the hump and make the program's first NCAA Tournament. After four 20-win seasons in five years and multiple losses in the America East conference tournament title game, the Seawolves are the close favorites in a conference that loses some talented and experienced players.
Stony Brook and head coach Steve Pikiell return reigning conference player of the year Jameel Warney at forward and guard Carson Puriefoy and his 12.9 points and 43 percent three-point shooting to the rotation and gain some talented players as well. Redshirt freshman Roland Nyama is a high-upside athlete from Germany who could see significant minutes and Pikiell is expecting a potentially deep rotation.
Hartford likely poses as the biggest threat to Stony Brook as the Hawks will welcome back their top seven scorers from last season. Senior forward Mark Nwakamma is an all-league talent and Yolonzo Moore II and Wes Cole are an experienced senior back court. If there is one thing Hartford has to improve: rebounding. The Hawks were outglassed by an average of 4.3 rebounds per game last year.
Albany is always stronger as the season goes on under head coach Will Brown, and they've won the America East conference tournament title four times — including last season — to only one league regular season title. Junior guard Peter Hooley and senior wing forward Sam Rowley both return for the Great Danes and that should give them a good start to build one.
After winning 22 games a season ago, Vermont loses six seniors and its top four scorers, but the program hasn't had a losing record in league play since 2005-06 and returns some talent. Junior forward Ethan O'Day and senior forward Hector Harold is the foundation of an experienced front court and Vermont also has a decent recruiting class.
Binghamton and UMBC will compete in the America East thanks to all-league guards. The Bearcats have 6-foot-4 guard Jordan Reed while UMBC returns league Rookie of the Year Rodney Elliot.
PRESEASON AMERICA EAST PLAYER OF THE YEAR: Jameel Warney, Stony Brook
The reigning America East Player of the Year is only a junior and the 6-foot-8 forward has shot 61 percent from the field in both of his seasons at Stony Brook. Warney averaged 14.5 points, 8 rebounds and 1.2 blocks per game last season and is one of the most dominant offensive forces in the conference.
THE REST OF THE PRESEASON ALL-AMERICA EAST TEAM:
Mark Nwakamma, Hartford – The 6-foot-8 senior forward was a first-team All-America East selection last season after averaging 15.3 points and 5.8 rebounds per game.
Peter Hooley, Albany – The 6-foot-4 junior guard averaged 15.5 points per game last season and will be the Great Danes' key player this season.
Jordan Reed, Binghamton – Another 6-foot-4 junior guard, Reed totaled 15.4 points and 8.9 rebounds per game while upping his three-point percentage to 35 percent from 13.
Rodney Elliott, UMBC – The 6-foot sophomore is the reigning America East Rookie of the Year after averaged 15 points, 3.6 assists, 3.9 rebounds and 1.3 steals per game.
ONE TWITTER FEED TO FOLLOW: @onebidwonders
PREDICTED FINISH
1. Stony Brook
2. Hartford
3. Albany
4. Vermont
5. Binghamton
6. UMBC
7. UMass Lowell
8. Maine
9. New Hampshire