Beginning on October 3rd and running up until November 14th, the first day of the season, College Basketball Talk will be unveiling the 2014-2015 NBCSports.com college hoops preview package.
MORE: 2014-2015 Season Preview Coverage | Conference Previews | Preview Schedule
John Brown shouldn't be playing basketball at High Point.
I'm not saying that to be mean, and I'm not trying to assassinate his character. By all accounts, Brown is a dedicated, hardworking student-athlete with a fun-loving personality whose biggest flaw, depending on where you're from, is either his willingness to dress up like Grand-Ma-Ma or his affinity for Florida Gators football. He's bar-none one of the most entertaining interviews I've ever done.
But he's also a hyper-athletic, 6-foot-8 combo forward with a motor that doesn't stop running and a feel for the game that goes beyond his five years of organized basketball. Players like that belong in the ACC, not the Big South.
I know it. High Point head coach Scott Cherry knows it. Deep down, Brown probably knows it, too, which is what makes the tale of a JV quarterback becoming the Big South Player of the Year so interesting.
As a sophomore in high school, Brown wasn't a basketball star. He wasn't even a basketball player, focusing all his energy on calling plays for his high school's JV football team with his sights set on one day playing in "The Swamp." That summer, however, Brown not only transferred schools, he also grew to 6-foot-6, which created a bit of a problem. He was too tall to be a quarterback, but seeing as he struggled to keep his weight above 160 pounds, he was too skinny to do much else.
"I wasn't going to do anything that year. I was basically just going to give up on everything," Brown told NBCSports.com in a phone interview earlier this month, and it would have stayed that way if his new high school's hoops coach hadn't happened by during a pick-up game. "I was just playing and the coach saw me playing in the gym. He told me to come in for practice and try out. I was already athletic, because I played football, but I gave him what he asked for and all of a sudden I just started playing varsity, starting and everything."
RELATED: Big South Conference Preview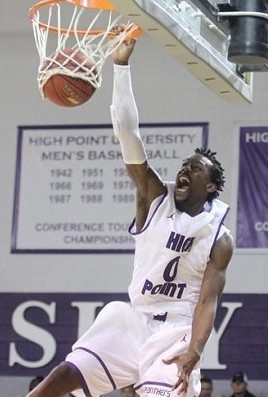 As a junior, the first time in Brown's life that he had played organized basketball, he generated enough buzz that people in northern Florida started to notice. He played AAU ball that summer, which is where Cherry saw him play the first time, before transferring to Arlington Country Day, one of the best high school basketball programs in the country, for his senior year of high school.
And it was during that one season at Arlington Country Day where Cherry realized just how good this kid could be. Cherry was there to watch one of High Point's most important recruits, a 6-foot-8 bruiser named Travis Elliot that would eventually enroll with the Panthers before transferring out of the program. But it didn't hurt that they would get a second look at a kid that impressed him during the summer, and as Cherry tells it, "[Brown] was really good in that game, too."
Brown, however, has a different take on his performance: "I killed him, and then they started recruiting me."
The truth is probably lost in the annals of time, but regardless of how the game actually played out, Cherry and his staff did their due diligence and got some good news. "All of a sudden word kind of filtered down that he was still available," Cherry said, "and that there was a possibility of us getting involved with him."
The reason for that? Brown's academics were a mess.
The NCAA requires that a certain number of core courses be taken in high school in order to be eligible at the collegiate level. Brown didn't realize he had a real shot to be a scholarship athlete for the first half of his high school career, and as a result "was put in classes that would only point him towards a trade school or junior college and was told differently," Cherry said. The other problem was that the NCAA stop accepting credits from Arlington Country Day, meaning that the work that Brown did to try to make up for the start of his high school career wouldn't count.
So he spent a year prepping at Oldsmar Christian School (Fl.), but even that wasn't enough to be ruled a qualifier by the NCAA.
Brown was allowed to be on scholarship his first year at High Point, but he wasn't even allowed to practice with the team, let alone play in games.
And it was probably the best thing that could have happened to him.
"Don't laugh at me, but I came here at 160," Brown said. "Now I'm 205, so I came a long way. I was kind of glad that I had to sit out because I gained a little weight, so I won't get completely pushed around." It also gave Brown a chance to try and expand his game, which to this point in his career was more or less limited to his natural athleticism. "I had to learn how to dribble," he said. "You can run, you can jump, you can catch, you can do all of that. You don't know how to dribble? You might as well give it up."
MORE: Top 25 Potential Breakout Stars | Top 25 Non-Conference Games | Coaches on the Hot Seat
Now, the x-factor here was that High Point couldn't actually work with Brown through all of this. They couldn't bring him into practice and he couldn't join the team in the weight room. They were really quite limited on what they would be able to do to help him improve. The only outside influence on Brown was the distractions that every freshman faces in college. He was scheduled to be a part of the team the following year, but as a freshman, Brown was nothing more than a regular college kid that just happened to be 6-foot-8.
"You've got so many distractions here at college," Brown said. "Because my teammates, they were always practicing. I didn't have nobody coming in the gym with me. It was just me and my girlfriend, she would come and rebound for me."
It was humbling, Brown said, just the wake-up call he needed.
"It let me know that the game can get taken away from you in the blink of an eye, so that's why I try to go hard every practice, every workout, every day."
Brown hasn't slowed down since.
All you need to do is to talk to his coach to realize that. In our 20 minute conversation, Cherry repeatedly drove the point home that the most important skill that Brown has is his motor and his work ethic. It never stops. He goes all out every second that he is on the court, and that is very much a skill, one that's as tough to develop as a consistent three-point stroke or a dangerous low-post game.
And it's that level of effort, Cherry believes, that will one day get Brown into the NBA.
"What this guy offers is that he's going to be a professional," Cherry said. "He's going to come to work every single day, that's going to have the same attitude and work ethic every single day, that's never going to change. He's going to outplay guys higher than him on the draft board because he has zero and 100, there is no in between."
"Coaches love effort," Brown said. "That's one thing I've found out in my years of playing, so I just give them what they love."