Beginning on October 3rd and running up until November 14th, the first day of the season, College Basketball Talk will be unveiling the 2014-2015 NBCSports.com college hoops preview package.
MORE: 2014-2015 Season Preview Coverage | Conference Previews | Preview Schedule
The Big South will be one of the most entertaining mid-major conferences to follow this season, and it's not just because of the absurd about of young talent in the league. Let's talk about that before I get into the meat and potatoes of this preview. The best player in the conference, High Point's John Brown, is a junior this year. Last year's leading scorer, Andrew Rowsey of UNC Asheville, is a sophomore this season. The leading scorer on Coastal Carolina, the team that won the automatic bid last year and the favorite to win the league this season, was now-sophomore Elijah Wilson. How many leagues can make that same claim, particularly at that level?
It's not just the talent in the league that's exciting, however. Last season, seven of the 12 teams in the Big South won at least 10 games, with six teams finishing within two games of regular season champ High Point. While VMI has left the conference for the SoCon, there are still enough quality teams here to make this regular season title race wild.
It starts with Coastal Carolina, who will strengthen what is the best perimeter attack in the conference. Wilson returns, as does senior point guard Warren Gillis, the best player on the Chanticleers. Add in senior Josh Cameron and transfer Shivaughn Wiggins, who may end up being the best point guard on the roster, and Cliff Ellis has himself some serious back court talent.
Should I mention that the Big South tournament is played at the HTC Center, Coastal's home floor?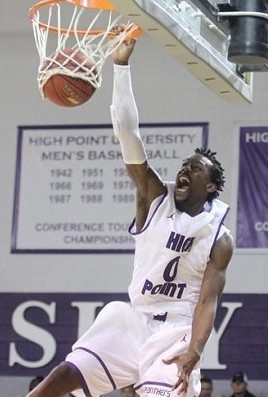 The biggest question mark, however, is CCU's front court simply because they don't have anyone on the roster that can matchup with Brown, a 6-foot-8 athletic specimen that led High Point with averages of 19.5 points and 7.7 boards. Brown is a workhorse that creates all kinds of matchup problems with opponents because, quite frankly, he has no business being a Big South player. Sharpshooter Devante Wallace, who hit nearly 60% of his threes in league play, is back, as is Adam Weary. The x-factor for this group will be sophomore Anthony Lindauer, who played well when HPU's starting point guard got hurt last year.
Anyone looking at last year's standings may not realize this, but Charleston Southern is a team to keep a very close eye on this year. They entered last season as the favorites to win the league, but injuries to Saah Nimley and Arlon Harper derailed their season. Those two are reportedly healthy now, and if they are, the Buccaneers will be a factor in the conference race.
Radford brings back five seniors from last year's team, headlined by Javonte Green, who may be the best player in the conference not named John Brown. He's a bit undersized at 6-foot-4, but he scores, rebounds and defends well. Size will be an issue, however, as there are times the Highlanders play Green at the four with three guards on the floor. UNC Asheville will never be out of a game when Rowsey is on the floor, but losing Jaron Lane and big man D.J. Cunningham will be a lot to overcome.
Winthrop returns four starters, including another standout sophomore in Keon Johnson. The Eagles will be a serious threat to win the league if former Louisville and Missouri center Zach Price gets a waiver to be eligible immediately. Gardner-Webb brings back Jerome Hill, but they lose three starters, including Naji Hibbert and Donta Harper.
REALIGNMENT MOVES
PRESEASON BIG SOUTH PLAYER OF THE YEAR: John Brown, High Point
Brown has been one of the most productive players in the country since he made his debut with the Panthers two seasons ago. Expect much of the same from the reigning Big South Player of the Year, and don't be surprised when one of the nation's hardest-working big men routinely makes it on Sportscenter's Top Ten.
THE REST OF THE PRESEASON ALL-BIG SOUTH TEAM:
Andrew Rowsey, UNC-Asheville, So.: Rowsey averaged 20.3 points as a freshman, the second person to ever do that. The first? Seth Curry. And he's just getting started.
Saah Nimley, Charleston Southern, Sr.: Nimley is just 5-foot-8, but he's one of the best mid-major players in the country … when healthy.
Javonte Green, Radford, Sr.: A 6-foot-4 forward, Green averaged 16.9 points and 8.1 boards last season.
Warren Gillis, Coastal Carolina, Sr.: Gillis, a point guard, was the best player on the Big South's conference tournament champion last season.
ONE TWITTER FEED TO FOLLOW: @BigSouthSports
PREDICTED FINISH
1. Coastal Carolina
2. High Point
3. Radford
4. Charleston Southern
5. Winthrop
6. UNC-Asheville
7. Gardner-Webb
8. Campbell
9. Longwood
10. Presbyterian
11. Liberty