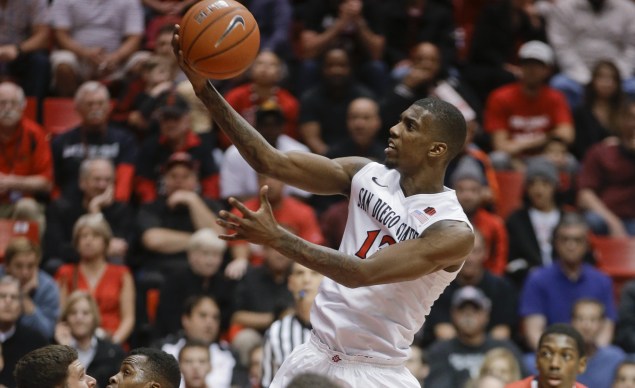 Beginning on October 3rd and running up until November 14th, the first day of the season, College Basketball Talk will be unveiling the 2014-2015 NBCSports.com college hoops preview package. We continue our countdown today with No. 18 San Diego State.
MORE: 2014-2015 Season Preview Coverage | NBCSports Preseason Top 25 | Preview Schedule
Head Coach: Steve Fisher
Last Season: 31-5, 16-2 Mountain West (1st), lost in the Sweet 16 to Arizona
Key Losses: Xavier Thames, Josh Davis
Newcomers: Angelo Chol (transfer), Kevin Zabo, Trey Kell, Malik Pope, Zylan Cheatham
Projected Lineup
– G: Winston Shepard, Jr.
– G: Dwayne Polee, Sr.
– F: J.J. O'Brien, Sr.
– F: Angelo Chol, Jr.
– C: Skylar Spencer, Jr.
– Bench: Matt Shrigley, So.; Dakarai Allen, So.; Kevin Zabo, Fr.; Trey Kell, Fr.; Malik Pope, Fr.; Zylan Cheatham, Fr., Aqeel Quinn, Sr.;
They'll be good because … : There are not going to be many teams in the country with a lineup that is as long as San Diego State's. Winston Shepard, Dwayne Polee and J.J. O'Brien are all 6-foot-7. Angelo Chol and Skylar Spencer are both 6-foot-10. And that's before you consider the length of some of the guys that are coming off of the bench — Dakarai Allen, Malik Pope, Zylan Cheatham (assuming the latter two when they get healthy).
Not everyone on the roster has the wingspan of an albatross — Kevin Zabo, Trey Kell and Matt Shrigley are going to play a lot of minutes — but even so, expect the Aztecs to once again be one of the best defensive teams in the country and one of the toughest teams to keep off the offensive glass.
But they might disappoint because … : The Aztecs don't really have a go-to scorer on their roster. Losing the leadership that Xavier Thames provided is going to hurt, but what was more important was that he provided Steve Fisher with a guy that was able to create his own shot, particularly in crunch-time. It's particularly valuable in a conference like the Mountain West, where the difference between the team in first place and the team in seventh place is relatively minimal.
Who will be that guy for SDSU this season? Whose number does Steve Fisher call when there are five minutes left at Colorado State or UNLV and a 10-0 run just erased a double-digit lead? Who can he trust to take and make a big shot? Winston Shepard and J.J. O'Brien are notorious for their unreliable perimeter shots. Dwayne Polee had a promising end to last season, but being an athlete that can hit a three is much different than being a go-to guy.
The Aztecs were 81st in adjusted offensive efficiency last season and will now have to replace a guy that whose offensive rating on KenPom.com was 120.0 and who used 28.6% of the team's possessions when he was on the floor. In other words, a team that struggled offensively just lost an all-american lead guard. That's not easy to overcome.
Outlook: The Aztecs were picked to win the Mountain West this season, and while the offensive end of the floor is going to be an issue all season long, it's not difficult to understand why SDSU clearly looks like the best team in a perennially-balanced conference. Simply put, they are going to be a nightmare to try to score on, and while there are going to be times where a missed shot and an offensive rebound is their most effective way of scoring, there are some signs that should make the folks at Viejas Arena optimistic.
For starters, Dwayne Polee looks like he's ready for a monster senior season. He scored in double figures in nine of the last 14 games of 2013-2014 and averaged 13.7 points in six postseason games. He needed to round out his offensive arsenal during the offseason, but his confidence should be there, and that's a major hurdle to get past. Winston Shepard showed signs of becoming one of the better players in the Mountain West, and he's a consistent jump shot away from being a really dangerous slasher. Throw in promising youngsters Dakarai Allen, Matt Shrigley, Kevin Zabo and Trey Kell, and someone is going to be able to provide scoring pop off the bench.
The Aztecs will rarely win games pretty. Every night is going to be a grind-it-out, physical battle, meaning that we should expect a lot of close games involving Fisher's crew this season. But if a couple of guys took a step forward this offseason and the Aztecs are as good as we expect defensively and on the glass, this is a team that should be able to make the Sweet 16 again this season.