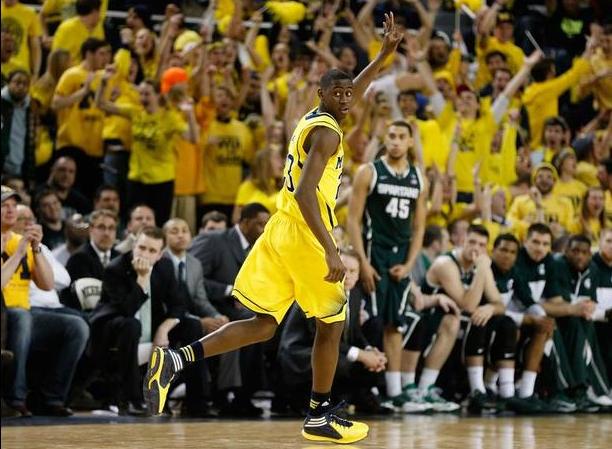 Beginning on October 3rd and running up until November 14th, the first day of the season, College Basketball Talk will be unveiling the 2014-2015 NBCSports.com college hoops preview package. We continue our countdown today with No. 19 Michigan.
MORE: 2014-2015 Season Preview Coverage | NBCSports Preseason Top 25 | Preview Schedule
Last Season: 28-9, 15-3 Big Ten (1st); lost in the Elite 8 to Kentucky
Head Coach: John Beilein
Key Losses: Nik Stauskas, Glenn Robinson III, Mitch McGary, Jordan Morgan, Jon Horford
Newcomers: Kam Chatman, Mark Donnal, Muhammad-Ali Abdur-Rahkman, Aubrey Dawkins, Austin Hatch, Ricky Doyle, D.J. Wilson
Projected Lineup
– G: Derrick Walton, So.
– G: Caris LeVert, Jr.
– F: Zak Irvin, So.
– F: Kam Chatman, Fr.
– C: Mark Donnal, Fr.
– Bench: Spike Albrecht, Jr.; Muhammad-Ali Abdur-Rahkman, Fr.; Aubrey Dawkins, Fr.; Ricky Doyle, Fr.; D.J. Wilson, Fr.; Max Bielfeldt, Sr.
They'll be good because … : The Wolverines are quite talented on their perimeter. It starts with Caris LeVert, a guy who is going find his name on a lot of preseason all-america teams. A 6-foot-6 guard, LeVert averaged 12.9 points and 2.9 assists in what was somewhat of a breakout sophomore season. A complimentary player a season ago, LeVert is going to be asked to do a lot more as the sole upperclassman in Michigan's starting lineup. He'll have to be a go-to scorer and a leader, and it will be fun to see if he can evolve into the role.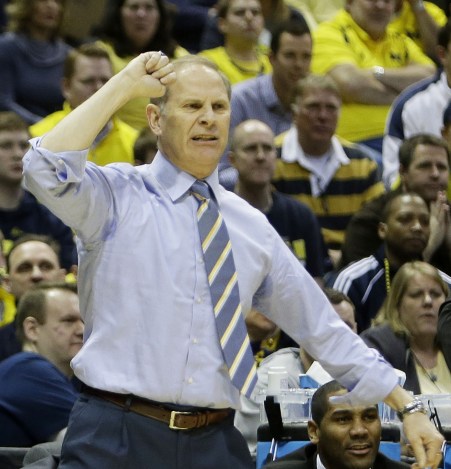 The other two starters in Michigan's back court will be point guard Derrick Walton and sharp-shooter Zak Irvin, both sophomores. We'll start with Irvin, shot 42.5% from three last season and averaged 6.7 points in just over 15 minutes. He'll find himself in a much bigger role this year, but given the abilities of LeVert and Walton in pick-and-roll actions, he will still likely be primarily a jump-shooter and floor-spacer. Walton will be the x-factor with this group. The past two seasons, John Beilein's offense has turned Trey Burke and Nik Stauskas into all-americans — in Burke's case, the National Player of the Year — and Walton is the guy that will inherit that role this season. He had moments as a freshman, particularly later in the year, which is why Michigan is optimistic about what they will see from his as a sophomore.
Junior Spike Albrecht is back to backup Walton, while the rest of the Wolverine's back court rotation will be freshmen. Kam Chatman, a top 30 recruit, will likely start at the four, but he's skilled enough that he can play anywhere on the perimeter. Muhammad-Ali Abdur-Rahkman and Aubrey Dawkins — the son of Johnny Dawkins — will see time as well.
But they might disappoint because … : Michigan's will have one of the youngest rosters in the country, as they have just a single senior in the program — Max Bielfeldt — and he averaged a grand total of 0.8 points as a junior. 12 of the 15 players on the roster are underclassmen and six of the ten players expected to be in the rotation are freshmen, if you include Mark Donnal in that conversation.
Donnal, a redshirt freshman big man that sat out last season even after Mitch McGary injured his back, has had a year to add the strength and athleticism needed to be an anchor in the paint in the Big Ten, and it just so happens that he's the key to this Wolverine team. With McGary off to the NBA, Jon Horford transferring to Florida and Jordan Morgan graduating, Donnal will be the most experienced low-post player on the roster outside of Bielfeldt. He's a former Rivals top 150 recruit that entered the program with the reputation for being an elite shooter at the four spot. He'll now be asked to be Michigan's answer to the likes of Frank Kaminsky and Branden Dawson. That won't be easy.
He'll be joined up front by a pair of true freshmen in Ricky Doyle and D.J. Wilson, both of whom have some promise but ideally would need a year or two before becoming major contributors. They won't get that luxury.
Outlook: Michigan played in the national title game in 2013 — all of 18 months ago — with a team that started a junior, a sophomore and three freshmen. Every player from that starting lineup has since declared for the NBA Draft with eligibility remaining, and when losing a senior big man to a graduate transfer, you can see why John Beilein has been left in a position where 80% of his roster is made up with underclassmen.
The Wolverines have plenty of question marks this season, a typical by-product of a young roster. But they have quite a bit of talent, particularly on their perimeter, and they have the John Beilein factor; he's as good of a coach as there is. There may be some growing pains, but the Wolverines should once again finish in the top half of the Big Ten and have a chance to win a couple games in the NCAA tournament.