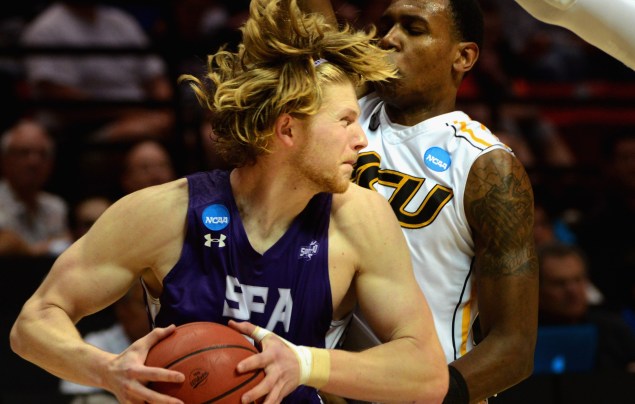 Beginning on October 3rd and running up until November 14th, the first day of the season, College Basketball Talk will be unveiling the 2014-2015 NBCSports.com college hoops preview package.
MORE: 2014-2015 Season Preview Coverage | Conference Previews | Preview Schedule
Senior forward and reigning Southland Player of the Year Jacob Parker wasn't always a star-quality player at Stephen F. Austin. After two years under previous head coach Danny Kasper, Parker put up ordinary numbers on ordinary teams.
But under new head coach Brad Underwood last season, Parker's game expanded. The same thing happened to Parker's teammates and it helped launch the Lumberjacks to unprecedented program success, including an undefeated record in Southland play, a 29-game win streak and a trip to the Round of 32 in the NCAA Tournament.
Underwood's strategy as a head coach certainly paid off — including setting a culture predicated on a theory of, "getting better every single day we're in the gym," — but he's also tried to keep it loose and fun for his players so their personalities come through and they can focus on basketball when the time comes.
"Once he came in, it was a whole different lifestyle," Parker said to NBCSports.com. "With Coach Kasper, it was clean shaven, crew cut, nothing out of the ordinary. Coach Underwood came in, he was a whole different guy. A lot of fun to be around him. Guys were in the office all the time last year. It's just a good environment to be around."
With the new coaching staff in place, the changes became particularly apparent for Parker, both on-and-off the court, as the 6-foot-6 forward had a tremendous year in 2013-14. After putting up 7.2 points and 4.3 rebounds per game as a sophomore, Parker became the conference's best player, averaging 14.2 points, 7.1 rebounds, 2.0 assists and 1.4 steals per game as a junior while shooting 53.8% from the field, 46.9% from three-point range and 79.8% from the free-throw line.
RELATED: Southland Conference Preview
But the changes also came off-the-floor. Parker grew his hair out long for the first time and Underwood said he began to show his personality and leadership ability.
"This is the first time in my life I've ever grown out my hair. So that was a big change for myself," Parker said.
Parker's coach described him as a "really quiet leader," but teammates respect Parker in-part because he's grounded and simple, often sticking to activities he's done his whole life and working very hard on the court. His teammates and coaches like the person that Parker has become and Underwood likes his star player's personality.
"He's a guy that at the end of the day would probably be just as happy being the star of Duck Dynasty," Underwood said. "He loves to hunt and fish, it's part of his upbringing. He's very creative."
Communicating with players and learning about hobbies and problems is a huge component of the Stephen F. Austin men's basketball program. Underwood wants players to have fun and remain loose away from the court and he believes earning that trust will help lead to better communication in games and on the court.
"I think that communication is the single most important thing to the success of a program," Underwood said. "I think, as a coach, I'm trying to push these guys to get better every day, knowing the hardest thing to get a kid to do is to be an everyday guy. I need to understand why they have a bad day. Whether they stayed up for an econ test, or problems at home and to do that we need communication."
That kind of focus on communication led to Underwood being able to reach his new players on his style of play nearly immediately. Parker said that the communication on the floor was positive from the moment Underwood took the job and the team grasped what they were trying to accomplish.
"Right when he got down here he kind of showed us what we would be doing," Parker said. "Our defensive principles are very strong, which is very important. He showed us about the kind of offense we would run. And it was eye-opening because I'd never played like that."
The ability to instantly learn the new concepts coupled with a balanced team that could shoot helped Stephen F. Austin have a special season. Four players ended up averaging double-figure scoring last season and five players shot at least 35 percent from the three-point line.
There's some questions heading into the season now that Desmond Haymon and Deshaunt Walker are gone from the wing, but senior forward Thomas Walkup is back with Parker and the team is anxious to build on last season's success. The rotation for the Lumberjacks should be deeper this season.
"I love the increased depth. I think that this will be a more competitive team in practice, which I hope makes us much better," Underwood said. "I think this team has the capability of maybe scoring the ball a little easier than last year's team. We do lose a great deal of experience."
Stephen F. Austin might not be able to go unbeaten in a deep Southland Conference this season, but they're hoping that the new pieces are able to come in and grasp the concepts quickly like Underwood taught the whole team last season.
The Lumberjacks want to get back to the NCAA Tournament and make some more noise.