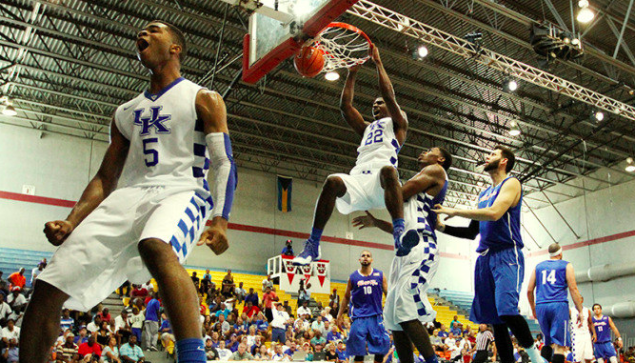 Beginning on October 3rd and running up until November 14th, the first day of the season, College Basketball Talk will be unveiling the 2014-2015 NBCSports.com college hoops preview package.
Here is our list of this season's biggest x-factors.
MORE: 2014-2015 Season Preview Coverage | Conference Previews | Preview Schedule
Kentucky's buy-in: No team in the country has as much talent on their roster as Kentucky does, but the Wildcats may actually be too deep this season. They're so deep, in fact, that John Calipari is considering using a platoon system — with five-man shifts — like he is coaching hockey. Eventually, someone's minutes are going to get cut. Someone is going to have to accept the fact they're a role player, nothing more than a screener or rebounder or defensive presence. If every Wildcat, from the Harrisons twins to Sam Malone, buys into this idea, Kentucky is going to be very, very tough to beat.
Gonzaga's defense: Kevin Pangos, now that he's healthy, is going to have a huge season. Kyle Wiltjer has had a year to develop his body and his game, making him the perfect stretch-four to create space in the paint for Przemek Karnowski and Domantas Sabonis. Gary Bell, Byron Wesley, Eric McClellan, Josh Perkins, Kyle Draginis. There's plenty of talent on the Zags, but the issue will be on defense. When Pangos, Wiltjer and Karnowski are on the floor together, Mark Few will have three defensive question marks. Gonzaga is a Final Four caliber team if they get enough stops.
D'angelo Russell, Ohio State: Aaron Craft is Ohio State's biggest loss, but right up there, oddly enough, is the loss of LaQuinton Ross. The Buckeyes struggled to score last season, and Ross was their most consistent offensive weapon. Russell heads to Columbus with the reputation of being a big time scorer, and while the Buckeyes should, once again, be stout defensively, they'll need Russell's pop on the offensive end.
Devonte' Graham, Kansas: How long have we been asking questions about the Kansas point guard play? That won't change this season, as Graham, a freshman, and sophomores Frank Mason and Connor Frankamp will try to take the reins. Graham is the most talented of the three, however, and is expected to take over the role.
MORE: Top 25 Potential Breakout Stars | Top 25 Non-Conference Games | Coaches on the Hot Seat
Dwayne Polee, San Diego State: Someone is going to have to replace the offensive production that San Diego State loses with the graduation of Xavier Thames. Polee is not the most talented offensive player on the roster, but he showed quite a bit of promise at the end of last season. SDSU reaches a new level if he becomes a threat as a scorer.
Mark Donnal, Michigan: Michigan's perimeter is loaded this season, but with Mitch McGary, Glenn Robinson III, Jordan Morgan and Jon Horford all departing, Donnal, a redshirt freshman, is now the veteran presence in the paint for John Beilein. Should I mention that he's also known as being a shooter, and that he redshirted strictly to add strength?
Bryce Alford, UCLA: Alford had promising moments as a freshman with the Bruins, but there were also times where he looked best-suited to being an offensive sparkplug off the bench. This year, the sophomore son of head coach Steve Alford will be handed the reins.
UConn's big men: UConn has a number of x-factors this season — Can Ryan Boatright be Shabazz or Kemba? How good will Rodney Purvis and Daniel Hamilton be? Is this Omar Calhoun's bounceback year? But more than anything, UConn's front line is where the questions lie. Amida Brimah is a terrific shotblocker with the strength of a stalk of bamboo, and Philip Nolan added 25 pounds of muscle but was 'just a guy' last season. Losing Deandre Daniels' inside-outside ability will hurt quite a bit, and while UConn's guard situation will work itself out, the Huskies need big minutes out of their big men to win the American this year.
Kansas State's transfers: Marcus Foster has a shot to be a first-team all-american this season, but there are still some questions with his supporting cast. Wesley Iwundu, Nigel Johnson and Jevon Thomas are all expected to take a step forward, and Malek Harris is a four-star addition, but it is a trio of transfers that could make the difference. Justin Edwards could end up being a double-figure scorer on the wing, while Stephen Hurt and, to a lesser extent, Brandon Bolden give Bruce Weber some much-needed height in the paint.
Bryce Dejean-Jones, Iowa State: There's no questioning Dejean-Jones' ability to score. He can fill it up when he gets on a roll. His problem is shot selection, and while Iowa State likes to get up and down the floor, Dejean-Jones is going to be the second or third option offensively for the Cyclones. Can he accept that role?
Here are 10 more x-factors
Kaleb Joseph, Syracuse: For the third straight season, Syracuse will have just one point guard on their roster, and a freshman to boot. If he Tyler Ennis 2.0?
Chris Walker, Florida: A supreme talent at 6-foot-10, for sure, but does he have a clue about how to play basketball?
Quinn Cook and Tyus Jones, Duke: Cook is the senior starter. Tyus Jones is the hot-shot freshman. Both are talented point guards. Can they play together? What if one has their minutes cut?
Kedren Johnson, Memphis: Johnson, who averaged 13.5 points, 3.6 assists and 3.5 boards at Vanderbilt in 2012-2013, is the only guard for Memphis that has ever played Division I basketball.
Wayne Blackshear and Shaqquan Aaron, Louisville: Montrezl Harrell is an all-american, and Terry Rozier might join him this season. Can Blackshear and/or Aaron provide production from the wing?
Yannick Moreira and Keith Frazier, SMU: With no Emmanuel Mudiay, Larry Brown needs these two to improve. Moreira looked great at the FIBA World Cup, while Frazier was a McDonald's all-american but couldn't earn a starting spot as a freshman.
Kris Dunn, Providence: Dunn was the No. 1 point guard in the Class of 2012, but he's yet to be healthy at Providence.
Cullen Neal, New Mexico: Neal was impressive at times as a freshman despite playing on a team with three pros while still recovering from an emergency appendectomy.
Robert Hubbs, Tennessee: The most talented player on a depleted Tennessee roster struggled with injuries as a freshman.
Texas using a 2-3 zone: How effective can Texas be defensively when they have Myles Turner, Jonathan Holmes and Cameron Ridley on the floor together?