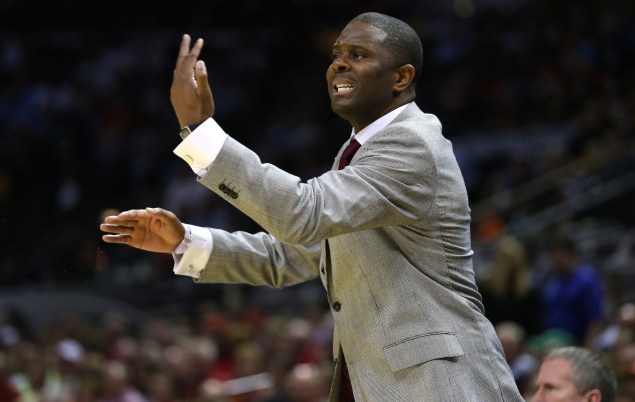 Beginning on October 3rd and running up until November 14th, the first day of the season, College Basketball Talk will be unveiling the 2014-2015 NBCSports.com college hoops preview package.
MORE: 2014-2015 Season Preview Coverage | Conference Previews | Preview Schedule
This summer was a busy one for North Carolina Central head coach LeVelle Moton, and all things considered it's understandable as to why.
In 2013-14, Moton led his alma mater to 28 wins and the MEAC's regular season and tournament titles, earning the program's first Division I NCAA tournament appearance. Among the things on Moton's plate this summer were his receiving the key to the city of Durham, where he grew up, and releasing a book entitled "The Worst Times are the Best Times."
Yet the task of getting Moton to write the book was a difficult one for former Raleigh News and Observer sportswriter Edward G. Robinson III. Robinson worked hard to convince Moton, who, over the years, has spoken at a number of events around the Triangle area [Raleigh, Durham and Chapel Hill], to write a book about his life. It took some convincing, but ultimately Robinson's persistence paid off and the two worked together on the project.
"I told [Robinson] that if I write a book it can't be about basketball," Moton told NBCSports.com this week. "If I do it I want to help kids, help and inspire them. I know there are so many kids who grew up the way I grew up, and they need an outlet. They need a voice. And they don't have the things that I had to help me navigate my way through life.
"I had 'The Cosby Show.' I had 'Fat Albert and the Cosby Kids.' I had 'Good Times,'" Moton continued. "These kids have 'Love and Hip Hop.' There's nothing to help them make up for the father figure that they may not have. I wrote each chapter, and at the end of the book the only thing was coming up with the title. I went back and found that the worst times were the best times, and that was the title of the book."
RELATED: MEAC Preview | SWAC Preview
Those experiences not only helped Moton reach the place where he is today, but they also helped as he took on the job of shepherding his alma mater through the transition to Division I back in 2009. It takes a lot to build a program, especially when also having to balance the move from one level of college athletics to another. The level of competition changes, as does the pool from which a coach has to recruit as he looks to build a championship-caliber program. For some, the climb may prove too steep, with the concerns about what resources aren't available overriding the ability to focus on what is currently accessible.
Moton refused to allow that to be an issue as they went through the process of building the North Carolina Central program.
"I eliminated all excuses," Moton noted. "Me taking over this program was pretty much synonymous with how I grew up in the housing projects. You know what you don't have, so there's no need to worry about what you don't have. Let's focus on what we do have and how we can make that better, and the tangible goods we may not be able to afford we'll make up for it through hard work and dedication and sacrifice.
"Because at the end of the day, someone can have a large arena but when you step between those lines, it's still every man for himself. And that's what I've tried to get our kids to understand. That's the culture and that's the attitude that I've tried to get them to have."
To that point, Moton made note of the fact that players have to earn their gear, so a process that at many other schools is as simple as being measured by the equipment staff and then finding everything you need (and then some) in your locker takes on an entirely different meaning at North Carolina Central. The resulting hunger for success and dedication to the process contributed to North Carolina Central fielding a team in 2013-14 that won the MEAC in truly dominant fashion.
The Eagles were at or near the top of the MEAC in any of the major statistical categories both offensively and defensively, and in going 19-1 against conference competition 14 of their wins were by ten points or more (seven of those wins were by 20 points or more). North Carolina Central's success was a product of the entire team working together, with senior guard Jeremy Ingram (20.8 ppg, 3.8 rpg) leading the way and winning MEAC Player of the Year honors.
But Ingram and fellow seniors Emanuel "Poobie" Chapman and Alfonzo Houston have all moved on, meaning that new leaders have to step forward as the NCCU program faces it's next challenge: defending a championship, with the proverbial bull's eye squarely on their chests. And while Ingram's numbers may jump out to many when assessing the production lost, this trio can't be measured solely by the stats especially when considering the fact that Ingram and Chapman were first two players to play four seasons under Moton.
MORE: Tommy Amaker's unprecedented success at Harvard | Ivy League Preview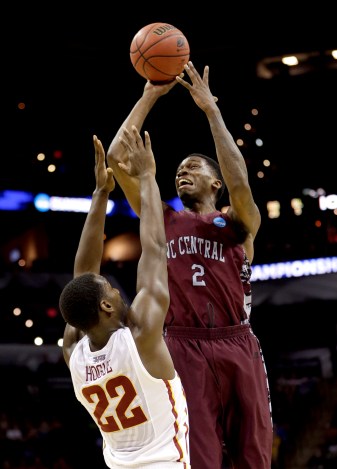 "With Alfonzo we lose unselfishness; if Alfonzo was anywhere else he would have averaged 15 points per game," Moton said. "He chose to defer to Poobie Chapman and Jeremy Ingram. And when you talk about Jeremy and Pooh, you don't replace them because they were special. If you could replace them this year, they wouldn't be special."
"So you just try to recruit the best that you can and then you ask those guys to be the best 'them' that they can be, instead of trying to be the best 'Jeremy Ingram' or 'Poobie Chapman' that they can be," Moton continued. "Because there's no replacing those guys, from a leadership standpoint. They were my first four-year kids, so they saw the good, the bad and the ugly. So they had a different kind of hunger, as opposed to the kids who are coming in on the tail end of what [Jeremy and Poobie] have established."
Two returnees who are expected to step forward as leaders are senior forwards Karamo Jawara and Jordan Parks. Jawara is one of two returning starters for the Eagles, coming off of a season in which he accounted for 7.5 points and 4.7 rebounds per contest. As for Parks he proved to be an incredibly valuable reserve for North Carolina Central, accounting for 10.1 points and 5.6 rebounds in 19 minutes of action per contest. The 6-foot-7 Parks shot 65.9 percent from the field in 2013-14, leading the nation in field goal percentage.
They'll be joined by some solid perimeter options, a group that includes Marquette transfer Jamal Ferguson, New Mexico JC transfer Rashaun Madison and Lamar graduate transfer Nimrod Hilliard. Hilliard averaged 11.5 points per game and was an honorable mention All-Southland selection last season. Both Ferguson (who sat out last season) and Madison are expected to compete for playing time. Yet putting a number on what this group can provide isn't something Moton's willing to do. His expectations have nothing to do with stats, because if reached the numbers will come.
"Just to step in and play as hard as they can, and be as coachable as they possibly can," Moton said when asked about his expectations for the newcomers. "The ability is there, obviously; that's why we recruited them. I just think that if you're coachable and you commit to the culture of the team, get rid of your bad habits and accept and embrace how we do things here, you'll be fine."
Culture.
It's a word that's incredibly popular in sports, as it's a critical factor in not just reaching the goal of winning a championship but building a program capable of making a run on a consistent basis. To this point North Carolina Central has built, with a clear target in mind, something that was attained a season ago. And while their target won't change, the circumstances do to a certain extent. Once the hunter, now the Eagles are the hunted, and how they respond will have a significant impact on their fortunes in 2014-15.
"To whom much is given, much is required," Moton noted. "You're not sneaking up on teams anymore, and that's exactly how we have to train and how we must prepare. The thing about success is you have to maintain that and you have to sustain that, and that's really more difficult than trying to climb to the top of that mountain."