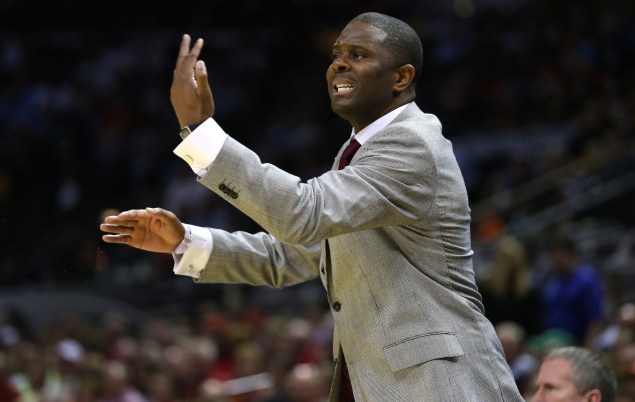 Beginning on October 3rd and running up until November 14th, the first day of the season, College Basketball Talk will be unveiling the 2014-2015 NBCSports.com college hoops preview package.
MORE: 2014-2015 Season Preview Coverage | Conference Previews | Preview Schedule
Last season LeVelle Moton led his alma mater, North Carolina Central, to its first MEAC title and NCAA tournament appearance in what was a historic run. The Eagles rolled to a 16-1 record in regular season play, and the way in which North Carolina Central dominated their conference opponents on both ends of the floor has seldom been seen in the history of the MEAC. The question now: what will North Carolina Central do for an encore? The Eagles will have to account for the loss of leading scorer and MEAC Player of the Year Jeremy Ingram, who averaged 20.8 points and 3.8 rebounds per contest as a senior.
The good news for North Carolina Central is that their top three front court players, led by senior Jordan Parks (10.1 ppg, 5.6rpg), are back in Durham and they'll have 6-foot-11 Texas A&M-Corpus Christi transfer Nate Maxey as well. If the Eagles can get solid production from their perimeter options, which includes Lamar transfer Nimrod Hilliard and Colby CC transfer Jeremiah Ingram, North Carolina Central will be more than capable of repeating as MEAC champions.
RELATED: LeVelle Moton on how he is developing a 'culture' at UNC-Central
However the Eagles aren't the favorites in the MEAC entering the 2014-15 season. That label belongs to a Hampton squad that won 13 league games a season ago.
Edward Joyner Jr.'s Pirates will be led by sophomore guard Deron Powers, who averaged 11.8 points and 4.0 assists per game as a freshman. Four of Hampton's top five scorers return but that one loss is a big one, as Du'Vaughn Maxwell (14.9, 7.3 rpg, 3.0 rpg) was the MEAC Defensive Player of the Year last season. In order to account for the loss of Maxwell, Hampton will need front court returnees such as senior Emmanuel Okoroba and junior Jervon Pressley, to step forward on what will likely be a perimeter-oriented team given the lack of depth inside.
In Robert Jones' first season at the helm Norfolk State finished tied for third in the MEAC with an 11-5 league record, and the Spartans will look to improve on that despite losing their top three scorers. Senior point guard Jamel Fuentes returns, and multiple transfers including Jeff Short (Fordham) and Malik Thomas (Boston University) have prior experience at the Division I level. Delaware State, which returns two of its top three scorers led by forward Tyshawn Bell and center Kendall Gray, will look to rebound from a disappointing 2013-14 and Morgan State has hopes of taking the next step after falling in each of the last two MEAC tournament title games.
North Carolina Central will be seen as the favorites, but it will be difficult for the Eagles to put together a title run as dominant as last season's effort due in part to the strength of the challengers.
PRESEASON MEAC PLAYER OF THE YEAR: Kendall Gray, Delaware State
After having a clear-cut winner last season (Ingram) there will be some suspense when it comes to MEAC Player of the Year in 2014-15. Gray averaged 11.5 points, 7.9 rebounds and 2.7 blocks per game as a junior, and he'll be asked to lead the way for a team capable of rebounding from last year's 5-11 conference mark.
THE REST OF THE PRESEASON ALL-MEAC TEAM:
James Daniel, Howard: Daniel was the MEAC's best freshman last season, scoring 21.7 points per game for the Bison.
Deron Powers, Hampton: Powers accounted for 11.8 points and 4.0 assists per game last season.
Jordan Parks, North Carolina Central: Parks didn't make a single start last season, but he still managed to account for 10.1 points and 5.6 rebounds in 19 minutes of action per game.
Nimrod Hilliard, North Carolina Central: The honorable mention All-Southland selection at Lamar last season can help the Eagles account for Jeremy Ingram's departure offensively.
ONE TWITTER FEED TO FOLLOW: @MEAC1970
PREDICTED FINISH
1. Hampton
2. North Carolina Central
3. Norfolk State
4. Delaware State
5. Morgan State
6. Coppin State
7. Howard
8. Savannah State
9. Bethune-Cookman
10. North Carolina A&T
11. Maryland-Eastern Shore
12. South Carolina State
13. Florida A&M