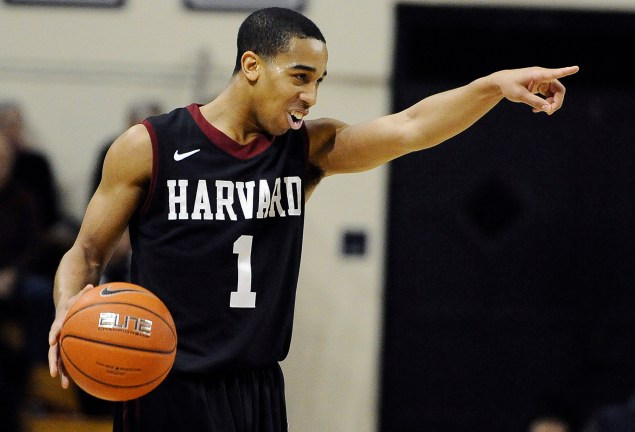 Beginning on October 3rd and running up until November 14th, the first day of the season, College Basketball Talk will be unveiling the 2014-2015 NBCSports.com college hoops preview package.
Today, we will be previewing the Ivy League.
MORE: 2014-2015 Season Preview Coverage | Conference Previews | Preview Schedule
The job that Tommy Amaker has done turning Harvard into a nationally relevant — and now, nationally ranked — program is criminally underrated, and the proof can be found simply by putting together a list of the best rebuilding jobs in college coaching.
Because you won't find the Crimson on that list.
In order for something to be rebuilt there has to be a foundation, something to build on, and prior to Amaker's arrival in Cambridge, Massachusetts, the Crimson weren't just irrelevant from a national perspective, they were non-existent in the Ivy League's power structure. When he took the job in the spring of 2007, Harvard had never won 20 games in a season. They were the only member of the conference to have never won a title in men's basketball, and of the 34 teams that Harvard has on their campus, men's basketball was the only one that had never brought home an Ivy League championship. Their most recent NCAA tournament trip? 1946, a full decade before the first season of Ivy League basketball.
Things are different these days.
Harvard has won at least 20 games in each of the last five years, reaching the postseason each season. The last three years, the Crimson have won the Ivy's regular season title and advanced to the NCAA tournament, where they pulled off upsets in 2013 (No. 3 seed New Mexico) and 2014 (No. 5 seed Cincinnati).
RELATED: NBCSports.com's Ivy League Preview
With yet another crop of high-major recruits joining the fray this year, it shouldn't be much of a surprise that we have Harvard ranked No. 23 in the country in our preseason top 25. There's even an argument to be made that the Crimson are the best mid-major program in the country right now.
Hear me out.
Gonzaga can no longer be called mid-major despite the fact that they play in the WCC. It's been that way for years. Wichita State plays in the Missouri Valley, but with the money they have invested in Gregg Marshall's program and the success they've had in recent seasons, it's fair to wonder if they still qualify as a "mid-major." Butler and Creighton are in the Big East now. VCU and Davidson will be league foes in the Atlantic 10 this season.
Who's better? Maybe Belmont? Stephen F. Austin? Wofford? Ohio? Maybe, but the argument isn't the point. The simple fact that Harvard is very much in that discussion is, and I was curious: did Amaker actually think that was possible at Harvard?
So I asked him.
"Yes, to be very honest," he said this week in a phone interview with NBCSports.com, and it makes sense. Remember, this is a guy that played and coached at Duke. He reached the Sweet 16 in 2000 and then reeled in an excellent recruiting class that included Eddie Griffin, Andre Barrett and Marcus Toney-El at Seton Hall. He coached at Michigan for six seasons. You don't get those jobs without having a little bit of confidence in yourself.
And that confidence was easy to see on the recruiting trail, at least in the eyes of Siyani Chambers. Chambers, a junior guard, is one of the best players in the Ivy League. He's been Harvard's starting point guard since the day he set foot on campus, picking the Crimson over a handful of high-major programs.
"I was not aware of it," Chambers said of Harvard's lack of basketball pedigree in an interview with NBCSports.com this week. "I was just aware of what Coach Amaker was telling me and the future that he saw for us and how I could contribute to the rise of the program.
"When I was looking to come here my senior year in high school, I saw a program on the rise after their first trip to the NCAA tournament and Coach Amaker said, 'This is what we're trying to continue to do. So if we work hard and continue to bring in good recruiting classes, this is how we're supposed to be for a long time.' I bought into it. So did everyone else that's come through here."
And that, more than anything, is the most impressive part of the job that Amaker has done with the Crimson. Not only has he proven that it's possible to win there, but he's managed to convince everyone — the school, the coaching staff, the players he recruits — that this is the way it should have been all along.
It hasn't hurt that he's been able to bring in a roster full of recruits that had the chance to play at a higher level, but according to Amaker, the key to Harvard's success has been that the talent in the program has bought into, as he puts it, "our goals, our identity and our standards."
Case in point: Zena Edsomwan.
Edsomwan was the 82nd-ranked recruit in the Class of 2013, picking Harvard despite holding offers from programs such as Arizona State, USC, California and Colorado. As a freshman, minutes were difficult to come by for Edsomwan despite the fact that he was quite productive when he did get on the court. There were only four games last season where Edsomwan played more than 11 minutes, and in those games he averaged 11.5 points and 4.8 boards per contest. But he didn't leave the program this offseason. He's still on the roster, waiting for his opportunity. It's not hard to see that patience as an example of the faith Amaker's players have in him.
"We believe in the system that coach puts in front of us," Chambers said. "We believe that we should be able to win and compete with anyone that plays us."
It's Chambers, says Amaker, that helps set that example. It's why the junior has been named a co-captain on a senior-laden team.
"He knows nothing other than winning," Amaker said. "His spirit, his presence, his work ethic, he's ultra-competitive. If any of those aspects change or get pushed to the back, that's what drives his engine. It's not so much whether the shot goes in or whether he's driving to the basket or not, all of that is secondary because of his presence, his way of being. He's a natural-born leader, and he's been that way since day one when he's been with this program."
Through two years, Chambers and Harvard have been a match made in heaven. But success does breed expectation, however, and at some point, people are going to start wondering when Harvard will have their program-defining tournament run. Winning in the regular season is great. Pulling off opening round upsets are awesome. But, eventually, the question will be asked: will Amaker ever get Harvard out of the NCAA tournament's first weekend?
"That never crossed my mind," Amaker said. "I guess, in a lot of ways, if that's the case, that's an amazing compliment."