Beginning on October 3rd and running up until November 14th, the first day of the season, College Basketball Talk will be unveiling the 2014-2015 NBCSports.com college hoops preview package. We continue our countdown today with No. 21 Iowa.
MORE: 2014-2015 Season Preview Coverage | NBCSports Preseason Top 25 | Preview Schedule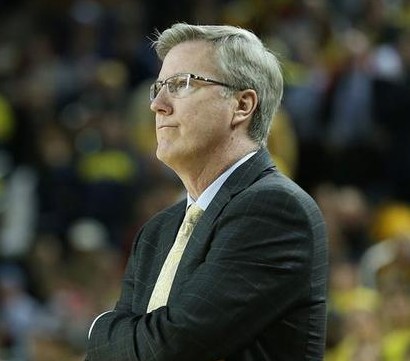 Last Season: 20-13, 9-9 Big Ten (t-5th), lost to Tennessee in the play-in game
Head Coach: Fran McCaffery
Key Losses: Roy Devyn Marble, Melsahn Besabe
Newcomers: Dominique Uhl, Trey Dickerson, Brady Ellingson
Projected Lineup
– G: Mike Gesell, Jr.
– G: Josh Oglesby, Sr.
– F: Jarrod Uthoff, Jr.
– F: Aaron White, Sr.
– C: Adam Woodbury, Jr.
– Bench: Gabriel Olaseni, Sr.; Peter Jok, So.; Anthony Clemons, Jr.; Trey Dickerson, So.; Dominique Uhl, Fr.; Brady Ellingson, Fr.
They'll be good because … : Once again, Iowa is going to be one of the deepest, most experienced teams in the country this season. Despite losing two starters from last year's team, Fran McCaffery will still be starting five upperclassmen with a bench that will go at least six players deep.
The star of this year's team will be Aaron White, a 6-foot-8 forward that has been a modicum of consistency throughout his career. In three seasons at Iowa, he's never averaged more than 12.8 points or less than 11.1 points. He's perennially one of the more underrated players in the Big Ten, but he's going to have to take a step forward and embrace being the star of this group if the Hawkeyes are going to be a factor atop the conference. White will be joined on the front line by a trio of talented veterans. Jarrod Uthoff is the floor-spacing shooting, Adam Woodbury is the low-post scoring threat and Gabe Olaseni is the energy guy, one of the nation's best offensive rebounders.
There are a few more question marks on Iowa's perimeter. Losing Roy Devyn Marble will hurt, but McCaffery has options to replace his scoring pop. Josh Oglesby was arguably Iowa's best shooter last season, while sophomore Peter Jok had promising moments in his first year in the program. Mike Gesell, a former top 50 recruit, will resume point guard duties, but if he struggles, Anthony Clemons and Trey Dickerson will both be looking to take over his role.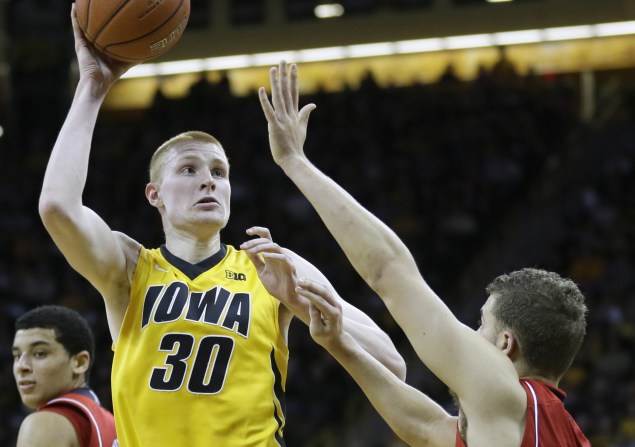 But they might disappoint because … : Having depth is a good thing in college basketball. If protects a team against a season-ending injury, it creates competition for playing time and it makes practice a battle as players go head-to-head trying to earn their spot in the rotation. But it's overrated in the sense that having 11 good players is not as valuable as having two great players and five really good players in a sport where only five guys can take the floor at one time.
That's where Iowa's issue may end up being this season. Without Marble in the lineup, Iowa doesn't really have anyone that will make opposing defenses fret. White is a really good basketball player, but Tom Izzo isn't going to lose sleep at night trying to scheme a way to slow him down. There's no star power on this roster, and outside of White, there isn't anyone on Iowa that could be called a top five player at their position in the conference. There's even an argument to make that White isn't a top five player at his position.
Think about it like this: Iowa's down by one with 20 seconds left on the road at Nebraska. Who does McCaffery draw a play up for?
Outlook: At one point last season, Iowa was thought to be a top ten team, a serious threat to win the Big Ten and a legitimate Final Four contender, which is crazy when you think about the fact that they finished the season 20-13 and in 6th in the Big Ten. There were two things that eventually did Iowa's season in:
– They couldn't close out any games. The Hawkeyes lost three big games in the first half of the season — Villanova, at Iowa State, at Wisconsin — in which they held double-digit leads. They were 4-12 in games that were decided by single digits or that went to overtime. The only one of their 13 losses that didn't end in overtime or come by single digits was a 10 point loss at Michigan State where Iowa led at the half.
– They completely lost the ability to defend, finishing the season as the nation's 120th most efficient team defensively, according to KenPom.com.
Finding away to replace Marble's offensive production will be key, but it's important to note that Marble was also a ball-stopper on that end of the floor. The offense stopped when the ball got into his hands. Iowa's sets should be more free-flowing this season, which is a good thing given the fact that they don't have a true go-to- guy.
But that's not what is going to change the outlook on the season for Iowa. Win close games and avoid defensive meltdowns, and the Hawkeyes should be able to exceed expectations this season.