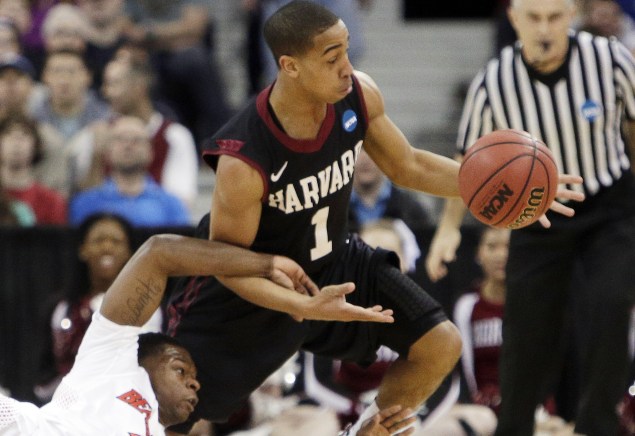 Beginning on October 3rd and running up until November 14th, the first day of the season, College Basketball Talk will be unveiling the 2014-2015 NBCSports.com college hoops preview package.
Today, we will be previewing the Ivy League.
MORE: 2014-2015 Season Preview Coverage | Conference Previews | Preview Schedule
The favorite to win the Ivy League, as has been the case for the last three or four years, is Harvard. The Crimson are coming off of a second straight trip to the NCAA tournament in which they won a game (No. 3 seed New Mexico in 2013, No. 5 seed Cincinnati last year) and return the two best players from that team in Siyani Chambers and Wesley Saunders, both of whom have a strong argument to be named Preseason Player of the Year. The Crimson will also boast a deep and talented front court, headlined by Steve Moundou-Missi and Zena Edosomwan, but their perimeter depth will be a concern. An injury to either Chambers or Saunders would be a major blow.
Harvard went 13-1 in league play last season, with their one loss coming at home against Yale. The Elis have a chance to put together a truly special season, as junior big man Justin Sears, our Preseason Ivy Player of the Year, is flanked by a pair of all-league caliber guards in seniors Javier Duren and Armani Cotton. Yale is big and they are physical and they love to attack the glass at both ends of the floor, but until they find a way to shoot the ball consistently from the perimeter, the game plan to beat the Bulldogs is fairly straight forward.
MORE: Tommy Amaker's unprecedented success at Harvard | Harvard is No. 23 in our top 25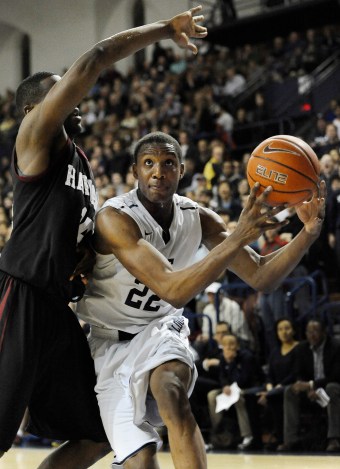 There are some other good teams in the league, as the Ivy should once again be one of the toughest mid-major conferences in the country. Columbia is the sleeper, as the Lions bring back everyone from last year's 8-6 campaign. Kyle Smith's club controls tempo, is loaded with dangerous perimeter shooters, has a handful of big-and-slow-but-tough front court pieces and a pair of big-time scorers in Maodo Lo and Alex Rosenberg.
Princeton loses T.J. Bray, which would hurt anyone in the conference. They bring back some pieces up front and landed a terrific recruiting class, headlined by high-major prospects Amir Bell and Alec Brennan. Brown, Dartmouth and Penn should all fight for that fifth-place spot, while Cornell looks like it's destined for the cellar once again despite getting Shonn Miller back.
PRESEASON IVY LEAGUE PLAYER OF THE YEAR: Justin Sears, Yale
Harvard is the most talented team in the Ivy, and while Siyani Chambers and Wesley Saunders are both deserving of consideration for Preseason Player of the Year, neither does as much for their team as Sears does for Yale. The Elis are built around their ability to attack the glass and control the paint, and Sears (16.9 ppg, 6.9 rpg) is the reason why they're able to do that. A physical, 6-foot-8 forward, he rebounds, blocks shots and can step out and beat a defender on the perimeter. The rising junior will be the focus of every opponent's game-plan again this season.
THE REST OF THE PRESEASON ALL-IVY TEAM:
Siyani Chambers, Harvard: There have been very few Ivy League point guards that are capable of doing what Chambers (11.4 ppg, 4.6 apg) has done in his first two seasons. His influence goes well beyond his stat line.
Wes Saunders, Harvard: A 6-foot-5 wing, Saunders is the leading scorer (14.2 ppg, 4.6 rpg, 3.8 apg) and most talented player on the best team in the conference.
Shonn Miller, Cornell: Miller missed the 2013-2014 season, one in which the Big Red went 2-26. But he's a beast that will put up numbers (11.5 ppg, 6.8 rpg, 1.9 spg, 1.9 bpg in '12-'13).
Alex Rosenberg, Columbia: A 6-foot-7 forward, Rosenberg is the leading scorer (16.0 ppg, 43.2% 3PT) for a Columbia team that has an outside chance of winning the league.
ONE TWITTER FEED TO FOLLOW: @ivybball
PREDICTED FINISH
1. Harvard
2. Yale
3. Columbia
4. Princeton
5. Penn
6. Brown
7. Dartmouth
8. Cornell