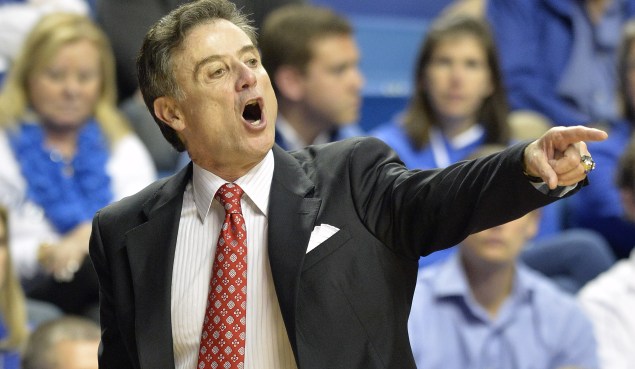 Louisville head coach Rick Pitino made some interesting comments on Thursday in a preseason press conference regarding the involvement of shoe companies in high-level recruiting these days.
"What I personally don't like and I've seen over the last five years, I can't recruit a kid because he wears Nike in the AAU circuit," Pitino told reporters. "I never heard of such a thing and its happening in our world. Or he's on the adidas circuit, so the nike schools can't. I never thought that shoes would be the reason to recruit players, but it's a factor. I think we need to deal with that. I think we need to get the shoe companies out of the lives of young athletes. I think we need to get where parents, coaches have more of a say than peripheral people."
"But that's easier said than done. I don't know how to do that. It's like trying to get the runners out of the game."
Pitino denied it later in his press conference, but it's difficult not to tie Thursday's complaints to the recruitment of five-star guard Antonio Blakeney. Blakeney, who played his AAU ball for Nike program Each 1, Teach 1, committed to Louisville only to rescind on that commitment a week later. He'll be making official visits to four Nike schools before deciding on where to go to school.
As I wrote here, Blakeney's decision to decommit had to do with the pressure that he felt from his basketball inner circle after he went from being a "Nike kid" to committing to an Adidas school after just one visit.
"The outside influence, the shoe companies, these AAU coaches know that if a kid goes to an adidas school, he may not get renewed by Nike," Pitino said. "It's the outside influence. It's not actually the kid himself that cares. If you guys are influential in a young person's and you say, 'You should really go to Kentucky, they're a nike school', he doesn't have to say that. He doesn't have to say nike, he just says Kentucky. They're all in the same court because they all work for that shoe company."
"Nobody wants to talk about that. Why doesn't anyone want to talk about that? Because it's money related. Schools, the University of Louisville makes a lot of money from Adidas. I think it needs to be cleaned up."
Pitino also acknowledged his ties with Adidas and the money that he makes from them.
"It's very tough to address, because our pockets are lined with their money," he said.
I have a couple thoughts on this:
There's zero chance that I believe that Rick Pitino found out about shoe company influence in the last five years. Zero.
I think the influence that these shoes companies is a bit overblown. Andrew Wiggins, the prospect with the most marketability that has come through high school ranks since LeBron and Kevin Durant, was a Nike kid all through high school. He went to Kansas, an Adidas school. In this year's recruiting class for Kansas includes Cliff Alexander and Kelly Oubre, both of who were Nike kids and are two of the best pro prospects in the Class of 2014. Duke just earned a commitment from Chase Jeter, who played his AAU ball with the same Adidas program that produced Shabazz Muhammad.
That said, I believe that what Pitino is saying about shoe companies is precisely what happened with Blakeney. The kid picked an Adidas school, the people around him — those that make their money from the swoosh — were not happy about it, Blakeney decommits. It's not a pretty situation, but I'm not sure it's the epidemic Pitino makes it out to be.
Anyway, Pitino does have some interesting things to say. You can listen to all of it in the video below, beginning around the 17:30 mark: