Beginning on October 3rd and running up until November 14th, the first day of the season, College Basketball Talk will be unveiling the 2014-2015 NBCSports.com college hoops preview package. We continue our countdown today with No. 22 Michigan State.
MORE: 2014-2015 Season Preview Coverage | NBCSports Preseason Top 25 | Preview Schedule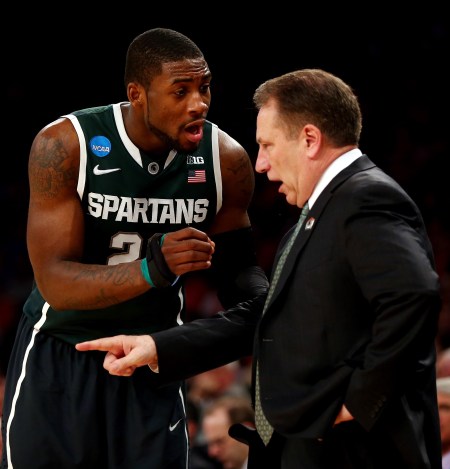 Last Season: 29-9, 12-6 Big Ten (t-2nd)
Head Coach: Tom Izzo
Key Losses: Adreian Payne, Gary Harris, Keith Appling, Kenny Kaminski
Newcomers: Bryn Forbes (transfer), Lourawls Nairn Jr., Marvin Clark, Javon Bess, Kenny Goins
Projected Lineup
– G: Travis Trice, Sr.
– G: Bryn Forbes, Jr.
– F: Denzel Valentine, Jr.
– F: Branden Dawson, Sr.
– F: Matt Costello, Jr.
– Bench: Lourawls Nairn Jr., Fr.; Gavin Schilling, So.; Alvin Ellis, So.; Javon Bess, Fr.; Marvin Clark, Fr.
They'll be good because … : Tom Izzo is still the head coach at Michigan State, and as long as he's running things in East Lansing, the Spartans will be relevant. He's been to the Sweet 16 12 times in the last 17 seasons, he's made the Elite 8 eight times and by losing to UConn last year in the Regional Final, Adreian Payne and Keith Appling became Izzo's first four-year players to leave school without reaching a Final Four. He wins. Period.
And while the Spartans will have quite a bit of production to replace this season, Izzo will himself have a veteran, blue-collar group to work with. It starts with Branden Dawson, a former five-star recruit that played the best basketball of his career in March last season, averaging 15.7 points and 8.1 boards in the postseason. Denzel Valentine, the other forward in Michigan State's starting lineup, is one of the most versatile players in the country, a guy that can guard power forwards and run the point. Bruisers Matt Costello and Gavin Schilling round out the bigs.
The back court is more of a question mark. Travis Trice has spent three years recovering from a variety of ailments, but he's a coach's son that can run the point and hit three or four threes in a row when he gets into a rhythm. Lansing native and Cleveland State transfer Bryn Forbes needs to become a better defender, but he'll certainly be able to score in the Big Ten. Lourawls 'Tum Tum' Nairn Jr. is a four-star freshman point guard with a five-star name, while sophomore Alvin Ellis should provide some pop off the bench.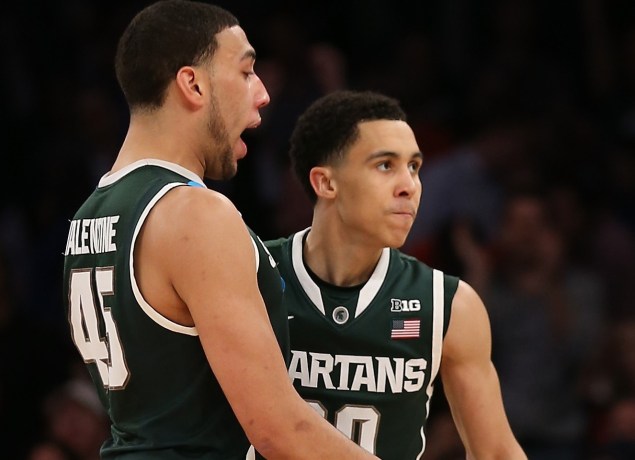 But they might disappoint because … : The Spartans don't have the amount of pure talent that they have had in the past. They'll make up for it with experience, as the Spartans will start three juniors and two seniors, but experience and coaching will only get you so far. Having a guy like a Gary Harris or an Adreian Payne is, obviously, a valuable weapon. Who will Michigan State's go-to guy be? Whose name does Tom Izzo call when his team is down two with 15 seconds left in Ann Arbor?
I'm also concerned about the point guard spot. Trice is a capable senior point guard, a guy that can run a team and get his offense into their sets. But he's more of a spot-up shooter than he is someone that can create those open looks for his teammates, which will be an issue on a team that lacks big-time scoring threats. The only other point guard on the roster is Tum Tum, and while he's got talent — and speed! — to spare, he's still learning the nuances of the game. He'll be a factor defensively and do things in transition, but he's not a guy that can run a team, at least not yet.
Outlook: There are definitely some red flags with this Michigan State team entering this season, specifically their lack of scorers and their question marks at the point. The Spartans are going to have quite a few games end up being dogfights, but I have a feeling that won't bother Izzo one bit.
But there are two reasons why I'm higher on this group that a lot of people — even some Michigan State fans — seem to be. For starters, I think that Valentine's ability to distribute will alleviate some of the point guard concerns. He averaged 3.8 assists as a sophomore and should be able to have the offense flow through him. I can't over-emphasize how much I love the pairing of Valentine and Dawson at the forward spots.
The other reason? Losing Appling, Harris and Payne will hurt from a talent perspective, but this year's Spartan team should be more consistent and will have much better leadership at the top. Wisconsin is the clear favorite to win the Big Ten this season, but there's no reason the Spartans can't end up being the second-best team in the league.