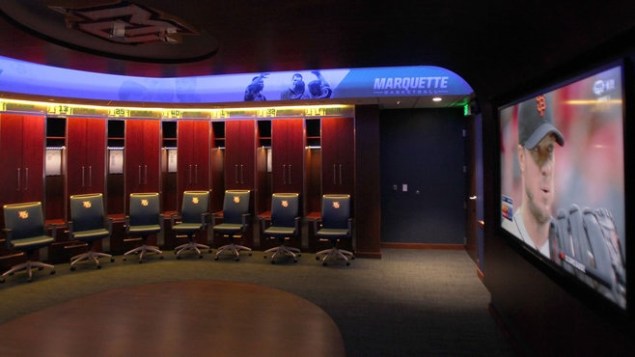 Marquette head coach Steve Wojciechowski took the job in April and one of the things the new leader of the program focused on was a facelift for the Al McGuire Center.
The building is 11 years old, but still a very nice on-campus practice facility for the Big East program.
According to a story from Michael Hunt of the Milwaukee Journal-Sentinel, Wojo got his wish about the practice facility as the whole place looks like new. Included is a new practice floor, new locker room with new chairs, lockers, mood lighting and a 90-inch high-definition TV and new weight rooms and bathrooms.
Overall, it's a massive upgrade and makes Marquette's on-campus facilities top-notch in regards to the best in college basketball. This is a big statement from the Marquette athletic department to grab a coach like Wojo and to upgrade its facilities like that.
You can view all of the photos of the locker room from the Milwaukee Journal-Sentinel here.