All month long, CBT will be rolling out our 2014-2015 season preview. Check back throughout the day, as we'll be posting three or four preview items every day. We continue our Top 25 countdown with the No. 24 UCLA Bruins.
MORE: 2014-2015 Season Preview Coverage | NBCSports Preseason Top 25 | Preview Schedule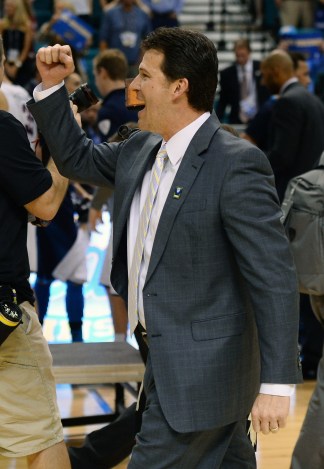 Last Season: 28-9, 12-6 Pac-12 (t-2nd), lost in the Sweet 16
Head Coach: Steve Alford
Key Losses: Kyle Anderson (14.6 ppg, 8.8 rpg, 6.5 apg), Jordan Adams (17.4 ppg, 5.3 rpg, 2.3 apg), Zach LaVine (9.4 ppg)
Newcomers: Isaac Hamilton, Kevon Looney, Thomas Welsh, Gyorgy Goloman
Projected Lineup
– G: Bryce Alford, So.
– G: Norman Powell, Sr.
– G: Isaac Hamilton, So.
– F: Kevon Looney, Fr.
– C: Tony Parker, Jr.
– Bench: Wanaah Bail, So.; Thomas Welsh, Fr.; Noah Allen, So.; Gyorgy Goloman, Fr.
They'll be good because …: There certainly isn't a shortage of talent on UCLA's roster. It starts with senior guard Norman Powell, one of just two upperclassmen in Steve Alford's rotation this season. Powell has spent the past two seasons stuck behind NBA wings on the UCLA depth chart: Shabazz Muhammad, Jordan Adams, Zach LaVine, even Kyle Anderson. This will be his season to lead, and while he may not be as good as some of those guys that played in front of him, he doesn't necessarily need to be.
Isaac Hamilton, a wing, was a top 15 recruit in the Class of 2013 before being forced to sit out last season after UTEP refused to release him from his letter of intent. Kevon Looney is a five-star recruit in the Class of 2014 and should join junior Tony Parker in anchoring UCLA's big, deep front line. They'll be joined up front by four-star big man Thomas Welsh as well as sophomore Wanaah Bail, who should finally be healthy this season, although their front line's versatility took a hit when Jonah Bolden was ruled a partial qualifier that will have to sit out this season.
UCLA lost three first round draft picks with a combined seven seasons of eligibility remaining, yet they may end up having just as much talent on their roster this season. That's how it should be in Westwood.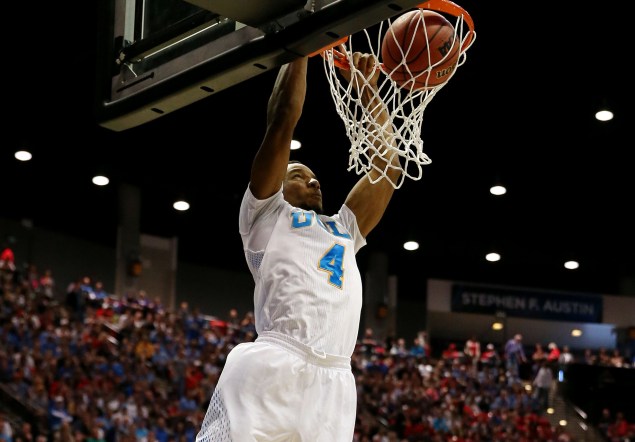 But they might disappoint because …: While the Bruins have quite a bit of talent on their roster, there is an awful lot of youth and inexperience on there as well. Powell and Parker, a junior, are the only two upperclassmen that will see significant minutes. Four sophomores will likely end up in the rotation as well, but just one of them — point guard Bryce Alford, Steve's son — played major minutes a season ago. Hamilton sat out, Bail was injured and wing Noah Allen played in just 11 games. Alford, the coach, is going to have his work cut out for him this season.
The other question mark is Alford, the point guard. He had a promising freshman campaign, averaging 8.0 points and 2.8 assists, but he was more of a sparkplug off the bench than he was a guy counted on to run a team and facilitate an offense full time. He was supposed to battle Colorado State transfer Jon Octeus for the starting role, but Octeus was denied admission into UCLA, meaning that Alford will be sharing ball-handling duties with … off-guard Hamilton? How the sophomore handles the role will be a major determinant in how good the Bruins end up being.
Outlook: Arizona is the favorite to win the Pac-12 this season. There really isn't even much of an argument to be had there, but what will be interesting to see is how the rest of the conference plays out as there are four or five teams that can lay claim to the title "second best in the Pac-12". UCLA is one of those teams.
If everything breaks right — Powell becomes an all-league player, Looney and Hamilton live up to their five-star rankings, Alford makes a seamless transition to full-time point guard — than the Bruins are probably closer to being a top 15 team than they are the No. 24 team in the country. But there are a lot of things that can go wrong during the year, which is why I wouldn't be totally shocked if the Bruins ended up being an NIT team this season.
Like I said earlier, Steve Alford is going to have a lot of work to do this season.