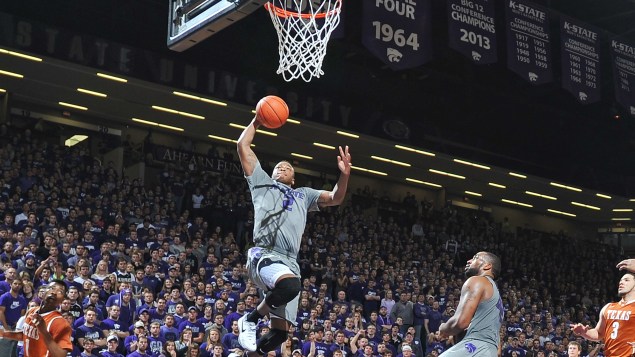 All month long, CBT will be rolling out our 2014-2015 season preview. Check back throughout the day, as we'll be posting three or four preview items every day.
Today, we're kicking off our Top 25 Countdown with the ten teams that just missed getting ranked, listed alphabetically.
MORE: 2014-2015 Season Preview Coverage | NBCSports Preseason Top 25 | Preview Schedule
Colorado Buffaloes
Last Season: 23-12, 10-8 Pac-12 (t-3rd), lost in the Round of 64
Key Losses: Spencer Dinwiddie
Key Returnees: Josh Scott (14.1 ppg, 8.4 rpg), Askia Booker (13.7 ppg, 3.3 apg), Xavier Johnson (12.0 ppg, 5.9 rpg), Wesley Gordon (5.9 ppg, 6.0 rpg)
Key Newcomers: Dominique Collier, Tory Miller
Outlook: Colorado had won their first three Pac-12 games and were sitting at 14-2, ranked 15th in the country, when Spencer Dinwiddie tore his ACL last season. They finished the year losing 10 of their final 19 games, losing in the opening round of the NCAA tournament before watching Dinwiddie head off to the NBA. The trio of Josh Scott, Xavier Johnson and Wesley Gordon will give Tad Boyle one of the best front courts out west, but finding a way to fill Dinwiddie's void will be key. Askia Booker is back and Boyle brings in top 100 recruit Dominique Collier to handle ball handling duties, but the key in the back court may end up being the development of Xavier Talton (who grew three inches this summer), who played well down the stretch last season, and whether Jaron Hopkins or Tre-Shaun Fletcher make the leap as sophomore.
Dayton Flyers
Last Season: 26-11, 10-6 Atlantic 10 (t-5th), lost in the Elite 8
Key Losses: Devin Oliver, Vee Sanford, Khari Price
Key Returnees: Dyshawn Pierre (11.2 ppg, 5.5 rpg, 40.9% 3PT), Jordan Sibert (12.2 ppg, 42.6% 3PT)
Key Newcomers: Ryan Bass (transfer), Darrell Davis, Detwon Rogers
Outlook: Dayton was as good as any team in the country in February and March of last season, going 9-1 to close out the Atlantic 10 season before making a run to the Elite 8. Losing Devin Oliver will hurt, putting pressure on Jordan Sibert and Dyshawn Pierre to take on a bigger role offensively. The combination of Oakland transfer Ryan Bass and sophomore Scoochie Smith will be counted on to take over ballhandling duties. Dayton should compete for top four in the A-10.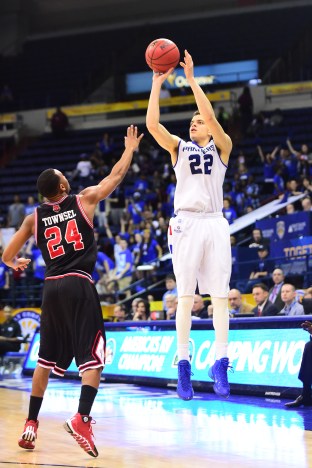 Georgia State Panthers
Last Season: 25-9, 17-1 Sun Belt (1st), lost in the first round of the NIT
Key Losses: Manny Atkins, Devonta White
Key Returnees: R.J. Hunter (18.3 ppg, 39.5% 3PT), Ryan Harrow (17.8 ppg, 4.2 apg), Curtis Washington (7.5 ppg, 5.9 rpg, 2.4 bpg)
Key Newcomers: Kevin Ware (transfer), Jalen Brown, Jordan Session, Jeff Thomas, Carter Cagle
Outlook: Ron Hunter will have himself one of the most talented back courts in the country. Former Kentucky point guard Ryan Harrow finally found himself last season and Hunter will hope that he can work the same magic with former Louisville guard Kevin Ware. And here's the scary part: sharpshooter R.J. Hunter is the best player of the three. The Panthers should roll through the Sun Belt again, and should be a trendy cinderella pick if they reach the NCAA tournament. They lost in the Sun Belt title game last season.
Kansas State Wildcats
Last Season: 20-13, 10-8 Big 12 (5th), lost in the Round of 64
Key Losses: Will Spradling, Shane Southwell
Key Returnees: Marcus Foster, Wesley Iwundu, Thomas Gipson
Key Newcomers: Justin Edwards (transfer), Brandon Bolden (transfer), Stephen Hurt, Malek Harris, Tre Harris
Outlook: Kansas State has a chance to be really good this season. Sophomore Marcus Foster has a shot to end up as the best shooting guard in the country this season, while Wesley Iwundu will be a trendy breakout candidate this year. Justin Edwards was a very productive player in his two seasons at Maine and will compete with Malek Harris for minutes on the wing. Stephen Hurt and Brandon Bolden will help add height inside to the muscle-bound duo of Thomas Gipson and D.J. Johnson. The biggest question mark is at the point. Can Jevon Thomas or Nigel Johnson embrace the role?
Memphis Tigers
Last Season: 24-10, 12-6 American (t-3rd), lost in the Round of 32
Key Losses: Joe Jackson, Michael Dixon, Geron Johnson, Chris Crawford
Key Returnees: Austin Nichols (9.3 ppg, 4.3 rpg), Shaq Goodwin (11.5 ppg, 6.5 rpg), Nick King (4.9 ppg, 3.3 rpg)
Key Newcomers: Kedren Johnson (transfer), Calvin Godfrey (transfer), Dominic Magee, Trahson Burrell, Chris Hawkins, Avery Woodson
Outlook: Last season, Josh Pastner's team was built around a talented, veteran perimeter attack. This season, all four of those guards are gone, meaning the strength of the Tigers will be their young, talented front line of Austin Nichols, Shaq Goodwin and Nick King. The perimeter is a massive question mark, however. Vanderbilt transfer Kedren Johnson, who sat out the 2013-2014 season, is the only guard on the roster that has played Division I basketball, and it's still unclear whether he is going to be cleared to play this season. Pookie Powell, Dominic Magee and Markel Crawford, who is coming off of an injury, are expected to see big minutes at the guard spot.
Nebraska Cornhuskers
Last Season: 19-13, 11-7 Big Ten (3rd), lost in the Round of 64
Key Losses: Deverell Biggs, Ray Gallegos
Key Returnees: Terran Pettway (18.1 ppg, 4.8 rpg), Shavon Shields (12.8 ppg, 5.8 rpg), Walter Pitchford (9.3 ppg, 4.7 rpg, 41.0% 3PT), Tai Webster (3.9 ppg, 2.0 apg)
Key Newcomers: Jacob Hammond, Tarin Smith, Moses Abraham (transfer)
Outlook: The Huskers were one of the most surprising teams in the country last season, coming out of nowhere to finish fourth in the Big Ten. They return three of their top four scorers — leading scorer Terran Petteway, wing Shavon Shields and stretch four Walter Pitchford — and also get back Tai Webster, a talented guard who played for New Zealand in the FIBA Basketball World Cup. They won't be sneaking up on anyone this year, but good luck trying to get a win at Pinnacle Bank Arena.
Ohio State Buckeyes
Last Season: 25-10, 10-8 Big Ten (5th), lost in the Round of 64
Key Losses: Aaron Craft, LaQuinton Ross, Lenzelle Smith Jr.
Key Returnees: Sam Thompson (7.9 ppg, 2.7 rpg), Shannon Scott (7.5 ppg, 3.4 apg, 2.0 spg), Amir Williams (7.8 ppg, 5.8 rpg)
Key Newcomers: Anthony Lee (transfer), D'Angelo Russell, Keita Bates-Diop, Jae'Sean Tate, David Bell, Kam Williams (redshirt)
Outlook: Ohio State is going to be very young as they kick off the post-Aaron Craft era, but there is talent on their roster. Shannon Scott will not replace the intangibles that Craft brought to the floor, but he should be able to replace his ability to be a lock down defender at the point. The addition of Anthony Lee up front will bolster a front line that will include Amir Williams and Marc Loving, who should be in line for a big jump in production, while Sam Thompson will once again provide aerial acrobatics and stalwart perimeter defense. The x-factor is going to be D'Angelo Russell. He's got a reputation for being a big-time scorer on a team that will be lacking offensive firepower, but it's not easy being a freshman scorer in a league as good as the Big Ten.
Pittsburgh Panthers
Last Season: 26-10, 11-7 ACC (5th), lost in the Round of 32
Key Losses: Lamar Patterson, Talib Zanna
Key Returnees: Cameron Wright (10.5 ppg, 2.6 apg), James Robinson (7.6 ppg, 4.1 apg), Durand Johnson (8.8 ppg), Josh Newkirk (4.6 ppg, 1.7 apg)
Key Newcomers: Sheldon Jeter, Cameron Johnson, Tyrone Haughton, Ryan Luther
Outlook: The Panthers will lose their two best players from last season in Lamar Patterson and Talib Zanna, but if there is anything that we've learned about Jamie Dixon's team, it's that they are always ready to call the next man up. With Cameron Wright out for ten weeks with a broken foot Durand Johnson (who's returning from a torn ACL) will have to carry the offensive load, while James Robinson and rising sophomore Josh Newkirk will give Dixon a solid back court attack. The question mark is going to be in the front court. Michael Young had some promising moments as a freshman and Vanderbilt transfer Sheldon Jeter will be eligible this season. One of the trio of Joseph Uchebo, Tyrone Haughton, and Ryan Luther should be able to be effective in the ACC.
Syracuse Orange
Last Season: 26-5, 14-4 ACC (2nd), lost in the Round of 32
Key Losses: C.J. Fair, Tyler Ennis, Jerami Grant
Key Returnees: Trevor Cooney (12.1 ppg, 37.5% 3PT), Rakeem Christmas (5.8 ppg, 5.1 rpg, 1.9 bpg), Dajuan Coleman (4.3 ppg, 4.2 rpg), Michael Gbinije (3.4 ppg)
Key Newcomers: Chris McCullough, Kaleb Joseph
Outlook: For the third straight year, Syracuse will enter the season with just one point guard on the roster, and for the second straight season, that point guard will be a freshman that is getting thrown directly into the fire. Will Kaleb Joseph follow in the footsteps of Michael Carter-Williams and Tyler Ennis? That remains to be seen, but what we do know is that he won't have nearly the experience around him. Trevor Cooney, an inconsistent three-point marksman, is the only one of Jim Boeheim's four leading scorers from last season that returns, and Rakeem Christmas and Dajuan Coleman won't exactly provide a pressure release inside. Chris McCullough is a five-star prospect, but he's more athlete than basketball player at this point. Syracuse is going to need Michael Gbinije, Ron Patterson, B.J. Johnson and Tyler Roberson to make significant improvements if they are going to contend in the ACC this year.
Utah Utes
Last Season: 21-12, 9-9 Pac-12 (8th), lost in the NIT 1st round
Key Losses: Princeton Onwas
Key Returnees: Delon Wright (15.5 ppg, 6.8 rpg, 5.3 apg, 2.5 spg, 1.3 bpg), Jordan Loveridge (14.7 ppg, 7.0 rpg), Brandon Taylor (10.6 ppg, 3.5 apg, 39.8% 3PT)
Key Newcomers: Brekkott Champman, Isaiah Wright, Chris Reyes, Kyle Kuzma
Outlook: I'm quite bullish on the Utes this season. In fact, I think there's an outside chance that they end up being the second best team in the Pac-12 this season. For starters, the Utes lost so many close games last season thanks to dreadful late-game execution, and that can only get better this year as they essentially return everyone from last season, including one of the nation's most under-appreciated stars in do-it-all guard Delon Wright. Forward Jordan Loveridge and point guard Brandon Taylor are back as well, and Larry Krystkowiak also adds a pair of talented freshman forwards in Brekkott Chapman and Kyle Kuzma, the latter of which redshirted in Salt Lake City last season. Winning is a skill and I don't think it was a fluke that Utah consistently lost close games, but if they improve the way I think they can this year, they may not be involved in as many close games.